Does Ultra Mobile support Wi-Fi calling?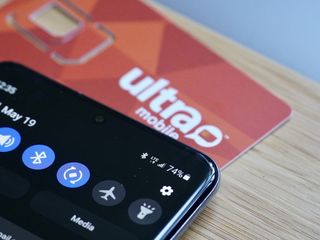 (Image credit: Samuel Contreras / Android Central)
Best answer: Yes, Ultra Mobile supports Wi-Fi calling. As long as you have access to Wi-Fi and a device that supports Wi-Fi calling, you can talk and text without having to rely on Ultra's coverage.
What is Wi-Fi calling on Ultra Mobile?
Ultra Mobile uses T-Mobile's 4G LTE and 5G network to offer cell phone plans at an affordable price. You have the choice between several data plans, but thankfully all of them include free Wi-Fi calling and text. This is particularly useful if you're ever in an area such as a basement or an office building where coverage is weak. By connecting to Wi-Fi, you're able to use that Wi-Fi network to make calls and send texts (just like you normally would) from your phone number.
The concept is similar to VoIP (Voice over Internet Protocol), which popular apps such as WhatsApp and Facebook Messenger use. But it's not exactly the same since Wi-Fi calling doesn't require a third-party app. For instance, the friend you're calling doesn't also need to have WhatsApp downloaded. Instead, Wi-Fi calling works directly via your carrier, which in this case is T-Mobile.
Though each plan Ultra Mobile offers includes free Wi-Fi calling and texting, you'll still need to make sure that your device supports this feature.
Does my device support Wi-Fi calling?
The majority of carriers today support Wi-Fi calling, and Ultra Mobile is no exception. Because Ultra relies on T-Mobile's network, most T-Mobile phones should support Wi-Fi calling as well as any phone purchased directly through Ultra. Keep in mind that T-Mobile will soon retire Wi-Fi calling on select smartphones that use an older version of Wi-Fi calling or Wi-Fi calling 1.0.
If you're planning on bringing your own GSM unlocked device over to Ultra, most modern Android phones and iPhones (iPhone 5c or later) purchased in the past few years will support Wi-Fi calling. If you want to be certain before signing up, you can head to Ultra Mobile's website, where you'll find a rather lengthy list of Wi-Fi calling compatible phones. If you don't see your phone on the list, you can also go into your current device's phone settings, such as the Samsung Galaxy 20, and double-check whether you see a Wi-Fi calling option.
Our pick
T-Mobile for less
With Ultra Mobile, you can still use the T-Mobile network but pay less. To save even more, you can sign up for a 12-month prepaid plan and get exactly the amount of data you need.
Get the Android Central Newsletter
Instant access to breaking news, the hottest reviews, great deals and helpful tips.
Olivia Lipski is a freelance writer for Android Central and loves testing out the latest smart home tech and discovering the best cell phone plans. When she's not busy running around NYC trying to find great food or coffee, she's in her kitchen trying to make it herself.