Does the Pixel 4 have a headphone jack?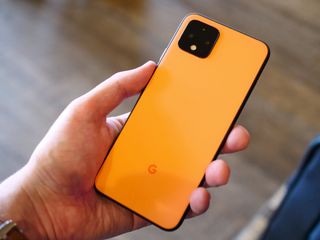 Best answer: No, the Pixel 4 doesn't have a 3.5mm headphone jack. While that may be annoying for some potential buyers, you can still use the USB-C port for wired audio, or get an adapter. Alternatively, you can connect your favorite wireless headphones/earbuds to the Pixel 4 and listen to music that way, too.
No, the Pixel 4 doesn't have a 3.5mm headphone jack
One of the biggest smartphone trends in recent history has been the removal of the 3.5mm headphone jack. Ever since Apple had the "courage" to remove the legacy port from the iPhone 7 in 2016, countless Android phone makers have been in a race to do the same thing.
Google first parted ways with the headphone jack in 2017 with the Pixel 2, and as expected, the Pixel 4 ships without the port, too.
While not surprising, this could still be a bummer for people that continue to use wired headphones. Thankfully, you do have options for getting around this potential pain point.
You can use wired headphones with the USB-C port
For starters, the USB-C port that's used to charge the Pixel 4 can also be used for wired audio.
There are some wired headphones out there that use a USB-C cable to connect to devices, or you can keep your existing 3.5mm wired headphones and use the 3.5mm to USB-C adapter that's included with the Pixel 4.
Having to use a dongle to keep using your favorite pair of headphones might sound like a drag, but it's not as bad as it sounds. Plus, if you do end up losing the included dongle, you can always buy a new one.
Don't forget about wireless options, too
This is also a perfect opportunity to finally check out the world of wireless audio accessories if you've yet to jump aboard the bandwagon. Wireless headphones and earbuds have gotten really good over the years, and for a lot of folks, have become the preferred way to listen to audio while on the go.
A great example of excellent wireless headphones is the Sony WH1000XM3. These are some of the best headphones on the market, regardless of how they connect to your phone. Noise-cancelation is top-notch, the overall sound is phenomenal, and battery life that lasts up to 30 hours on one charge takes the sting out of the wireless transition.
There are tons of great wireless headphone options out there, so if the WH1000XM3 aren't catching your attention for whatever reason, it's far from the only pair we recommend checking out.
Pixel perfect
Google's next big flagship has arrived.
The Pixel 4 represents the very best that Google has to offer in a smartphone. It has a vibrant OLED display, a powerful face unlock feature, and a camera package that's better than ever. Even without a 3.5mm headphone jack, this is a very compelling package.
Dongle life
An easy way to keep using your wired headphones.
You get one of these adapters included with the Pixel 4 out of the box, but if you happen to lose it, you can buy another one for a reasonable price. Yes, having to use a dongle isn't as seamless as just having a 3.5mm headphone jack, but it gets the job done for cheap.
Wireless king
The best wireless headphones you can buy.
If you're ready to make the switch to wireless headphones, you can't do any better than the Sony WH1000XM3. Your many dollars are well-spent here, as the WH1000XM3 offer exceptional noise-cancelation, sound quality, and battery life.
Get the Android Central Newsletter
Instant access to breaking news, the hottest reviews, great deals and helpful tips.
Joe Maring was a Senior Editor for Android Central between 2017 and 2021. You can reach him on Twitter at @JoeMaring1.