Do you use Android Auto in your car?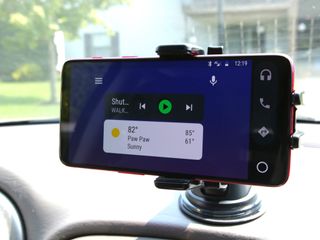 As tempting as it can be, it's never a good idea to take your eyes off the road while driving to play with your phone. No matter what Tweet, text, or Snapchat you think you need to look at, it can wait until you're no longer behind the wheel.
With that said, if you're listening to music, using turn-by-turn navigation, or need to answer an important call, Android Auto makes it easy to perform these actions in a safe manner.
Android Auto is a really great tool, but how many people are actually using it? Here's what our AC forum members have to say.
What about you? Do you use Android Auto?
Get the Android Central Newsletter
Instant access to breaking news, the hottest reviews, great deals and helpful tips.
Joe Maring was a Senior Editor for Android Central between 2017 and 2021. You can reach him on Twitter at @JoeMaring1.
I use Android Auto only when the cars head unit supports it. I do use it on my phone screen, not a fan of its implementation.
I cannot get the notifications to work right and its not safe having to hit the phone screen to interact while driving.

Use it headless since my 2016 car missed the AA support year. Generally good at keeping only necessary info and UI. Only problem is when it goes stupid mode -- i.e. sending audio to the phone speaker or fighting with the lock screen. Then it becomes more of a distraction.

Yes, I have it on my 2018 Ford Escape. I have 2 phones, and i wish AA would play nice with dual SIM phones, or even connect to 2 phones at once. I have a work phone and personal phone. I think its great.

Yes I use it and like it mostly. I'm annoyed that it does not support Google Voice. It's pretty lame that google services still do not work with it years after it's introduction yet you can use Facebook messenger and Whatsapp with it? Doesn't make any sense.

Been using it for a few months, but lately, after a call, it won't go back to music, it will in fact close out. It does not popup an error that it closed, just closes back to my homescreen. If L eave it it won't come back either. BT still connected, Waze still in the background running, music there too, just paused. Other times, it will go back to nav, but music won't play after the call has ended. It is just paused in the background.
My car is an 06, so this is all headless. It is also a single din with an overhanging dash that permits a HU change out, but not one with a screen that comes out of the single din unit.
Thinking of trying crankshaft or Headunit reloaded, but both require purchases I really don't need to spend right now.
(Pi, touchscreen case etc or tablet)

I use the "on-phone" version and it works...most of the time. It performs sporadically:
- It won't always launch when it detects my truck bluetooth connection
- It won't unlock my phone even though I have my truck bluetooth as a "trusted device"
- iHeartRadio does not always use the bluetooth audio path and defaults to the phone speaker (this happens a LOT). Other than that, it works great. I use it mostly for navigation and text message response. AustinTechie
(Pixel 2 XL)

I use it in my 2016 Civic, I love it.

My car does not support AA. Maybe my next car!

It's frustrating that Toyota still doesn't support Android Auto. An announcement is expected soon that they will add Android Auto. They did add Apple CarPlay to a few 2019 models, but I want Android not Apple. Android Auto is better than Apple CarPlay. Just like Toyota use Apple Siri voice recognition and not Google Assistant. Toyota's infotainment system is called Etunes, which is easy to use and can connect your phone, but not as good as Android Auto. You to have to upgrade to Etunes Plus to get the voice and other features. Buy Etunes premimum to get more apps.

Not worth the effort of getting it up and running.

Use it all the time with Kenwood headunit I put in my car. Awesome. Just hope it works with my mate pro 20 that's due soon.

I usually play Jango or Pandora through the car, and usually wired instead of bluetooth.

I use full Android in my Jeep https://youtu.be/xkD2B9ONxls

My doesn't have it but it does on my wife's SUV. It is still flakey at times. On a road trip when we stop for something to eat I stop the navigation. But when I start it up again most of the time it won't start the navigation for a long time. Verrrry annoying.

I would if it came with my new Mazda CZ5 but it didn't and I'm not prepared to pay Mazda $500 for an after sales installation.

I use it all the time when driving our 2018 truck. Using the head unit. Our 2016 car doesn't support it and I refuse to use it headless. So most of the time? Yes. And I like it! mostly.... Lol

Don't use because:
1) Youtube Music not integrated
2) The USB port connected to in car minimally charges ---
Add wireless connections and youtube music and I'll use.

I use it with my 2016 Passat. Its fine and all, but definitely has its huge downfalls... Sometimes when you tell it to do something, it just doesn't do it. For example: You receive a text message so you ask it to read it to you. It doesn't. It just says it doesn't understand. But then other times it does it no problem. THEN when it asks if you want to reply, it doesn't listen to you but instead listens to itself. It'll go "I don't understand, did you want to reply, or cancel it?" and then it'll once again, only hear itself, and go "ok, canceling message"... Other issues are it'll sit there and spin and spin and spin and do nothing... or you'll give it a command, it completes the command, but the 'listening' overlay stays there and spins and spins and spins... Then there's also times where it just won't output any audio. It'll say something is playing, but nothing comes from the speakers. This usually happens after a phone call. Its also wonky with notifications too... As in, if you have the phone completely muted before you plug it in, and you get a text after you plug it in, the notification goes off and its usually louder than anything else that's going on.... why? like seriously? If the phone has notifications muted, then don't blare a sound..... There's also the times where you'll tell it something or it asks you something, and while you're saying whatever it is you're saying, it cuts you off and repeats itself in a robotic voice. Which mind you, stays the entire rest of the time that you're using it, and offers completely DIFFERENT choices of commands.... The newest weird quirk now, is that if I get a text message, and it reads it to me, but I DON'T want to reply to it... normally it'll ask you "Would you like to reply?", of which I'd answer "No"... But then it goes "I didn't understand, do you want to reply, change it, or is that it?".... if you tell it "I don't want to reply" then it just repeats itself... if you tell it 'that's it' then it goes 'what is it?'.... its infuriating! The time it takes to DO something whenever it decides to throw one of these fits, is 3-4 times as long as it would be for me to just pick up the phone, hit the power button, and press the big 'play' icon in the middle of the lock screen! But don't get me wrong. I love Android Auto and will continue to use it. My next car MUST have Android Auto, or else I won't even consider it... The 'infotainment system' is one of the biggest points of a car to me. If I'm not able to do what I want IN the car effectively and easily, then I won't want to be IN that car and it'll just piss me off every time I try to do something that I know other cars should have no problem doing.

I have President's Circle with Hertz and can pick up pretty much any car in the lot when I rent every week for work. I forego luxury and size in favor of the few Kias that have Android Auto. Hertz workers always think I'm lost or something :D
...also have it in my car and it's great.

My last car, Toyota Prius, didn't support Android Auto, and using it on the phone was impractical. My current car, Tesla Model 3, has a very sufficient infotainment system. Calls, Media, and Navigation through the Tesla system has been pretty good, so I don't feel like I'm missing out by not having Android Auto. It would nice if I could have more navigation and media options like Waze and Google Play Music natively.

I only use it for navigation. My 2018 Rogue does the rest. So, right now I'm pretty satisfied with it.

First thing I fire up when I get into my daily driver. Its a must for me with awful Austin, Texas traffic. Great for getting around them and music to pass the time. Google maps is fantastic too. Ian B

I used to use it but stopped. My car doesn't support Android Auto but I used it on the phone but had to stop. AA stops all incoming alerts (no matter how you toggle it) and once I end my drive and AA ends the alerts come flowing in. My phone will ding, ding, ding for about 30 seconds after I get out of the car reporting all alerts. It's a pain in the butt and kinda embarrassing.

I personally def don't use it nor recommend it to others. Why? There's way better options out there.
I remembered i tried it twice and just didn't get it. Try Car Home Ultra for a bit and you'll see what I mean... It's highly customizable, with really great functions (like setting my phone's brightness to low after dark but only when I'm in the car, a super dark Screensaver so my phone never locks but also doesn't drain my battery much), and it looks really beautiful (almost classy) the way I set it, too.

I tried Car Home Ultra and you tube music app crashes every time. I can click launch when error comes up and do that way but shouldn't have to.

no, it's incredibly dumb and non ergonomic .... better to use a full android tablet