Do you regret updating to Android 10?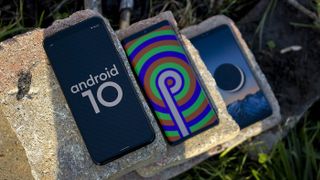 (Image credit: Android Central)
Getting a new Android update is usually an exciting time. From new features, better battery life, and more, Google's yearly OS updates are always worth looking forward to.
It's been a few months since Android 10 started rolling out to users, now being widely available on phones from Google, Samsung, OnePlus, and others. It's a fantastic update with plenty to like, but taking a look through the AC forums, not everyone is a fan of it.
What about you? Do you regret updating to Android 10?
Join the conversation in the forums!
Joe Maring was a Senior Editor for Android Central between 2017 and 2021. You can reach him on Twitter at @JoeMaring1.
No. I don't think there were huge benefits or additional functionality that I use but there weren't major downsides either.

No, works great on my Huawei Mate 20x...

ZTE axon 10 pro here. All is well. I especially like the dark mode. I have glaucoma in 1 eye, and the dark mode helps a lot.

Yes and no. Contact search changed and sometimes works and sometimes it doesn't when in the messages or phone app on my Nokia 7.1.

I wouldn't know. I got the Moto X4 Android One. Motorola don't give a damn about updates.

That's the reason I stopped recommending Moto to people. I think the make solid phones but now I recommend the 3a, iPhone, Samsung or 1+.

Nope. The dark theme alone is worth it. Plus using the full on gestures navigation for about a month now has proven pretty straightforward to adopt. They have a few kinks to work out still, but a few more updates should take care of that.

Just give me back my ANDROID BEAM!!! Something so simple thats been there forever, GONE!
Got google maps directions(or almost anything shareable) open and want to share them with the person standing next to you, boom tap phones together they got it. Now to do the same you have to do a whole bunch of added steps.
"Dude sweet pic!" Thanks, you want it?" "Umm yes haha" TAPS PHONES "Thanks, I got it" "welcome"
No longer that easy, SMH.
No personal info shared like phone number or email, no searching through share for bluetooth, wifi direct, or other means which takes longer.

Another version is coming with the S20.

but why remove something that works, especially when you have nothing as easy to replace it

Kind of regretted the update on my Galaxy Note 9. The only feature update I was interested in was Dex over USB (which is awesome!). I rely on Good Lock for customizations and it hasn't been updated for Android 10. Also having issues with two commonly used apps (navbar apps and split screen). It seems like we get less customization with each update. I would root but then I couldn't use Snapchat or Pokemon GO.

Am I glad for once to be with Verizon! As usual they're dragging their feet and Android 10 is nowhere to be seen.
As for GoodLock, I read Feb 3rd will be the day.
Without GoodLock ready I won't update!

What phone do you have? I've had it on my s10e for a while now. Let me guess, you have a Motorola? Lol

Not at all, I love it on my S10

S10e. Not a single issue, but I also didn't have issues with 9.

Still waiting for Android 10 on my Nokia 8 Sirocco.

Not at all, after updating my phone going smoothly without any malware and all.

No regrets at all. Battery life and permissions management are significantly improved, but otherwise I don't see a lot of difference from Android 9. The only thing missing is Good Lock, but an update is coming soon.

For me, OS updates are overrated. They don't change the way I use the phone whatsoever. I'm more interested in security updates.
Android Central Newsletter
Get the best of Android Central in in your inbox, every day!
Thank you for signing up to Android Central. You will receive a verification email shortly.
There was a problem. Please refresh the page and try again.