Do you plan on upgrading from the Galaxy S10 to the S20?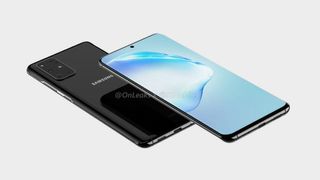 (Image credit: @OnLeaks / 91Mobiles)
Samsung has officially sent out press invites for its next Unpacked event, which is taking place on February 11 in San Francisco. While not yet confirmed by the company, it's widely expected that this is where we'll get a proper unveiling for the Galaxy S20/S11 — we aren't entirely sure on the name quite yet.
The S20 is shaping up to be an interesting phone, offering a vastly upgraded camera system, 5G support, and a 120Hz display.
It's likely going to be one of 2020's best all-around phones, but if you already have an S10, is it going to be worth the upgrade? Here's what some of our AC forum members had to say.
What about you? Do you plan on upgrading from the Galaxy S10 to the S20?
Joe Maring was a Senior Editor for Android Central between 2017 and 2021. You can reach him on Twitter at @JoeMaring1.
Nope, seriously considering an iPhone...

Been on Android for 10 years. Have an S9 now and this is the first time I've been considering iOS. Sick of the lack of security and OS updates when I spent $720.00 on a phone.

Lack of security?
I get regular/standard security updates.
No security issues here.

I guess that is the one benefit of iOS. It is a shame to not be able to get the most recent update. I'm going to try and hold out for the Surface Duo.

I agree the Surface Duo may be the only thing to take me out the Samsung ecosystem I'm used to.

Yes... these two year only Sammy OS updates is becoming a possible transitioning point for me to iOS. The recent Sammy phones have the firmware to go beyond only the two years provided.

With so much emphasis and chatter about every new smartphone camera capabilities, I must be using my phone incorrectly or simply not taking enough pictures. I'm currently using the Pixel 2 XL and the pictures look good enough for me. It's not clear to me why a phones camera has become the new technology that drives phone sales.

In all honesty, what else is there at this point besides 120hz and edge to edge displays?

Pass. That camera array at the back is an eyesore. Yeah, the black model would help mask it, but still. 5G is still in infancy, so a 120 HZ screen with 5G will likely cancel out any gain in battery life you'd get out of the magic 5000 mAh battery that's going to be in the phones.

Let me be able to turn off 5G and lower the refresh rate when I want to. Otherwise this device better have a huge battery.

I considered it but my S10+ is a great performer. I usually upgrade every year but not in 2020. It's still simply a pleasure to use for my needs. Just as fast as the day I bought it. Plus the display & battery, I average 7to8hrs SOT, not to shabby. The camera especially videos work swell. Nah, maybe next time around! But I do like the thought of a 120hz display, I'm dying to see Samsung's take on it?

Nope, going to go from a Note 9 to a Surface Duo at the end of the year.

I have had my S10 since release day and plan to hang on to it for as long as I can. I held on to my S7 until I upgraded last year and plan to keep this phone for a few years.
Android Central Newsletter
Get the best of Android Central in in your inbox, every day!
Thank you for signing up to Android Central. You will receive a verification email shortly.
There was a problem. Please refresh the page and try again.