Disney+ basically will support all the devices at launch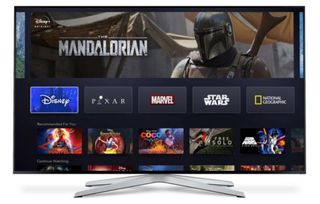 (Image credit: Disney+)
What you need to know
Disney+ will support most of the major devices you'd expect.
But Amazon Fire TV (and tablets) isn't mentioned anywhere.
Canada and the Netherlands launch on Nov. 12; Australia and New Zealand on Aug. 19.
If you've been on tenterhooks waiting to see if Disney+ will support whatever it is you use to ingest streaming video, take a deep breath. The streaming service today gave word that it'll be available on pretty much every major platform you can think of.
Here's the breakdown:
Google-managed devices will include Android phones, Android TV, and Chromecast — both the dongle and Chromecast built in to a TV like Vizio.
Apple devices will include the iPhone, iPad and iPod touch, as well as Apple TV. And the Disney+ service will have full integration with the new Apple TV app.
Xbox One is supported.
Desktop web browsers are supported, though it's not stated which browsers/plugins might be required.
PlayStation 4 and all Android TV-based Sony TVs will be supported.
And Roku streaming players and Roku TVs will have full support.
More: What the Disney+ bundle means for Hulu with Live TV
What's missing? The most blatant omission, of course, is Amazon Fire TV, and Amazon Fire tablets. Could be that they're just not ready yet. Could be more behind-the-scenes wrangling to be done. Could be ... well, we've seen these kinds of wars before, right? Also missing is any mention of smart TVs from Samsung or LG. So stay tuned for that.
Disney+ also confirmed today that its home country of the United States will share the Nov. 12 launch date with Canada and the Netherlands. Pricing will be $8.99 CAD a month (or $89.99 a year), and €6.99 per month (or €69.99 per year). It'll launch Nov. 19 in Australia and New Zealand, with pricing at $8.99AUD a month (or $89.99 a year) and $9.99NZD per month (or $99.99 a year)
Disney+ will feature the entire catalog of Disney movies, as well as serve as the new home for all things Star Wars, Marvel, and so much more.
DISNEY+ SET TO LAUNCH IN THE NETHERLANDS AND CANADA ON NOVEMBER 12th AND AUSTRALIA AND NEW ZEALAND NOVEMBER 19TH
GLOBAL DISTRIBUTION AGREEMENTS IN PLACE TO LAUNCH DISNEY+ ACROSS MOST MAJOR PLATFORMS
BURBANK, CA (August 19, 2019) – The Walt Disney Company's Direct-to-Consumer & International segment confirmed global launch dates and pricing for Disney+ in Canada, The Netherlands, Australia, and New Zealand, and announced it has reached global agreements with nearly all the major platforms to distribute the Disney+ app across partner mobile and connected TV devices.
Disney+ will offer fans of all ages a new way to experience the unparalleled content from the company's iconic entertainment brands, including Disney, Pixar, Marvel, Star Wars National Geographic, and more, and will be available on nearly all major mobile and connected TV devices at launch with global distribution agreements in place with Apple, Google, Microsoft, Roku, and Sony.
November 12th marks the beginning of the global rollout of Disney+, with expectations to launch in most major global markets within the first two years. Disney+ will launch in Canada and the Netherlands in tandem with the U.S. on November 12th, priced at $8.99CAD per month (or $89.99 per year) and €6.99 per month (or €69.99 per year), respectively. The following week, Disney+ will launch in Australia and New Zealand on November 19th, priced at $8.99AUD per month (or $89.99 per year) and $9.99NZD per month (or $99.99 per year), respectively.
At launch, consumers will be able to subscribe to Disney+ directly or via in-app purchase and start streaming from the following partner platforms and devices (dependent on country):
Apple (iPhone, iPad, iPod touch and Apple TV, and fully integrated with the Apple TV app; customers can subscribe to Disney+ via in-app purchase);
Google (Android phones, Android TV devices, Google Chromecast and Chromecast built-in devices);
Microsoft (Xbox One);
Sony / Sony Interactive Entertainment (PlayStation®4 and all Android based Sony TVs);
Roku (Roku® streaming players and Roku TV™ models)
Announced earlier this month, on November 12, consumers in the U.S. will get a new and exciting value proposition with a bundled offering of Disney+, ESPN+, and Hulu for just $12.99USD. This means they get all of the Disney+ programming plus thousands of live sporting events, sports-themed original series and award-winning sports documentaries from ESPN+; as well as Hulu's award-winning original content and on-demand streaming library.
Android Central Newsletter
Get instant access to breaking news, the hottest reviews, great deals and helpful tips
It's interesting to see Disney's brand showing up in the form of a tech company with this product. We'll get to judge them like any other new internet service product on support, technical bugs, customer support and how they evolve the product over time. So far it's looking impressive with cross device support and offline playback.

D+ is probably the most exciting thing to hit the home media market in years, at least for me. So many classic shows and movies all in one streaming app. It's yet another nail in the coffin of physical home media.

It's no secret that Amazon and Disney don't really get along. As you'd expect, it's about money. Just look at everytime for example a Marvel or "Star Wars" Blu-ray releases, they are not always and immediately available on Amazon, as both companies haggle over the price and distribution... Eventually they'll come to an agreement, because too much money is at stake. I'm just curious if the Disney+ streaming app will enable Miracast? That would be awesome...if I could just Miracast "The Mandalorian" directly to my TV!

Why bother with Miracast (do people really use this still)? Go spend the $25-35 for a Roku Stick or Chromecast stick, plug it into your TV and watch directly on your TV. No reason to use your phone to stream to a TV anymore.

I never understood using the phone to stream.

I do. It's extremely convenient...😱😜

That's the whole point. I don't want to pay anything extra beyond the subscription to Disney+. I don't want any sticks, boxes, or extra wires or whatever. The streaming app, cast on TV, done...nothing else is needed...😱😜

Kind of like when I can keep my phone in my pocket, power on the Roku TV and click the (soon to be) D+ or Hulu app and start watching TV. No draining of a phone battery, no having to find my phone, find the app, click the "cast" button, wait for it to start casting, then scroll through a tiny phone screen to find what I want to watch. Yeah, using a phone to stream TV is so awesome. Not. :)

It works and is convenient for me. Don't have any issues when I cast YouTube videos on my TV. It only takes a few seconds...You make it sound like it's brain surgery. I do not understand what exactly is the problem should this option be available?! I mentioned it because it would be nice to have the option. Or is choice something bad now?!

Odd that there's no UK release. Maybe they're having issues getting rights back

Another one major exception is... Nintendo Switch, for now, it will be available for it later.
Should be someting with Nintendo.
Android Central Newsletter
Get instant access to breaking news, the hottest reviews, great deals and helpful tips
Thank you for signing up to Android Central. You will receive a verification email shortly.
There was a problem. Please refresh the page and try again.