Did Samsung ruin the Galaxy S21 by removing expandable storage and MST?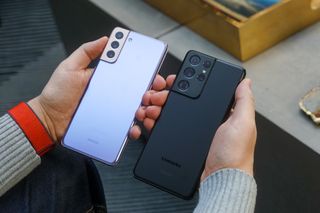 (Image credit: Android Central)
Samsung's Galaxy S21 lineup has a lot going for it. The new phones tout bleeding-edge processors, 120Hz displays, upgraded cameras, lower prices compared to last year, and so on. At first glance, there's not much to dislike.
But as you dig deeper into the phones, it becomes apparent that Samsung made some decisions that have divided users. The Galaxy S21 ditches expandable storage and MST for Samsung Pay — two of the most notable features of any Samsung phone for the past few years.
As you might expect, this has gotten a lot of people talking in the AC forums.
Now we want to hear from you — Did Samsung ruin the Galaxy S21 by removing expandable storage and MST?
Joe Maring was a Senior Editor for Android Central between 2017 and 2021. You can reach him on Twitter at @JoeMaring1.
Personally I don't use the SD card storage in my smartphone, as most of my photos, etc. are stored in the cloud on Google Drive. So far as MST, I haven't used it at all. I mainly use my Samsung Gear Sport watch with NFC for my terminal purchases.

Don't care about MST, but the loss of external storage is a deal-breaker. There is nothing as convenient as having your data with you everywhere, any time, in all its glorious quality.

sd card great for switching phones, backing up phone before reset. without this what alternatives are there for FAST resetting ?

It's just trimming fat. I'm actually sad to see the dual nano SIM slot go. But there's not much point in complaining. I know I'm a niche use case and nobody cares, same with these features.

I personally use the Mst multiple times a week and use the sd all the time!!!! With 4k and 8k cameras... File sizes are huge now.... Sd is slower
.but I just transfer files a few times a month and I'm good... I realize we have cloud storage and all but the way things are going right now I don't like having all my stuff in someonelses hands like that

I depend on local storage for music when commuting (or will when I resume that, anyway) as a constant connection for streaming can't be relied upon - and it would have been Play Music before that died even if I did. I've gone for the 512Gb S21 Ultra because of that.
I wasn't able to use Samsung Pay, anyway, as it does not support Halifax, a major bank here in the UK, so no great loss there. No good for my Active 2 smartwatch, but Google Pay works fine with my TicWatch Pro 3.

You wouldn't have had MST anyway, they never included it in our phones because magstripe was depricated here in 2003. How much music do you keep with you?

Things have changed so much throughout the smartphone world. You just have to adapt and move on. Yes its a bummer if you use those certain features but it is what it is. I used to use MST all the time at gas stations and stores but pin and chip is gaining. And NFC is just faster. I also hated using MST at checkout with real cashiers because it was like a 1/3 chance MST would work the first time. And i had to pull out my card anyways. SD slot is a real bummer to lose. I used to be all for SD cards but in last 13 years ive used phones with SD ive had cards fail at difficult times. And now my S9 is running SD cardless because 2 samsung evo SD cards have failed within 1 year. And all i had on the card was pictures and backups. Lost so much good memories. I can see why Apple doesnt want to use SD slots. Onboard memory is just a bit more reliable. Plus its all about that 💰. People will buy bigger storage if theres no sd slot. The ONLY thing i wish they brought back is a 3.5mm jack. Ive got so many wired headphones laying around atleast i can still use it on my laptop.

Yup. May as well consider the iPhone at this point (although I won't....I'll buy a phone with removable storage that runs Android first).

The lack of removable storage has always been a issue with why I don't buy OPO phones on a consistent basis. I sometimes use my phone as an emulator machine and swapping out micro sd cards is much better than setting another phone up.

Samsung wouldn't remove a feature that the majority of users were still using. So while an average reader of Android Central may be more likely to use an SD card, or MST, the data obviously doesn't support its continued inclusion. MST was only ever super useful in the United States anyway, as most of the other 7 billion people in the world moved past magstripes long ago. Everything is either Chip and PIN or NFC. MicroSD cards are an interesting thing. I can understand people wanting to have them still, but one thing that is rarely considered is that as the built in storage in phones gets so fast, even the fastest of SD cards only have a fraction of the speed, especially writes, that built in storage has. That can lead to a bit of a compromised experience compared to built in storage. SD cards are also far less necessary now that these phones start to come with 128GB of storage. Personally, and this is just me, I don't need to have every single piece of media ever on my phone. I have about 10GB of music from YT Music synced locally, and that 10GB is more than I could ever listen to in one go outside of Wifi. I keep a couple movies stored locally as a "just in case" thing, but even with all that that's less than 20GB of storage to have more media than I could reasonably consume in one sitting. I don't need more than that. I won't sit here and say that I'm right and someone else is wrong on how they use their phone, but again Samsung would have the data, and they wouldn't do what they were doing if there wasn't data to support the decision.

Never used an SD card on any of my phones, I always prefer cloud storage instead.

Every user experience is unique. I think it is foolish to downplay a person's opinion on why something was beneficial to one and not another. I have three kids in athletics and use my Android phones specifically to record videos and take photos. I'm lucky that I can carry multiple phones. It is more convenient for me to use the phone for that purpose with and SD card slot while still having the ability to use it as a daily driver when I want. Basically, this means I'll be keeping my current device longer than usual to continue using it for that specific purpose.

Everyone sounds so lucky to not live in Rural/Semi-Rural areas. NFC is not ubiquitous at POS Terminals, where I live. And neither is LTE, in all places, here. I'm sometimes lucky to get a 3G signal, sometimes, which makes Cloud Storage a pain... I only go with Android, and Samsung, in particular, because of the two things they are stripping out. Well, I guess my family will get their wish, and I'll be a Blue Bubble, soon... 🤣

Yup. Or just snatch up a Note Ultra.
So disappointing.

I'll never buy a phone without expandable storage. My LG G6 is getting long in the tooth and was pretty much set on moving to the next Samsung phone but after this announcement I'll be looking elsewhere.

I'm definitely at a cross road due to lack of expandable storage which I depend on. Have a S20 ultra, still happy with it too. I was an new model every year Note user until this phone. Now with this dam pandemic, I was already in a different place about how lucky I have been to be able to upgrade every year and it all seemed so privileged to me. So I've been very torn and leaning towards keeping this phone for alot longer than I normally do, but the lack of expandable storage definitely helped me decide to not upgrade this year. Hoping they'll bring it back next year like they did a few years ago when they removed this feature and brought it back the next. If not, then I'm not sure what brand I'll go with next. And I'm getting very interested in mid range phones now, they offer a ton of value and I'm definitely taking notice. Just some thoughts in my head on this topic and such, I'm also in bed for the night and a little bit high as well

Losing the SD card hurt, but didn't stop me from grabbing it. I wasn't aware of the MST until now, and that *really* hurts. I try to avoid shopping in general right now, but when I do, I prefer to pay by phone so I can minimize how much I'm touching something someone else touched. I expect that I'm going to have to fall back to plastic a lot more now. And honestly, I may go back to Google Pay-- MST was the main reason I used Samsung Pay in the first place.

Duuude where am I going to store all my music??

I thought I was ready to leave my Galaxy S20 Ultra for the Galaxy S21 Ultra. However, I quickly stepped on the brakes and came to a screeching halt. I collect music and have a vast library of MP3s from old albums that cannot be found in streaming services. I have it all saved on a 1TB microSD card that hurt my wallet when I bought it. Now, I can't upgrade to the S21 because I can't carry my music with me. I'll be holding on to my S20 Ultra until either Samsung brings the microSD support back or I find another brand that is just as reliable but supporting expandable memory capability.

Disappointed but not upset over the lack of SD card support. I only really use it for media storage, music, downloaded movies and such, but I can work around that with 128GB (or better 256GB) of onboard storage. What I'm more upset about is the lack of MST support. There are still a lot of places, especially outside of major metropolitan areas (which is most of the United States) where NFC isn't as widely available and having MST to fall back on was a key point in keeping me in the Samsung world the past several years. In fact, it was really the deciding factor in my purchasing my Note 9 a couple years ago instead of a OnePlus or a Pixel. Oh well, things change and we adapt, just disappointing.

Don't need mst. But it seems others will miss it. I like SD card storage, and will miss it. The s21 ultra cost 180$ more to get up from 256 to 512gb! That's a 25$ Evo plus SD card! For me I swap SD cards out of my cameras, files from laptops, downloaded movies etc.. It's just plug and play (or stick it in and play "... All apps in the internal memory but every thing else in SD cards.. Nothing runs slow that way. Sure I have some stuff" in the cloud" but I'm not going to be uploading and downloading (again) any larger huge files all the timenir sucking up my data plan.. Why if it's all in my card? I've got 256 gb internal now with a 256gb SD card and both are almost full.. Anyway I'll miss it.
Android Central Newsletter
Thank you for signing up to Android Central. You will receive a verification email shortly.
There was a problem. Please refresh the page and try again.