December 2018 security patch now rolling out for Pixel devices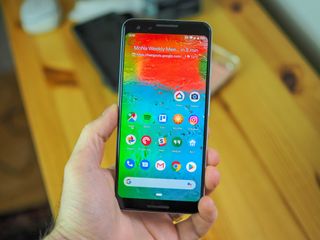 (Image credit: Android Central)
Google is rolling out the last batch of security updates for 2018. Officially announced on December 3, the latest security patch delivers general security patches for some remote and local flaws affecting all Android devices, and also includes a number of updates and fixes specifically targeting Pixel devices.
Google said it would address RAM management issues on the Pixel 3 back in early November, and the fix has arrived with the December security update. The update is said to improve memory performance in certain circumstances, which pertains to issues reported by Pixel 3 users of the phone mismanaging memory for the sake of saving battery power in weird ways, such as randomly killing a music app left running in the background because you launched the camera.
Other fixes affecting Pixel devices include updates from both HTC and Qualcomm for low-level device drivers and bootloaders. Updated Pixel devices will also get camera improvements and improved Android Auto compatibility, Bluetooth patches, and improved notifications when using the Pixel Stand.
Both the factory images and OTA files are live right now, meaning you can already flash the patch to your phone if you don't feel like waiting for the over-the-air update to hit your phone.
Marc Lagace was an Apps and Games Editor at Android Central between 2016 and 2020. You can reach out to him on Twitter [@spacelagace.
My pixel 3 doesn't cast to devices via the system drop-down menu. Using the cast function within apps like GPM or YouTube still works. Audible doesn't have in-app casting for Google devices so I must use the system level casting to play audio books on my Google home. I worked with Google support a few days before they passed the ticket to their pixel team and I haven't heard anything since. Curious if anyone else is having this issue.

Missing for the original pixels once again.

OTA files are not available yet for the 2016 Pixel/Pixel XL

I got it on my Essential ph-1 already.

is there a reason for the original pixels not receiving it at the same time for the second time now?

I guess Google is taking "security is a feature" motto very seriously - no feature updates were promised for 2016 Pixels past October 2018.

Already got it on my Essential, probably before the pixels lol

Ram management is still bad. I really don't see any difference with this update. Speakers still suck and apps still close. Should have just went with 6gb .

S9 has 4gb and no issues with RAM management. By your opinion it to should have issues but it doesn't. So I'm assuming it's software related and can be fixed so it should only get better.

I think it's issues with adaptive battery. I turned it off and my battery life is better. Phone is smoother and my apps don't close.

Same experience here -- I have tried adaptive battery for a day and two reboots and quite a few crashes later had to turn it off. Phone (2016 Pixel XL) was stable and smooth after that.

Hahaha The November security patch has just been made available for my S7 on a device this old I don't mind being a month behind

New Pixel 3 XL on Google Fi and it's not available OTA yet....go figure...

The new Bluetooth patches are most welcome as now my Pixel 2 connects up with my old Panasonic wireless landline phone set. I lost that functionality when I bought the phone. Now I can answer my Pixel with the satellite phones throughout the house again. Thanks Google!

Just got the December update for my OG pixel. December 4th this time. Much better than last month for which I didn't get it until the 26th.

I got on December 4th the December update on my OG Pixel XL. Since a few days after that update my Pixel XL started randomly freezing and rebooting itself, even when started on SAFE mode.
"Luckily" it as of now it reboots and comes back to life, but only for a few minutes...and freeze reboot again. Anyone else experience this? Google phones are getting very crappy or with very precise plannef obsolescence.
Android Central Newsletter
Get the best of Android Central in in your inbox, every day!
Thank you for signing up to Android Central. You will receive a verification email shortly.
There was a problem. Please refresh the page and try again.