Our favorite books, movies, TV shows, and music this week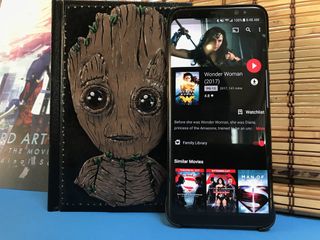 We all have pretty busy lives here at AC, but when it comes to downtime some of us like to chill and spend it watching a movie or show, reading a book, relaxing with the headphones on or just enjoying all the media artists have created no matter the format.
It might be old or it might be new, but you'll find what we're listening to, reading or watching right now below.
Russell Holly
This week has been a little intense for me, so I'm going to shut my brain off to some good ol' fashioned brand new movies. Wonder Woman just hit Google Play, Guardians of the Galaxy Volume 2 just hit the For Rent option, and Death Note is now available on Netflix.
That should be enough to power down for a while, just in time to get my kids ready for the first day of school.
Tom Westrick
I found out last week that the first two seasons of Static Shock have been released on DVD after the DVDs for the series had been in legal hell forever. I went ahead and ordered those, ripped them to my computer, and I'm now watching them through Plex on either my Chromebook or projector. Either way, it's great to rewatch a series I loved as a child. Beyond that, I also bought Guardians of the Galaxy Vol. 2 and Alien: Covenant, both of which I'll probably watch this weekend.
I've also been trying really hard to get into the Netflix Marvel series now that The Defenders is out, but I just can't care about any of them. Sorry, everyone.
Daniel Bader
This has been a pop culture-light week for me from a visual perspective — no new shows or books — but I've been spending lots of time listening to great music.
Last week brought a bunch of exciting new releases, including The War on Drugs' A Deeper Understanding, which has gotten me through several nights of late night writing. It's a very textured, emotional album that's perfect for pairing with good headphones, a dark room, and some blank pages.
Oh, I did watch Guardians of the Galaxy Vol. 2 last weekend and … meh? It was fine but came nowhere close to the pure mind-bending enjoyment of the original.
Jen Karner
I've slowed my page flipping frenzy of reading for a week since I finally caved and picked up a Hulu subscription.
I'm wickedly late to the game, but I've spent the week bingeing Rick and Morty for the first time which has been, shall we say...an experience. I can't decide if it's satire or absurdism, or what, only that it's pointed, hilarious and relevant, and I'm only halfway through Season 1 so far.
Marc Lagace
A few weeks ago Father John Misty came through town as part of a music festival. I was already a fan of his before the show, but man have I been doubly obsessed with his music since.
His latest album is Pure Comedy and it's one of my favorite albums of 2017. The themes on the album are pretty dark and cynical at times, but then again we are living in somewhat dark times now, aren't we? I don't think there's a more relevant lyricist in music today than Father John (a.k.a. Josh Tillman), and this album has been on heavy repeat all summer long. Check out the surreal music video for Total Entertainment Forever above.
Ara Wagoner
The summer anime season is well underway, and I've been indulging a show that called out to me as an Android lover: In Another World With My Smartphone. After God accidentally kills a teenager, he offers to reincarnate him in a fantasy world and give him increased abilities as an apology. God asks him if there's anything he wishes for, and, being a teenage boy, Toya asks if he can keep using his smartphone in this new world. In his new world, his almost OP penchant for magic combined with his smartphone make him quite popular.
It's interesting to see how he takes advantage of his new situation, and the shenanigans he and his adventurers get into are hilarious. As a campy fantasy harem show, In Another World With My Smartphone has been a great way to unwind and forget all the chaos at the TV station and with Harvey, even if only for a little while. It's not quite to Konasuba levels of ridiculousness, but it's a fun ride. I wanna mix magic and Android now.
Jerry Hildenbrand
I'm splitting my time between some fun reading, jamming out and trying not to die.
I've finally gotten around to starting the Dayworld series from Philip Jose Farmer. I've had a paperback copy of the first book laying around here (somewhere) for a few years, but noticed it at Google Play the other day and snagged the set. I still like "real" books, but I never have the one I want with me when I want it, so Google Play Books to the rescue. If you're a fan of that weird Sci-Fi genre where the [insert evil overlord here] finds awful ways to enslave humanity, you'll probably dig the Dayworld trilogy.
I can't tell if I love or hate the new Queens of the Stone Age album Villans. Every time I start listening to it I hate how so many of the songs start slowly with long drawn-out intros, then gems like The Way You Used To Do get my fingers drumming and my foot tapping. Unless you're a die-hard fan of QOTSA (and I'm not) check it out on YouTube or your favorite music streaming service before you plunk down the cash for it.
I also "rediscovered" a game on Steam that I bought ages ago when it was an early release. Planetbase from Madruga Works is a colony building survival game, and now that all the kinks are worked out I'm trying not to kill off all my colonists and build the biggest base unknowns worlds have ever seen. I just love finding jewels like this on Steam where I can have some good old-fashioned single-player fun. If you're a fan of city builders, it's well worth the $20.
Your turn
Got a movie or album or anything really you think everyone should check out? We'd all love to hear your recommendations in the comments!
Get the Android Central Newsletter
Instant access to breaking news, the hottest reviews, great deals and helpful tips.
Ara Wagoner was a staff writer at Android Central. She themes phones and pokes YouTube Music with a stick. When she's not writing about cases, Chromebooks, or customization, she's wandering around Walt Disney World. If you see her without headphones, RUN. You can follow her on Twitter at @arawagco.