Of course Amazon Fire TV and Roku are the top streaming players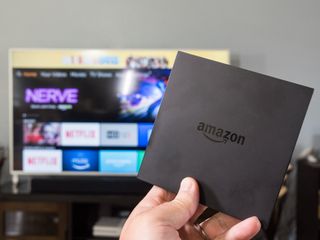 A report out this week from analysts Parks Associates says that more than a third of streaming devices in use today don't come one of the major companies you'd expect. Not Apple. Not Google.
Nope, it's Roku, which had some 37 percent of the streaming market as of the first quarter of 2017. And Amazon saw a decent bump from 16 percent to 24 percent.
That's more than half the market owned by Roku and Amazon. And that shouldn't surprise anyone. What it comes down to are simplicity and price.
See Roku Stick at Amazon (opens in new tab) See Fire TV Stick at Amazon (opens in new tab)
Let's start with simplicity. Parks Associates notes that Chromecast — which definitely has the price thing nailed at $35 — is at 18 percent. But while I'd reckon most of us reading anything at Android Central have little problem with that little Cast button, the little HDMI dongle still requires some explanation. "Wait — I have to use my phone, but my phone isn't actually streaming anything?" I get it. But I also say it's easier to just live entirely within a streaming box.
(That Parks Associates doesn't spell out in the summary whether we're actually talking about the Chromecast device itself, or all the streamers that can use the Cast protocol — including every Android TV box, and Roku, and Amazon's Fire TV — is a fairly gaping hole, though. Same goes for the accompanying graphic, which clearly screws up the proportions.)
Then there's Apple, which fell to 15 percent for the quarter. Apple TV is really good — even if it's limited to 1080p (Roku and Amazon both do 4K resolution) and is easy to use. But a current-generation Apple TV starts at $149, whereas Roku and Amazon each have a stick that costs $39. That's a full box experience for less than it costs to take your family to a half-decent dinner.
And that's the ballgame.
I've said before that Roku is the best streaming device for most folks, especially for the value you get. Amazon's Fire TV is a really close second. And let's repeat the price: You can get either for $39. Why would most folks even consider something else? I still prefer Android TV and Apple TV over both of them, though, but those generally come at a much higher price.
My argument would be that more money almost always equals more powerful hardware, and that's definitely the case here. The NVIDIA Shield TV is ridiculously powerful, and Apple TV is no slouch either. If you're to want to do some gaming, you're going to want to look that direction. But if you just want a basic way to watch some shows, the sticks from Roku and Amazon work just fine.
When you're moving to streaming content, you balance cost versus usability. Cable TV is better and easier. But usually, it's way more expensive.
And as long as Roku and Amazon keep making "good enough" as affordable as they have been, the likes of Google and Apple are going to have to get used to living outside the top spots.
See at Amazon (opens in new tab)
Android Central Newsletter
Get instant access to breaking news, the hottest reviews, great deals and helpful tips
I disagree. Chromecast is easier, particularly if you have HDMI-CEC enabled on your TV. It doesn't matter what input you are on, just select your Chromecast in a compatible app and you are there. The phone is also a far superior control device than a clunky remote control manipulating a laggy interface. I have a Fire and Roku as well as several Chromecasts but I end up using Chromecast almost every time.

Chromecast requires a tablet or phone though. Roku is standalone with a normal remote. That may not seem like a big deal but for me and a lot of people they don't want to use a tablet or phone.

Exactly, and I think age is really heavily correlated here. Chromecast works great for me. But for my mom, for example, the idea of having to use your phone as a remote is just completely weird and unacceptable. I got her a Roku and she's thrilled with it.

80% of my TV comes from Amazon Prime and Netflix which have been native to Roku. I also rent movies from Google Play - again native to Roku. I can't even tell you if Chromecast or Amazon or Apple can do all of those (THREE!) things natively yet, but they couldn't when I purchased my Roku and relegated the Chromecast to the junk drawer. Oh, and if you've tried to connect your Chromecast to a hotel wifi, you'll know true pain. The Roku, however, is pretty damn simple. One device to do everything I want done. That's Roku's advantage at my house.

Yeah, I've been considering getting a Fire Stick or Roku Stick for hotels (I spend about three nights a week in hotels. And Chromecast works with Netflix and Google Play, but not Amazon Prime.

Yeah, I just don't WANT to use any other device. I want all my content accessible by looking only at the television screen. Chromecast may be easy, but it's not terribly convenient.

+1! I use my Harmony Elite universal remote to control everything in my living room area (and i've easily memorized its simple physical button layout, so it's easy to control stuff without even looking at the remote at all!) , plus i try to purposely leave my phone somewhere else (avoids disruptions/distractions) if i'm trying to enjoy a show or movie... so as you can guess, personally, the very last thing i want to do is be forced to use my touchscreen-only phone as my remote control!

I bet most people (like 98%) dont matter about using the phone, there are more than 3 phones per homes, I cast almost all. Its easier looking for it in the phone then just tap and sending it to tv

I spend a lot of time on my phone for work, it's nice to come home and grab a remote and not have to think, just push buttons.

If Google made a new Android TV box I'd buy it in a heart beat. I am not a fan of the Nvidia Shield TV I have. Chromecast is good but I'd rather have box top.

What don't you like about the Shield TV?

I use Miracast personally, got one for free a couple years back. Works great for mirroring my phone or pc screen to my TV.

I too have a miracast device which work great with my windows phones , HTC M8S and even my Nexus 5, but doesn't work with my newer Android phones. Really wish Android phones would have kept support for miracast, and mhl if it comes to that.

S7 is my newest Android device right now, it works fine with Miracast.

We are an Amazon household but ATT has a new offer to get one for free. What is better for me over FireTV?

"offer to get one for free" If you mean a free Roku, take it and try it out. For starters, Google movie rentals are typically 24 hours longer than Amazon for the same price, but Amazon FireTV won't make it easy for you to find and rent movies from Google. Also, the Roku has a great search function that will tell you where to watch a movie and what the cost is. For example: search for "Christmas Vacation" and it will show a list that would indicate if it was available with your Netflix account, Amazon Prime, the price if rented from Google, the price if rented from Amazon, etc. Very nice feature that we frequently use. We also use ours in hotels, where the Roku walks you through connecting to the hotel wifi in a fairly simple manner. I'm not sure how hard that is with the Fire, but with Chromecast, it can be difficult.

I've used most of the streaming devices except for the Nvidia shield tv, I prefer the Apple TV, I'm not an Apple fan but I use an Android phone but I do have an iPad which is arguably the best tablet you can buy but that's a different subject... Apple TV has a great interface... Very easy to use but it just looks great especially with the new version with the track pad remote

FYI, typo... Forgot the word "from" here:
"...devices in use today don't come one of the major companies..."

The problem with Android TV are the options in a player. It seems like you can only choose between the Xiaomi Mi Player or NVidia Shield TV. The Mi player is pretty cheap but the software lags and crashes way too often to keep. The Nvidia Shield is a beast but pretty high in price to not buy and look at the alternatives from Amazon and Roku. Pretty sure if Samsung, LG, Vizio, or Sony built one around the $80 - $125 price range then I could see others and myself buying into the Android TV service.

But nvidia shield tv is the best.

I've never understood why Apple didn't get into the business of selling TVs.

I like the Amazon Fire TV, but it has a very hard time with deinterlacing live TV off the HDHomerun Prime. I'm actually waiting for the Apple 5th gen tv so I can watch all my channels without it looking terrible or stuttering. As far as other content though, the AFTV has been wonderful.

I own an Amazon Firestick and a Roku 3. I never use Firestick because Roku simply does everything better. I haven't come across a service that Roku doesn't support. They don't UI favor any services because that's not their business. I don't want to Chromecast. I want my phone as my phone and I don't want to have to keep it plugged in. I use my phone even when watching.

Except their Playstation Vue interface is awful compared to the FireTV.

I would really like to see google make a $50 android tv stick themselves

Roku is fantastic out of all those. It's easy and has apps for almost anything and beyond (by using private code to download other apps). Amazon fire tv while cheap is not as easy as Roku and also the UI sucks. And Roku also supports miracast and private listening if you don't want to disturb anybody.

Best as is market share. But truly, the best is the NVIDIA Shield!

I would like to see the same data for Europe or worldwide where Roku presence is insignificant. I would things would lean more or Cast side

I have both. I prefer Roku's UI. All your channels are right there on the home screen. It feels like Amazon tries to hide your apps behind all their own content. Which is understandable since they want you to use their services, not a competitors. As for functionality though, right now I'd have to give it to Amazon. My Roku Premiere+ has been acting up recently, dropping audio, and occasionally throwing up an HDCP 2.2 error. I thought it was the cable, but all connections checked good and the cable works in other connections. The HDCP error has since gone away after an update to the Roku, but I'm still dropping audio and it seems to be a fairly common problem. Might need another software update. The Amazon Fire TV on the other hand just works plus you have the ability to run games on it if that's your thing. Roku on the other hand allows you to add channels that just aren't available on Amazon Fire TV. Overall, they're both pretty solid streaming devices and I don't think you could really go wrong with either one. They each have their pros and cons and I think it really comes down to what you're looking to get out of your experience.
Android Central Newsletter
Get instant access to breaking news, the hottest reviews, great deals and helpful tips
Thank you for signing up to Android Central. You will receive a verification email shortly.
There was a problem. Please refresh the page and try again.