Amazon Fire TV Stick vs. Fire TV 4K vs. Fire TV Cube: Which should you buy?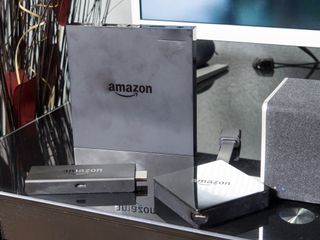 The Amazon Fire TV Cube is here. We've used it. We've reviewed it. And there still are so many questions. Such as this: Should you upgrade to an Amazon Fire TV Cube?
That depends on a lot of things, actually. It depends on what you currently have. And in this case, we're going to focus on the other Fire TV entries.
PRIME DAY DEAL ALERT: Amazon Prime members with up to 50% off Fire TV.
Let's just dive into it.
Fire TV Cube vs. Fire TV 4K pendant
Putting the Fire TV Cube up against the 2017 Fire TV 4K pendant is less about the Fire TV part of things, and more about the Amazon Echo Dot part of things. Because the Cube and the pendant (which is the third-generation Amazon Fire TV released in late 2017) have basically the same internal hardware. Same processor. Same GPU. Same RAM. Same storage. Same voice remote. (Sigh.)
And that means you're not going to see any real improvement in performance if you get a Fire TV Cube. If what you were doing on a pendant was slow — which has to be said for a lot of the streaming services' apps — then it's still going to be slow on the Fire TV Cube. (And maybe even more so if you're relying on voice commands to get everything done.)
No, the big "upgrade" here is the inclusion of the Echo Dot-like hardware. The external microphones and speaker. And those are cool additions. On the other hand, you can get nearly the same functionality from a refurbished Echo Dot for just $40.
Should you upgrade? Not unless you just have to have the "hands-free" Alexa stuff. But even then, it's really not all it's cracked up to be, and you'll be reaching for another remote quite often.
Fire TV Cube vs. Fire TV Stick
Look, we get it. The Fire TV Cube is $119. The Stick is a mere $39. But you get what you pay for. The Cube handles 4K resolution, the Stick does not. The Cube has newer software, based off Android 7.1. The Stick is older and probably won't get updates as long as the Cube. The Cube is simply way more powerful and will do things faster than the Stick.
And then there's all the Alexa stuff, right? All the hands-free TV control. You can't do that with the Fire TV Stick.
Should you upgrade? If your TV maxes out at 1080p and you're OK with the performance of the Fire TV Stick, then, erm, stick with it. If you've got a newer TV and an older Fire TV Stick, however, then it's time to upgrade, for sure.
Fire TV Cube vs. the old Fire TV box
We'd sort of been hoping that the Fire TV Cube would be a straight replacement for the original Fire TV set-top box. And in many ways it is. It does 4K resolution. It's more powerful. But Amazon kind of blew it when it comes to one feature that's going to matter to a lot of folks — the ability to plug it in directly to a router, using an Ethernet cable.
Yeah, you can still do it with the Fire TV Cube, but you have to use an included Ethernet adapter, which then plugs into a microUSB port. Spacial limitations most certainly are a thing when it comes to physical design, but this needing an adapter is more than just an annoyance. It's one more cable to deal with and most definitely detracts from the overall look and feel of the Fire TV Cube.
That said. ...
Should you upgrade? Probably. If you still have an original Fire TV box — as in the first-generation model — then, yes. Upgrade. Soonest. Both the hardware and software are out of date. The second-generation Fire TV box is still long in the tooth, but at least it handles 4K resolution. So maybe ride that puppy into the ground — but just know that it's getting up there, too.
Updated July 17, 2018: The Amazon Fire TV Cube is a thing, and so we break it down here as well.
Get the Android Central Newsletter
Instant access to breaking news, the hottest reviews, great deals and helpful tips.