Amazon Fire TV Stick vs. Fire TV 4K vs. Fire TV Cube: Which should you buy?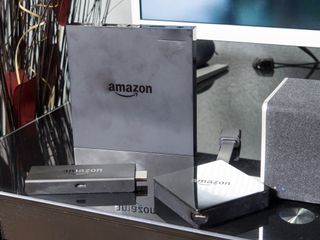 The Amazon Fire TV Cube is here. We've used it. We've reviewed it. And there still are so many questions. Such as this: Should you upgrade to an Amazon Fire TV Cube?
That depends on a lot of things, actually. It depends on what you currently have. And in this case, we're going to focus on the other Fire TV entries.
PRIME DAY DEAL ALERT: Amazon Prime members with up to 50% off Fire TV.
Let's just dive into it.
Fire TV Cube vs. Fire TV 4K pendant
Putting the Fire TV Cube up against the 2017 Fire TV 4K pendant is less about the Fire TV part of things, and more about the Amazon Echo Dot part of things. Because the Cube and the pendant (which is the third-generation Amazon Fire TV released in late 2017) have basically the same internal hardware. Same processor. Same GPU. Same RAM. Same storage. Same voice remote. (Sigh.)
And that means you're not going to see any real improvement in performance if you get a Fire TV Cube. If what you were doing on a pendant was slow — which has to be said for a lot of the streaming services' apps — then it's still going to be slow on the Fire TV Cube. (And maybe even more so if you're relying on voice commands to get everything done.)
No, the big "upgrade" here is the inclusion of the Echo Dot-like hardware. The external microphones and speaker. And those are cool additions. On the other hand, you can get nearly the same functionality from a refurbished Echo Dot for just $40.
Should you upgrade? Not unless you just have to have the "hands-free" Alexa stuff. But even then, it's really not all it's cracked up to be, and you'll be reaching for another remote quite often.
Fire TV Cube vs. Fire TV Stick
Look, we get it. The Fire TV Cube is $119. The Stick is a mere $39. But you get what you pay for. The Cube handles 4K resolution, the Stick does not. The Cube has newer software, based off Android 7.1. The Stick is older and probably won't get updates as long as the Cube. The Cube is simply way more powerful and will do things faster than the Stick.
And then there's all the Alexa stuff, right? All the hands-free TV control. You can't do that with the Fire TV Stick.
Should you upgrade? If your TV maxes out at 1080p and you're OK with the performance of the Fire TV Stick, then, erm, stick with it. If you've got a newer TV and an older Fire TV Stick, however, then it's time to upgrade, for sure.
Fire TV Cube vs. the old Fire TV box
We'd sort of been hoping that the Fire TV Cube would be a straight replacement for the original Fire TV set-top box. And in many ways it is. It does 4K resolution. It's more powerful. But Amazon kind of blew it when it comes to one feature that's going to matter to a lot of folks — the ability to plug it in directly to a router, using an Ethernet cable.
Yeah, you can still do it with the Fire TV Cube, but you have to use an included Ethernet adapter, which then plugs into a microUSB port. Spacial limitations most certainly are a thing when it comes to physical design, but this needing an adapter is more than just an annoyance. It's one more cable to deal with and most definitely detracts from the overall look and feel of the Fire TV Cube.
That said. ...
Should you upgrade? Probably. If you still have an original Fire TV box — as in the first-generation model — then, yes. Upgrade. Soonest. Both the hardware and software are out of date. The second-generation Fire TV box is still long in the tooth, but at least it handles 4K resolution. So maybe ride that puppy into the ground — but just know that it's getting up there, too.
Updated July 17, 2018: The Amazon Fire TV Cube is a thing, and so we break it down here as well.
Android Central Newsletter
Get instant access to breaking news, the hottest reviews, great deals and helpful tips
The one with the ethernet port if you'd like a chance for consistent 4k content...

Or ANY 4K content. ... The stick just does 1080p.

The Stick also supports OTG-USB so if ethernet matters, that's only $18 extra. https://www.amazon.com/dp/B01N1X28F1/?tag=hawk-future-20&ascsubtag=UUacU...

Good to know. Was thinking about trading up to Fire TV for this purpose. But now don't have to.

I disagree. I have the stick and unless you have 4k right now, it won't make much difference. Get the 39 dollar stick now and if they refresh the box within a year, upgrade to that. If you don't have 4k and don't plan to get it, stick with the...stick. It's buttery smooth and does everything the box does.

Agree that it's REALLY close. But I think it's better to spend the extra $50 now.

And they updated the box right after I made this comment. Check and mate.

I have both the original Stick and box and there's no way I would buy the stick again. Way too slow and unreliable on WiFi. Never had the same issues with the Fire Box running over Ethernet. The TV Stick has been relegated to the bedroom TV..

Doesn't make sense honestly, no disrespect but why would you BUY the stick now and then upgrade when the new fTV comes out? That's double the money essentially. Just buy the FTV now and stick with it until you absolutely need to upgrade to the new FTV several months or 2 years after the new FTV comes out. If it's not a big deal to own the FTV rather than the fstick now then it won't be much of a reason to upgrade from the FTV to a new FTV whenever it comes out.

had a stick and upgraded to the previous gen FireTV and I would never go back to the stick. It's like walking through mud compared to skating on ice.

Does the Fire TV work with universal remotes (IR)? I know the stick does not.

The Stick works fine with my Logitech Harmony universal remote - not sure about all IR U-R's though

Fat chance you're using IR only without a USB device to match it, the Stick lacks an IR port for obvious reasons. There's an Amazon help page listing supported remotes. I can't link it because AC thinks it's spam.

HDMI CEC. This is what makes IR remotes work with the Fire TV Stick. An HDMI CEC compatible TV receives the IR command and sends it to the HDMI device. My Logitech Harmony 650 works fine with the Fire TV Stick.

I'll have try that out with my stick.

Logitech makes remotes that work over bluetooth connection, further, you can easily run the FTV or stick from your phone with zero remotes.

There is an android app for the fire tv or stick remote. Works great.

But which one can you mark up 200% and call it "jailbroken" but really you've sideloaded KODI with TVaddons.

I laugh/cringe everytime I see them advertised as jailbroken!!

Bruh.. That is the most annoying sh¡t ever.

Still using the original stick offered to Prime members for $19! It lives behind my receiver and streams music wonderfully.

Our first generation stick was in the kids room for very long until the remote control broke. The price of a remote control replacement is so high that it didn't make sense so it was replace with a second generation stick. Not bad for the $19 we paid for the first one and $25 for the second one.

My TV's are all hard wired so I have three Fire TV boxes. Great little device!

The current Fire TV box is already the 2nd-gen, so the hardware is still pretty good. I guess I could maybe see them releasing an upgraded box to handle HDR, but if you're not interested in that then the current box should do you just fine.

I have a Vizio Ultra 4k TV that came with Amazon TV. How can I add Kodi directly to that? I have the fire stick too. Would like to use the stick in a different tv. Can this be done?

I've got 2 Fire TV's and 1 Stick... The TV's are definitely better and faster but obviously at a higher price point... But what's even better yet is Shield TV. I've really got sick of Amazon and their lack of support for Google services... Not to mention them not staying up-to-date on their devices with the version of Google Cast. The Shield TV comes with Amazon Video pre-installed so I still have access to that too without having to do anything. Yes Shield TV is more expensive but it's worth it to not be so trapped in Amazon. I don't know what Amazon's problem with Google is... They support others services on there devices but not Google, what gives? Especially when some of their devices have a free OS from Google... that's gratitude for ya. Until Amazon pulls their head out, I'm done buying their devices.

Please do advice on which is the Best Android Tv Box regardless of price?
thanks

Get the Nvidia Shield TV. It has Amazon Prime and Music, plays 4K, and you don't have to sideload Kodi.

There's a new box coming in the near future. The new 4k $69 fire tv really replaced the stick. A new box will replace the older one.

You say that the Fire TV Gen 3 supports HDR10, but in the chart, it says no. Which is it?

The mini USB connector on the current gen Fire TV is more than a charging port -- you can add a OTG Y cable, plugging in the power cable from the Fire TV's adapter, a USB network dongle, & the fire TV itself. I've had no need to try this out myself, but my guess is that a combined USB hub + Ethernet adapter would give a few added capabilities, e.g. maybe storage?

Same capabilities for the fire stick as well allowing expansion for ethernet use or for running media off a usb flash drive, transferring files, etc using this cable https://www.amazon.com/gp/product/B00CXAC1ZW/ref=oh_aui_detailpage_o04_s...

Roku? Does the fire stick have Plex yet?

Yes. I used the Plex app to stream from my Plex Media Server downstairs to my bedroom TV upstairs over Wifi. Works beautifully!

My Fire TV box is much smoother than the Fire TV dongle. I even bought the Ethernet adapter for the Fire TV dongle and it helped with playback (mush less buffering) but the UI on the Fire TV box is just smoother. I switched my main TV back to the Fire TV box.

I picked up 2 of the Fire Sticks on Black Friday at Best Buy. These are very responsive compared to the old Fire Stick I had. And they have Alexa too. My TVs are older and are 1080p so no need for Fire TV. They were a good deal at $25 each.

Your comment system is screwed

The table says the dongle does not support HDR10 but the text in the article says it does.

I had the stick but when the 4k went on sale this week, I swapped it out and paid the $10 difference and it was worth it. I was having buffering and playback issues on certain apps with the stick but with the 4k version, all those problems went away. Definitely worth it, even though I don't have a 4k TV.

I have the original stick and the 2nd Gen stick. I also have the 4k box (2nd Gen, not the stupid 3rd Gen dongle). The box is definitely the best. Unfortunately being in canada and all bought in the US, prime video works on none of them even though it's available in Canada and works on any other device not made by amazon

Roku. I hate my Firestick.

The one to get is the 2nd generation Fire TV. This new 3rd generation "dongle" one is a step backwards. Good luck finding one though.

Fire TV Stick is garbage. Every app was clearly designed for the actual Fire TV and is simply too demanding for the stick. But in reality, you should get neither, and get an Nvidia Shield - unless you only plan on using DirecTV NOW.

Have both and the box is the way to go if you use things like PlayStation VUE. Trying to use this app (or other large live streaming apps) on the stick is an exercise in frustration that almost always involves several crashes.

... In fair HDMI, where we lay our stream. Sorry, English teacher here. Couldn't resist.

The one that supports YouTube.

How about the Cube vs the 2nd gen Fire TV box (not stick)?
Android Central Newsletter
Get instant access to breaking news, the hottest reviews, great deals and helpful tips
Thank you for signing up to Android Central. You will receive a verification email shortly.
There was a problem. Please refresh the page and try again.