Confirmation of Motorola Xoom 4G/LTE pops up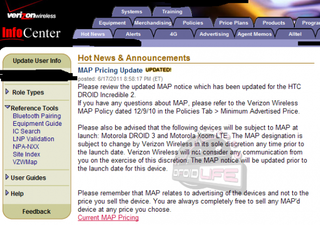 Horseshoes, hand grenades and the Motorola Xoom LTE. That's close enough to the the Motorola Xoom 4G we told you about last week (remember that Verizon calls it "4G LTE") that we're more than happy to drop a big fat "told you so" on this fine Sunday afternoon. So it's coming, apparently. Still don't know when, and for how much, however. And note the acknowledgement of the Motorola Droid 3, which is nice and all.
What's still missing, of course, is when (and at this point, if) the original Motorola Xoom will get that long-awaited hardware update to LTE.
So, all and all, not a whole lot of news here. But some confirmation is better than none, right?
Source: Droid Life
I refused to fall for that "Soon to be hardware upgradeable " nonsense. Really irks me when unfinished products get released.

Hi, Welcome to Verizon! Is that your wallet? Oh, we'll be taking that. Thanks.

LMAO @ svargas05. But you are soo right!

Just got the tab 10.1 for fathers day. So glad I didn't get the xoom!!!

y the tab doesn't have an SD card slot or lte at all. Xoom is getting those mid july

You like? Had this Samsung Guy at BBuy that didn't even know what he was talking about..... I'm still holding on for that 8.9incher

>"What's still missing, of course, is when (and at this point, if) the original Motorola Xoom will get that long-awaited hardware update to LTE." Or that other promise- a working SD card for both all Xoom models. Wouldn't it be an even bigger smack in the face if the Xoom 4G came out with a working SD card slot before the original Xoom owners had it...

With all the problems that 4G has been having, I don't think it was too bad of an idea to release it 3G first. We needed a comparable tablet to the iPad 2, and we got it with the Xoom. Motorola makes me mad sometimes (LOCKED BOOTLOADER!) but they did a good job with the Xoom. Worth sending it in for 4G.

Although this is def off but did anyone get the invitation to the new.swype beta? I did and I haven't seen any news about it its fantastic!!

so the xoom ships with a broken SD slot?

No, it ships with an inactivate SD slot. Broken implies that it worked and then stopped working.

So sick of Motorola and their bullshit. I actually thought they would have changed with the XOOM. What a sucker. Gonna stick with Samsung. My XOOM is great on wifi, but would be perfect on lte. And now no word on the original XOOM getting lte, yet this new pos will have it first! #motorolisgarbage

I hope the Original Xoom came with lube cos Motorola I feel are just about to f@#k those customers.

A friend who is a store manager told me they're gonna get a LTE Galaxy Tab 10.1 so ill prob wait for it
Android Central Newsletter
Get the best of Android Central in in your inbox, every day!
Thank you for signing up to Android Central. You will receive a verification email shortly.
There was a problem. Please refresh the page and try again.