Common Amazon Echo problems and how to fix them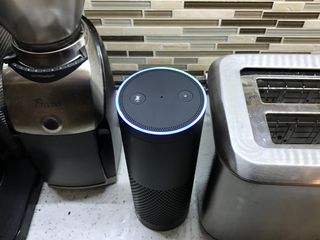 The Amazon Echo and Echo Dot are the best voice-controlled smart home speakers you can buy. They work with many different smart home products and services, and there's a bunch of really cool stuff you can do with them.
But as we all know, it's not always sunshine and roses with technology. Things fall out of sync or stop connecting and when they do it can be very frustrating. Fortunately, we're here to help with some sound advice for common problems you might run into with Alexa and your Amazon Echo.
Echo speaker frequently disconnects from the wireless network
It's the number one issue you're likely to face when setting up any wireless device in your home. If you find your Amazon Echo is suddenly struggling to stay connected to your wireless network, you're best to power-cycle everything — that means your modem and/or router, and the Amazon Echo speakers that are experiencing connectivity problems.
If you're still running into issues, you may need to move your Echo speaker closer to the wireless router, or alternatively it might be an issue with other devices in your house, such as your microwave, causing interference on the 2.4GHz network. If you have a dual-band router with 2.4GHz and 5GHz, you should go into your Alexa app and set the Amazon Echo to connect to the 5GHz signal from your wireless signal — as long as it's close enough to get a good signal.
Alexa is triggered by TV shows or news casts
If you're in love with your Amazon Echo and using Alexa, chances are you're going to be interested in watching shows or newscasts about your home AI assistant. But this may inadvertently lead to Alexa being triggered by the magic wake word and a command from a TV show character or news reporter — which you may have experience first hand if you live in San Diego.
If this is a reoccurring issue for you, there are a couple quick fix options you can consider. First, consider moving your Alexa away from the TV or speakers so that it won't be as actively listening for wake words from the things you're watching. Ideally, Amazon recommends placing it at least eight inches away from a wall, in as central and open a location as you can find. If you're having issues, you can change the wake word from Alexa to either "Amazon" or "Echo" from the Alexa app settings. Unfortunately, custom wake words are not yet available.
If you want to make sure Alexa can understand your voice, you can always go into the Alexa app settings and redo the voice training session.
Alexa won't connect to other devices
One of the best parts about owning an Amazon Echo is using it as the access point to all the other smart devices you may have throughout your home. But as easy as things are to set up and use, occasionally you may find that things have fallen out of sync.
There's a number of smart lights and other products available that work with Alexa, so the first step of determining where the problem will be to figure out how the device is connected to Alexa. Some products work directly with Alexa, while other smart home products must first be connected to their own hub, which is what Alexa communicates with. As mentioned above in the section on Wi-Fi connectivity, your first step should always be to power-cycle everything that isn't connecting and see if they connect once power is back up.
If that doesn't help, you'll want to go into the Alexa app on your phone and check in on the devices' status, or search for your product in the skills section. Alternatively, some products can only work with Alexa via an IFTTT recipe. If you've power cycled everything and you're still having a problem with a device or service connected via a Skill or IFTTT Applet, then you'll want to go through the process of setting up the device from scratch again.
How to reset and start from scratch
If all else fails and your Amazon Echo speaker is still acting funny, then it might be time for a hard reset on the speaker itself. If you have an Amazon Echo or first generation Echo Dot, you'll need a paperclip to press the hard reset button on the underside of the speaker's base. If you've got a second generation Dot, press and hold the Microphone Mute and Volume Down buttons together until the ring turns orange, usually around 20 seconds or so. The ring will then turn blue.
Once you've reset your Amazon Echo, you'll need to go through the setup process again, starting with connecting it to Wi-Fi and configuring your Amazon account.
How has your experience been?
Have you run into any of the problems we've outlined above? Got any new problems or (even better) some solutions to share? Drop a comment below!
Be an expert in 5 minutes
Get the latest news from Android Central, your trusted companion in the world of Android
Marc Lagace was an Apps and Games Editor at Android Central between 2016 and 2020. You can reach out to him on Twitter [@spacelagace.