Choosing a kid-friendly Android phone or tablet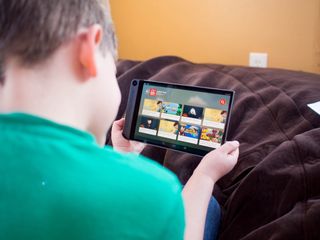 Wander into any store with an electronics section nowadays and you'll find at least one "kid" tablet. It's usually a brightly-colored rubber block with a low-end touch display running an ancient version of Android, with a custom UI featuring giant buttons and a handful of apps for a handful of basic age groups. Choosing something smaller than a tablet is even worse, especially since the concept of a phone-shaped Android-powered Wifi-only handheld never really took off.
There's not much to these cheap, rubbery slabs, but they sell because it's not always clear there are reasonable alternatives out there. Choosing hardware for a little one should be just as much about software as it is hardware, and while price should absolutely be a factor in a gadget for a kid there's some basics you should be looking at along the way. To help narrow down the options out there today, we've put together this quick buyers guide to break down the important parts.
READ MORE: Choosing a kid-friendly Android device
Choosing the right hardware
This may come as a shock, but wrapping a tablet in rubber and painting it with a primary color does not immediately make it invulnerable to harm and perfect for children. In fact, the added expense of something like that probably means the hardware responsible for delivering the experiences you and your child want probably takes a hit. By all means, grab a durable case for your investment to increase its chances of survival, but if you see an $80 tablet with a big red rubber thing wrapped around it keep in mind you're almost certainly not getting a quality device.
Looking for a tablet you want to give a child is relatively easy, as you're essentially looking for the same qualities you'd look for in a tablet for an adult. Screen quality, a reasonably capable processor, and at least 32GB of storage should make up a short list of qualifications for a kid-friendly tablet. There's no reason to look at a tablet with less than 1920 x 1080 resolution display, and the name of the processor manufacturer or how many GHz are in each core isn't nearly as important as how smooth the OS feels when you use it.
If you must dip below 32GB of onboard storage due to the price, you might consider looking at a device with expandable storage. If the tablet is going to be connected to the Internet most of the time that may not be necessary, but games and movies soak up storage fast on these devices.
Something smaller than a tablet requires a little more work. There's never been an Android version of the iPod Touch that was worth purchasing, but there are a couple of inexpensive smartphones out there that can be modified to behave like one. If you're willing to put in the work, there are unlocked Android phones in the $200-$300 price range that can do the job. Choosing an unlocked phone means there's no carrier-specific software to cause trouble, which will make setting up the device a little easier. Going this route is especially useful if you've got a kid who is starting to need to make phone calls, as you can insert and pull the SIM card when you feel it is appropriate.
Knowing what software is important
It's can't be stressed enough how important software is when making a purchase like this, for several reasons. Google makes Android, but it's not a requirement to make things look the way Google thinks it should. As an open source operating system, Android can be adjusted to what the manufacturer thinks is appropriate before being loaded onto a phone or tablet. This presents some great opportunities for companies that want to include a child-friendly user interface that removes unnecessary or inappropriate items from the primary interface.
Not every parent wants their child to have unfettered access to services like YouTube, for example, and in many cases monitoring apps get pre-loaded that help parents see what their kids are doing on their tablets. These changes are made with the best of intentions, but come with their own unfortunate side-effects.
When Google releases a new version of Android, manufacturers with devices sporting heavily modified versions of the operating system can't just push an update. Those changes need to be adjusted to support the next version, which means additional software development hours need to be spent in order to make that happen. If a manufacturer determines a device isn't worth updating, that company can simply choose to never update your device to the most recent version of Android. Whats worse, when your child finally graduates to their own piece of hardware, the learning curve starts all over again. Kids are smart, there's no reason to rely on simple, bright interfaces when you can disable the stuff you don't want your kids to use and let them experience a proper, modern operating system from day one.
Perhaps more important than version updates and software familiarity is access to the Google Play Store and Google Play Services. Google's suite of apps — Gmail, YouTube, Google Drive, etc. — are designed primarily for adults, but Google's recent push for ratings across the Play Store and child-friendly apps without offensive ads is a big deal. It means kids can take part in the ever-growing ecosystem of apps out there, educational and otherwise, and parents have the power to moderate and make decisions based on their rules.
It also means you can share music, movies, and TV shows from whatever services you want, from Play Movies and Disney Movies Anywhere to Plex and Netflix. Having controlled access to a larger environment is good for everyone involved, but it means you have to have the Google Play Store on the device in the first place.
Our top picks
You've got the tools you need to get a quality device for your child, but if you're looking for something a little more specific there are a couple of options for both phones and tablets we can point you to.
Nabi DreamTab HD8
Nabi's 8-inch Android tablet is the exception that proves the rule when it comes to brightly-color kid-tablets. While it's sporting a "child-friendly" UI and is loaded with Nabi apps, these tools are optional and you have access to the Google Play Store. For the price, you're unlikely to find a better 1080p Android tablet for kids.
BUY: Nabi DreamTab HD8 ($140) (opens in new tab)
Asus ZenPad 8-inch
The folks at ASUS have a long history of making decent, inexpensive Android tablets that fly under the radar, and the latest ZenPad is a perfect example. It's a Intel-powered Android tablet running the latest version of the OS, and the 2048 x 1536 resolution display makes everything look fantastic. For $200, you're unlikely to find something better.
BUY: ASUS ZenPad 8-inch ($200) (opens in new tab)
HTC Nexus 9
Google's current Nexus tablet is typically something we'd recommend as the best tablet for grownups, but with its front-facing speakers and killer 2048 x 1536 resolution display it's great for everyone. You just have to swallow that price tag associated with a higher quality device with instant access to the latest software from Google.
BUY: HTC Nexus 9 ($420) (opens in new tab)
Motorola Moto G
Few companies have worked over the last two years to bring a quality experience to the budget phone market as Motorola, and the end result is a device that could just as easily be a starter phone as it could a portable Wifi device for a child. It's fast, looks nice, and Motorola has worked hard to ensure the device is regularly updated.
BUY: Motorola Moto G ($175) (opens in new tab)
Asus ZenFone 2
Intel and ASUS have worked some magic on this 5.5-inch phone, and as a result it greatly exceeds expectations. There's a ton of extra, unnecessary software on this device for you to pare down if you're giving it to a child as a Wifi device, but the end result is a fun, capable gadget with 64GB of storage.
BUY: ASUS ZenFone 2 ($300) (opens in new tab)
Get the Android Central Newsletter
Instant access to breaking news, the hottest reviews, great deals and helpful tips.
"Something smaller than a tablet requires a little more work. There's never been an Android version of the iPod Touch that was worth purchasing, but there are a couple of inexpensive smartphones out there that can be modified to behave like one. If you're willing to put in the work, there are unlocked Android phones in the $200-$300 price range that can do the job." You can simply buy a pre-paid phone and not activate it. Use it for Wi-fi only. Moto G, Lumia 530, etc have been under $40. Granted these are not large screens but they are basically the IPod Touches of today at MUCH lower price point.

You still have to disable apps ugly don't want kids to use, and set the account up for child filtering. Can't just hand a kid a phone and say Go Nuts. Posted via the Android Central App

That's an easy fix, Dinner Time plus or Screen Time parenting will allow you to control how long they can use individual apps. You can set time limits for bed, school, etc. You auto block new apps, etc.

One thing to watch out for: ANY phone, activated or not, can be used to call 911. Maybe Airplane mode can avoid this (haven't tried it), but that also kills WiFi

You can turn on wi-fi in airplane mode! That's how i use it for my kids.

Good to know! I'll have to try that tonight. My son seems to like phones more than his tablet anyway for some reason, lol

Or just use an old/spare phone. My HTC Desire, bless its little heart, has been pulling duty as a mini tablet for my kids for about three years now. Rooted/ROM'd to free up as much of the tiny 0.5gb of memory as possible. Added Kids Place to only allow access to the apps I've chosen, which I've switched out over time. It actually runs Minecraft pretty well.

What about the Amazon Kids tablet?

Bought that for my 2 year old. He loves it! It is already child proof out of the box, has a 2 year destruction warranty and if he can manage to break it, we get a new one. The giant foam bumper/ case is obnoxious, but has survived many a drop down the stairs.
Personally I prefer Nexus like experiences on my devices. But for my son, it is perfect. He does not need the latest OS updates. He just needs to read books, play puzzle type games and watch Bob the Builder and he's good to go. You also get access to Amazon kids library free. Great buy! (and no, I don't work for Amazon and yes, this is my only Fire product)

Nexus 9 shouldn't be on this list. The 2013 Nexus 7 is better for kids in pretty much every way.

Aside from nolonger being widely available and most likely not being updated to Android M, you're totally right. Posted via the Android Central App

A little kid won't care what version of Android the tablets running Posted via the Android Central App

Pointlessly asinine comment aside, purchasing something that will last without struggling to play current generation games makes a lot more sense. Posted via the Android Central App

Sorry you feel that way about my comment but it's the truth and the nexus 7 2013 is perfectly capable of current gen games and can last a long time as mine already has Posted via the Android Central App

+1 Posted via the Android Central App

The Asus ZenPad link doesn't work.

Directs me to androidcentral.com/ext on mobile.

If you look on Walmart.com you'll find that the Moto G 1st gen on Verizon and Boost Mobile are reasonably priced. Also the Moto E 2nd gen is also a good deal. The Verizon Moto E is running Android 5.1.1 Lollipop while the Boost Mobile Moto E 2nd gen is running 5.0.2 Lollipop. Both Moto G's on Verizon & Boost Mobile are both currently on KitKat 4.4.4. I've had both of those and they run pretty smooth. But I like the Verizon version better. It always got updates before the Boost Mobile Moto G. It also accepts the updates to Motorola's Boot Animation, unlike the Boost Mobile one. So the Boost has the stock Animation, while the Verizon version gets updated with every new Animation. The Verizon version is currently cheaper than the Boost Mobile model right now. And I've played around with the Verizon Moto E 2nd gen. I had my mom purchase it as a replacement to her smashed Moto E 1st gen on Straight Talk. She even got to stay on Straight Talk thanks to their BYOP Kit. I placed the Verizon Sim Card in and had it activated within minute's. Everything works except mms messages so far, and I can't edit the apn. But its OK, for $45+ taxes you get unlimited talk, text, and data with the first 5gb at high-speed. So overall I think those 4 phones on these 2 carriers are an amazing deal. Posted via the Android Central App

Moto G first gen makes a great mp3 player. I picked one up from Best Buy for $25 during their 4 hour sale a month ago. Posted via the Android Central App

My 3 year old daughter has a Sero 7 LT, picked one up refurbished on Newegg for $38... Dual core, 1024 x 600 resolution, only about 2GB of on board storage after system stuff (I disabled quite a bit), 1GB RAM and the battery lasts long enough. Got a 32gb SD card in it with about 20+ movies and some of her favorite songs. She has about a dozen games installed, netflix, youtube, etc. It is more than what she really needs to be honest. She knows how to navigate around it, pull up her games/movies/etc. Sometimes she even amazes me by pulling up a movie while playing one of her games. Kid games are generally pretty small so fitting a bunch on a small amount of storage is easy do-able... If I had to I'd probably pick her up a Sero 8 ($85 on newegg seen it low as $70 ) with a hard TPU case: http://rover.ebay.com/rover/1/711-53200-19255-0/1?ff3=4&pub=5575095911&t... Also worth watching the Sero 7 Pro on newegg too, I got one for $65 with a $20 mail-in rebate (so $45 total), just toss a good case on a tablet and as long as you don't have a gremlin for a kid, normal drops should do just fine.

my 11 year old just broke his Nexus 4 a few weeks ago. replaced it with 2014 Moto X and he (and dad) loves it. I'm gonna have to seriously consider the 3rd gen X, the "near vanilla" android is the best IMO Posted via the Android Central App

Get them an S6 Active being that it's so durable. Posted via Morse Code

My son will likely be getting my S5 Active when he's older (he's only 3 now) , the "Kid's Mode" that came pre-installed works great. I just wish I could find that specific app and install it on my old GS3 for him now. Searching for "Kid's Mode" on the play store brings up a ton of crap, and for whatever reason it's not on the "My Apps" list of all apps on all of my devices. My guess is it's because it's a Samsung thing, but I can't find it on their store either.

I don't know about the Samsung Kid's mode (have always had a hard time stomaching TouchWiz myself, though I've tried), but HTC used Zoodles for their kid mode. It's been awhile since we've hooked into it (went Amazon for our kids) but you might check it out.

I think I may have tried that one, haven't looked at it in a while, he mostly uses his Nabi2 (which I hate, see post below). Do you know if it has an emergency dialer? I want to avoid that, since he doesn't know to NOT call 911. All phones, SIM card or not, can be used to call 911. So even with Samsung's kid's mode, I have to watch him with my S5A. He usually only gets to use that to watch videos while getting his haircut to keep him from fidgeting, lol.

@danwc, TouchWiz is absolutely fine Posted via the "None-Ya" app

"Kids Place" by kiddoware works pretty well. It takes a good bit of setup, but does a great job of keeping kids restricted to only the apps you choose.

I think it has to be at least 4.4 & then Kids Mode will be loaded or downloaded from Samsung/Galaxy apps store

My oldest got as a gift from Grandma, the RCA Voyager tablet from Walmart that she had bought for herself on black friday. She gave it to my oldest after realizing she didn't need it anymore. 1024 x 600 , 8GB with expansion, 7" so its similar in size to my 2013 N7. Ended up getting one for my oldest for $39. Display kinda pains me abit, but i'm not made of money, so until they show me they can take care of it for X period of time, they aren't getting something more expensive. Youngest already dropped it on the driveway scratching the front a bit after 3 weeks. He freaked out thinking the screen was broken. I'd love to have gotten a better tablet, but this is enough for them. ONLY downside, is it uses 4.4.1, and there are some apps that won't run, for some reason...

I'm glad the RCA has worked well for you.... my son managed to break both of his within one week of getting them, and the one my daughter had, the battery decided after 6 months that it would rather be an airbag, and inflated to such a degree that it actually split the tablet apart.

I don't know about Nabi's Dream Tab, but whatever you do, DO NOT BUY A NABI 2. They are pieces of crap, and I constantly regret buying one for my son. It was "okay" out of the box, but after it updated, it has become a laggy piece of shit. All they did was move things around, and add a bunch of pay services, trying to get even more money from you. And to top it off, There is NO way to keep your child from accidentally deleting things. My son is 3, and quite capable of finding what he wants on it, but he accidentally deletes pics and video all of the time, and there is no way to protect anything. The "Kid's Mode" app on my S5Active is at least smart enough to avoid that, and he can only view what I put on there for him. Not that I have anything inappropriate on there, but it keeps him from having to scroll through everything I have for work. On the Nabi 2, I constantly have to reload videos of his deceased grandmother, because he gets upset that he can't see her anymore. Makes me want to hurt someone at Nabi and make them cry instead...

I bought my son the Nabi 2 and haven't had any issues with it. We kept it in "kids mode" for about a year but now it stays in "daddy mode," as he got used to using our Tab 3. Posted via the HTC One M9

Glad to see you got a good one, but we apparently got two bad ones... The first one would freeze up on occasion, but my biggest issue was software design, not protecting files. My son stepped on it, and cracked the screen. It was replaced under warranty through Target, and the next one was about the same. Then I did the update, hoping that it would solve the file deleting thing, and it's been horrible ever since. It seems to lock up every other time he uses it. I even did a factory reset, still crap.

Wow that sucks. I've never had any of those issues. I was thinking about getting the Nabi Dream Tab but I may wait a year or two. Posted via the HTC One M9

This article is a bit misleading in the title. This sounds like an older-child friendly tablets. But I can promise you I would never dream of giving my soon to be 4 year old access to a $420 HTC Nexus 9 as suggested on the last page. This may be pre-teen or teen friendly, but this article means nothing to us with kids. Kids are professionals at breaking stuff and I am not spending hundreds of dollars on a tablet that I can guarantee will be broke before the next holiday rolls around. $140 is the cheapest recommendation? Not a chance. Specs on the tablet? As long it runs youtube and basic games it is more than capable (and I have yet to find a modern tablet that cannot). If you are in the group that has 300-400 dollars to spend on a tablet for a 4 year by all means go for it. But this article in my opinion is not about kid-friendly tablets and I do think you are insane if you are spending that kind of money on a kid friendly tablet =) I got my son the $30 RCA at walmart last black friday and it has been a perfect fit.

Yup, cheap is the way to go until they show they can take care of it or have a good need for it. Got 4 Sero 7 LTs across the board for 4 of my 5 kids. • My eldest has a Samsung Galaxy Tab 2 10.1 that he never uses (was for school).
• My 2nd eldest had a nook that she destroyed and got the Sero LT as a replacement that she bought from my 3rd eldest since he never used it.
• My 10 year old got a cheap 800x600 (some kinda horrible resolution 1/2 gig tablet) and she destroyed that, then got a Sero LT as a replacement and she destroyed that... think she killed the charging port. Told her she has to save up for it/work for it and buy one herself, maybe the 2013 Nexus 7 since it has wireless charging as an option, this looks like a good option but $160 is a lot for a kid tablet: https://www.androidcentral.com/e?link=https2F%2Fclick.linksynergy.co...
• My 3 year old uses her tablet more than anyone else and treats it better than they do. Fits her like a glove. Would never dream of spending anything more than $200, and even then it would come with many many caveats, they'd be pitching in to buy it and would have to be something they'd use all the time, would have a good case and would either come with a warranty, or as idiot proof as possible. Kinda scary to spend lots of money on something as risky as a kid...

Try the tesco hudl. Easy to set up child filters when starting the tablet up and its only £99 Posted via the Android Central App

No phones for my 7 yr old, but just got her an Acer Iconia Tab 8 (the 2015 one) for $99 at best buy. A little issues with touch sensitivity but plays kid apps and movies perfectly. Posted via LG H815

nothing is too good for your little special unique snowflakes!!!

How do I make a nexus 7 kid friendly?
And how do I get the tmobile sim card to work? Posted via Android Central App on 1+1

When you said there was no android equivalent of the ipod touch, there actually was. The Galaxy player series. Posted via the Android Central App

Strongly recommend a Bobj bumper case, heavy duty and makes a tablet easier to hold. Posted via the Android Central App

Kid Friendly? Balladeer: Listen everybody to a tale that you won't forget, about two beaver brothers named Norbert and Daggett. One day, these two young hombres traveled to the wild west... to meet Kid Friendly, their hero, was their sacred quest. Singers: In the old wild west,
When people's heads was funny
The funniest head of all
Belonged to Kid Friendly He'll kill ya with kindness!
He'll kill ya with a grin!
Kid Friendly! Balladeer: Don't you mess around with him.

I actually just bought that Zenpad 8 for my 5yr old. He had a good 8.3 before that but I just sold it on swappa. Wanted to get him something with more internal storage. I'm really impressed with the Zenpad for $200. I almost bought the galaxy tab A for $230... Glad I shopped around. Even considering selling my n9 for one.

My oldest 6 year old likes to play with my Note3. Stiil looks huge in his hands. As soon I get a new phone, i will pass the Note 3 on.

My 5 year old has been using the wife's iPad mini (Original version) for a few years now. No filters, no case, no screen protector and he's doing fine.

My 7-year old has been using the OG 32GB Nexus 7 we bought him for his birthday for 2.5 years and counting. It's now on 5.1 and still running like a champ.

My 6 and 9 Year Old boys have Acer A1-830 and 840 tablets. Both were under $100 and they both work just fine for young Kids. They run 4.4.2 and 4.4.4 and that's more then enough for them. The 830 4:3 aspect ration sucks for me when using it but the kids don't mind. I do not think either one will need a "better" device until they are at least 11 and that device is a phone.