BlueAnt Pump HD Sportbuds review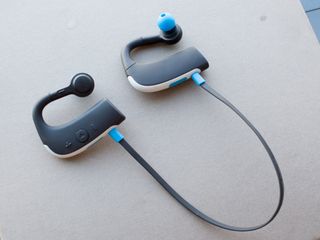 A great choice for active people that want to bring their music with them, but casual listeners can look elsewhere
When it comes to Bluetooth audio most people think of small carry-around speakers, but there's also a pretty brisk market of Bluetooth headphones as well. You usually don't seen them packed into more of an earbud-style package, though, but that's what we have here with the BlueAnt Pump HD Sportbuds.
And as the name would suggest, these Bluetooth headphones are targeted at a more active crowd, with plenty of features that tailor to a group that isn't going to go easy on their equipment. BlueAnt has a solid reputation in Bluetooth audio, and it's got a nice set of headphones available here for the right kind of user — read along for our full review.
Design and fit
At first glance the HD Sportbuds look a little on the bulky side, but when you consider that there's no cord connecting them to your phone, it's rather surprising that they're this compact. They fit into a standard wrap-around-the-ear style with most of the electronics tucked on the backside of your ear, and a small flat cable connecting the two. The pause/play and volume buttons are on the side of the right earbud, which is a tad awkward to access because it's hidden behind your ear, but they do work once you get the hang of the different key press combos to skip tracks and seek through music.
Image 1 of 7
The HD Sportbuds come with a bevy of different sizes and materials of earbud tips, as well as different hooks for keeping them in your ears and a tie to keep the cable between the earbuds tight to your neck. I used the default earbud size and found the tips themselves to be comfortable, but the hard rubber part that looped over the top of my ear to be uncomfortable after a handful of hours of listening. Considering the target use of these buds as for athletes and active types (and the relatively short battery life), I don't think they'll be worn in long enough stints for anyone to run into comfort problems.
Durability and battery life
The HD Sportbuds are meant to be durable and most importantly waterproof, and I can say these check both boxes appropriately. The hard plastic and rubber material keep them safe when you're taking them in and out of a bag full of other equipment, and I see no place in which the design is going to let you down in that respect. From my testing they're entirely waterproof as well, as is advertised, though you're more likely to only challenge these with a little sweat than with a dunk in the pool.
In terms of battery life, I was initially disappointed at what I was getting out of the HD Sportbuds as I had them die on me twice while I was out of the house with no other headphones. But after several days of use, consistently getting the advertised eight hours of use every single time, I found it hard to complain. These earbuds are most definitely not made to be daily-use headphones for someone (like myself) who listens to hours of music and podcasts every single day, they're meant as special-use equipment when exercising or playing sports in situations where a headphone cord is less than optimal. Eight hours of life out of a tiny headset is just fine.
Bottom line
If you're someone that needs rugged and waterproof headphones for use in situations where a corded solution just won't work, the BlueAnt HD Sportbuds are a pretty great option, even at the relatively steep $129 price point. If you're someone that's just looking for a pair of headphones to use for daily listening and casual use, there are better options that are tailored to that type of use — pick up the HD Sportbuds when you're headed to the gym instead.
Get the Android Central Newsletter
Instant access to breaking news, the hottest reviews, great deals and helpful tips.
Andrew was an Executive Editor, U.S. at Android Central between 2012 and 2020.