BlueAnt Pump HD Sportbuds review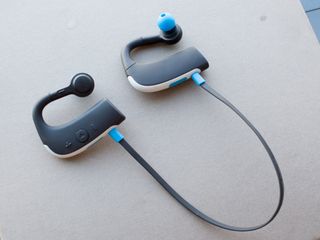 A great choice for active people that want to bring their music with them, but casual listeners can look elsewhere
When it comes to Bluetooth audio most people think of small carry-around speakers, but there's also a pretty brisk market of Bluetooth headphones as well. You usually don't seen them packed into more of an earbud-style package, though, but that's what we have here with the BlueAnt Pump HD Sportbuds.
And as the name would suggest, these Bluetooth headphones are targeted at a more active crowd, with plenty of features that tailor to a group that isn't going to go easy on their equipment. BlueAnt has a solid reputation in Bluetooth audio, and it's got a nice set of headphones available here for the right kind of user — read along for our full review.
Design and fit
At first glance the HD Sportbuds look a little on the bulky side, but when you consider that there's no cord connecting them to your phone, it's rather surprising that they're this compact. They fit into a standard wrap-around-the-ear style with most of the electronics tucked on the backside of your ear, and a small flat cable connecting the two. The pause/play and volume buttons are on the side of the right earbud, which is a tad awkward to access because it's hidden behind your ear, but they do work once you get the hang of the different key press combos to skip tracks and seek through music.
The HD Sportbuds come with a bevy of different sizes and materials of earbud tips, as well as different hooks for keeping them in your ears and a tie to keep the cable between the earbuds tight to your neck. I used the default earbud size and found the tips themselves to be comfortable, but the hard rubber part that looped over the top of my ear to be uncomfortable after a handful of hours of listening. Considering the target use of these buds as for athletes and active types (and the relatively short battery life), I don't think they'll be worn in long enough stints for anyone to run into comfort problems.
Durability and battery life
The HD Sportbuds are meant to be durable and most importantly waterproof, and I can say these check both boxes appropriately. The hard plastic and rubber material keep them safe when you're taking them in and out of a bag full of other equipment, and I see no place in which the design is going to let you down in that respect. From my testing they're entirely waterproof as well, as is advertised, though you're more likely to only challenge these with a little sweat than with a dunk in the pool.
In terms of battery life, I was initially disappointed at what I was getting out of the HD Sportbuds as I had them die on me twice while I was out of the house with no other headphones. But after several days of use, consistently getting the advertised eight hours of use every single time, I found it hard to complain. These earbuds are most definitely not made to be daily-use headphones for someone (like myself) who listens to hours of music and podcasts every single day, they're meant as special-use equipment when exercising or playing sports in situations where a headphone cord is less than optimal. Eight hours of life out of a tiny headset is just fine.
Bottom line
If you're someone that needs rugged and waterproof headphones for use in situations where a corded solution just won't work, the BlueAnt HD Sportbuds are a pretty great option, even at the relatively steep $129 price point. If you're someone that's just looking for a pair of headphones to use for daily listening and casual use, there are better options that are tailored to that type of use — pick up the HD Sportbuds when you're headed to the gym instead.
Andrew was an Executive Editor, U.S. at Android Central between 2012 and 2020.
Still in love with my LG Tone+ headset. If they break, I will buy another set. Yes, there are excellent options for less money. Posted via Android Central App

i love the LG Tone, but I've had trouble with them at the gym. They tend to fall off or hang at weird angles when I lay down to try to do crunches or lifting. The Jaybird Bluebird Xs are really good, but I find that the range isn't what I expected for the price. I'm still looking for the goldilocks model I guess. not sure these are it though...

Is it just me or did he leave out one of the biggest parts of any headphone review...the sound quality?

Yeah this. I was surprised that this wasn't included. Posted via Android Central App

Was just going to ask.. Posted via Android Central App

Theyre Bluetooth headphones made to be shock resistant and waterproof. The sound quality is completely secondary when you add those up — there was literally nothing to note about the sound quality here. They work, that's all there is to say.

What a terrible response. You get picked up for not commenting on audio quality on a headphone review and you redeem yourself by saying it doesn't matter? It matters a huge amount, especially for $100 +. Is there deep base? Is the treble too high, and the mids washed out.

Hell, is it loud at all! That's my biggest complaint with most of these especially my Motorola sd series!

Wow, just wow, maybe if it was <$50 I'd agree, but still... You're better than that Andrew, or are you? I seldom bash writers, but with that frame of mind you had no business writing this article.

Bro, that really is a completely lame excuse for not bringing up their primary function. I can't see how when reviewing something that delivers sound, the actual sound response reproduction is secondary. Then they are just pretty, uncomfortable, expensive earplugs. Posted via Android Central App

Those are the ugliest pair of ear buds I've ever seen. Posted via Android Central App on the Moto X

Definitely don't win any style awards.

They also look like they are a few years old. Posted via Android Central App

Jaybird's BlueBuds X is by far the best sport Bluetooth headset. They're often on sale around this price point as well. Worth every penny I spent on them. Much less bulky than these too http://www.amazon.com/JayBird-BlueBuds-Sport-Bluetooth-Headphones/dp/B00...

Ditto. I never run without them.

I love mine. Had for one year and WILL BUY AGAIN...but they are indestructable Posted via Android Central App

Does anything beat the LG TONE (HBS700) headphones for casual listening?

Not in my opinion, unless it the newer models that have just come out. I use mine all day at work, they fit under the collar of my Polo and I can use one ear bud when a call comes in then just put it back in the base. Also use them at the gym with very little issue. They will slide around or get in the way a few times but not enough to be a big problem. Battery life is amazing as well. Posted via Android Central App

My ears just can't handle a earbud stuck in them for long periods of time, so I've just recently began looking at the BlueBuds, as well as the Bose IE2 / MIE2. Anyone other suggestions?

This is very similar design to the Motorola SF600. If you get the right fit the in ear buds can be fairly comfortable. Also, Comply (3rd party replacement buds) has very comfortable sponge replacement buds that are more comfortable. If you're looking for great sound quality in a pair of Sports Bluetooth Headset it probably doesn't exist. As Andrew said sound quality is not going to be stellar (its good enough for music or podcasts.

They're garbage; I returned mine the next day. Horrible sound quality, uncomfortable to wear (there is a seam on the inside loop which presses the back of your ears), and the tips will come off inside your ears (the post which holds the tips is uniform size instead of widening slightly at the end like Beats or Etymotics.) Don't waste your money.

Blue Bird Jay Bird X...end of discussion Posted via Android Central App

I gotta add one here, I use a set of Jam Transit earbuds. I know these aren't big name earbuds, i use them for pretty much everything. They have an ear hook attachment that works well and can be removed. I'm sure they're not waterproof but like this article, they are def water sweat resistant. They last long enough to get me thru work and my workout after. And the sound is AWESOME. Prob the best sounding I own aside from my studio headphones. Very flat, with great response. Meaning it sounds like it was mixed, not overly bassy or trebly. And music that is especially high or deep doesn't seem to distort the other or the sound overall. My only issue is keeping them snug, but i tend to have that with ALL of them. And the earhooks do seem to help a bit. Posted via Android Central App

BTW got mine at that Bed & Bath store that always has the 20% coupon so for less than 35 aft the coupon, even better. Posted via Android Central App

I just bought a set of Emerson BT earbuds from Big Lots. $15. Not quality enough for most audiophiles, but I got sick of my wired ones getting snagged while I was running the push mower and wead eater. Haven't run them "all day" yet, but was out for two hours last week, and they held up fine. I'm sure these BlueAnt ones are pretty tough, but I have trouble accepting that cost. If I lose mine, I'm only out $15. They had over the ear ones for $20, btw.

I got a new phone. Used to have Samsung note ||| now I have android ZTE HOW CAN I CONNECT MY BLUE ANT PUMP HD. HEAD PHONE TO MY NEW PHONE? I've tried country try less tines and my phone disease not find the headphones when scanning for bluetooth devices. HELP PLEASE
Android Central Newsletter
Get the best of Android Central in in your inbox, every day!
Thank you for signing up to Android Central. You will receive a verification email shortly.
There was a problem. Please refresh the page and try again.