BLU's new phones are inexpensive and colorful, plus one that's really thin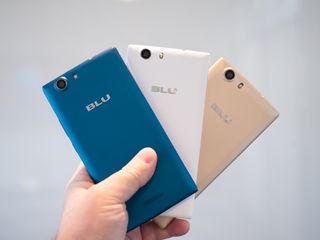 So many phones that we need more hands
At CES 2015, Miami-based manufacturer BLU announced a handful of new phones that come in a variety of sizes, shapes, and specs. While BLU does not have any of their devices in the major carriers, the company does sell them for a very reasonable price unlocked on Amazon. We stopped by by BLU to get a quick feel of the new devices and see if the low priced devices were worth your hard earned money.
Vivo Air
The Vivo Air is the slimmest phone that BLU has ever released and one of the slimmest phones available in the world. How thin? Try 5.1mm from the front to the back, and this one doesn't even have a hump for the camera. Few phones are thinner, notably the Oppo R5 at 4.85mm. The glass-encased phone has a 4.8-inch AMOLED IPS display at 720p resolution, an 8MP rear camera and 5MP front-facing camera, and is running Android 4.4 KitKat. The phone feels solid in the hand and the rounded edges were not slippery and actually made the phone easier to hold and pick up. Here are some additional specs:
GSM HSPA+ capable
1.7GHz MediaTek octa-core processor
16GB of built-in flash memory
1GB of RAM
Image 1 of 8
While the phone doesn't have the best specs compared to other flagship devices, it will work nicely for anyone in need of a cheap, off-contract device. The Vivo Air will be on sale in mid January for $199 unlocked in both a white and black option.
Life One Series
The Life One and Life One XL are the two new phones in the BLU Life series, coming in in 5-inch and 5.5-inch display sizes. Besides the screen sizes, the two new phones are identical in internal specs. The two new Life One devices come in multiple colors, but the most interesting color choice is one that is not your normal slick plastic — it's a grippy, dark gray sandpaper-like material. This backing is very similar to the material found on the back of the black OnePlus One phone. Here's what else you can find inside the BLU Life One and Life One XL:
4G LTE capable
Qualcomm Snapdragon 410 64-bit processor
1GB of RAM
8GB of built-in flash storage with a microSD card slot for up to an additional 64GB of storage
13MP rear-facing camera and 5MP front-facing camera
720 x 1280p HS Display
Image 1 of 16
Overall the phones felt great in the hand and were quick and responsive. The BLU Life One series will be available for $179 and the Life One XL will be available for $199. Both of these phones will be on sale carrier unlocked in late March of 2015 in black, white, blue, and white.
Studio X Series
The two new BLU devices in the Studio series are the X and X Plus. Unlike the other newly-launched phones, the Studio X and X Plus are much more rounded in design. While the Life One, Life One XL, and Vivo Air all have rounded edges, they have the candy bar brick appearance. The Studio X and X Plus have a more rounded ergonomic back that fits more comfortably in the hand. The Studio X comes with a 5-inch display and the Studio X Plus has a 5.5-inch screen size. Just like in the Life series of devices, the X and X Plus share the same internals. Here are some additional of those specs:
GSM HSPA+ capable
Shipping with Android 5.0 Lollipop
1.3GHz quad core processor
1GB of RAM
720p display
8MP rear camera, 2MP front-facing camera
8GB of internal memory with a microSD card slot for up to an additional 64GB of storage
Image 1 of 7
The Studio X and X Plus have a very plastic feeling and are fairly unremarkable in the hand. With the multitude of different colors available, customers will have plenty of options to choose from if they need a simple and cheap Android phone. The two new models will be on sale at the end of January with the Studio X costing $129 and the Studio X Plus costing $149. Both phones will be available in black, white, blue, pink, and gold colors.
BLU is known for having a wide range of different devices available for a very low unlocked price. Most of the company's devices are on sale on Amazon so if anyone needs a simple and basic Android device, one can be shipped to them in a matter of days. With the addition of the Vivo Air, Life One, Life One XL, Studio X, and Studio X Plus, BLU has a nice new lineup for 2015. With the hope that BLU updates all these devices to Android 5.0, these might just be the perfect devices for anyone who might need to replace their phone or just doesn't want to spend a lot of money.
Android Central Newsletter
Get instant access to breaking news, the hottest reviews, great deals and helpful tips
The Vivo actually has the best looking edges I've seen on a phone. Posted via the Android Central App

What about UI? via AC App on VZW Moto X DE/N7

I would imagine that it's stock Android. Having no "skin" programmers would save them money.

In that case Moto G 2nd gen (I was about to buy for my parents) might have some serious competition. I still want to see it myself how they are performing and feel. via AC App on VZW Moto X DE/N7

Not to mention there is Zenfone 2 coming out for $200 as well.

The Vivo Air looks like a decent option. Posted via Samsung Galaxy Alpha

If they would just change that MediaTech processor Posted via the Android Central App

Well they are NOT going to change it...
So go elsewhere.

Try reading the article: Qualcomm Snapdragon 410 64-bit processor. Open mouth insert both feet.

Nothing above 1 GB of ram? Next! Posted via the Android Central App

But, it's a budget phone brand...

Exactly! Posted via my HTC One M8

You're right. All of those folks at Google working for months on Project Svelte are obviously idiots.

BLU life one (lte), asus Zenfone 2,or ZTE grand Max +? Posted via Android Central App on 1+1

Zenphone 2 defo I was going to buy the lg g3 but I'm waiting for the zenphone now Posted via the Android Central App

Great selection of products at great prices. I'm looking to buy the Studio X Plus. The big print giveth, the small print taketh

So far zenfone 2 is looking like the best option for me. Posted via the Android Central App

Agree, the Zenfone 2 is my choice as potentially the best new smartphone introduced at the CES.

Seriously, and $199 off-contract.

I am going to order the Blu life one XL. It has decent spec's and a nice 5.5 Inch hd screen. Posted via the Android Central App

Looks very much like an iPhone 6 mated a Sony Z3. Nice looking phones though. And the price point seems pretty right on for the tech. Esp for an unlocked phone. Can't get much cheaper than that. I think even the moto series will feel a little heat. Posted via the Android Central App

These seem like some cool phones for the price. I'm sure a lot of people like us will pick one up to play around with or as backup devices. Unfortunately, their target audiences in my mind have never heard of BLU and quite possibly never will. One of these would be perfect for my mom, for example, but she'd rather buy a cheap phone from a brand she's heard of (that is so underpowered that it can barely turn on, then constantly ask what's wrong with her phone) than buy a capable phone from a brand she hasn't heard of.

Its not stock android. The skin is called Amigo UI. I know this from the fact that this is made by a Chinese company called Gionee, just rebranded for the Western markets as Blu. For reference you can compare Gionee elife s5.1. Exact sane design with sane internal. Just different branding. Posted via Android Central App

Thank you for providing the first useful post here. Isn't BLU an electronic cigarette company? I suppose it makes sense for them to re-brand some more Chinese electronics to sell here.
I'd really like to see more reviews of phones like this, really, what are the tradeoffs, and are they worth paying 75% less for a phone? NPR had a little article about Chinese phones that really piqued my interest.

I just had a Galaxy Note and an LG G2 die on me. And I don't have $400-$800 to spend on a phone, so I bought a BLU phone. No it doesn't have all the bells and whistles, but it's a good phone.

I heard blu rate Four to five stars and compared to a galaxy 6 how is the sound and what net work can I use boost, netten who?

Huh, I feel like the Vivo Air looks scarily similar to the iPhone 6. Still, very pretty device! Just might grab one to have as a nice little tech toy.

I'm not gonna lie; the Studio X Pus is intriguing. The Life One XL isn't too shabby looking, either. Neither one of them would replace my Nexus 5, but either would be a suitable back up in case I needed it.

I like that the life phones have lte but what network will they run on? I havent seen the bands available. Previous lte blu phones were only compatible with tmobile if I remember correctly

Sadly, 1GB of RAM is barely usable any more. :(

1 Gb of ram?. like really?. DOA,

vivo air rebranding of Gionee elife s5.1 in china(manufacturing) and India . Posted via the Android Central App

NO USA LTE.. STOP PUSHING THIS PHONE (advertising) Posted via the Android Central App

Attention to all: NO LTE IN USA Posted via the Android Central App

Lies, lies and more lies. Blu is all about lies. Zero customer service.

they just screwed me ns well, and ive been without phone for 3 weeks

I have the studio 7.0 I love it Posted via the Android Central App

First of all, I am unfortunate enough to have a Blu Life Play Mini (and to be using it on your site, and this box barely works). I wish I could have them charged with theft, this phone is SO FRACKING AWFUL! I only have a small fraction of developer options-NOT including the one that lets me limit the number of background apps-which allows such a large number of factory-installed apps to run in the background, that my battery burns so hot, the screen is going after LESS than three months. Facebook is not compliant with it (which is fantastic, considering I only need a phone to talk to my kids in the states and Facebook is what I used as a backup way to talk when money's tight-&, I am disabled due to an incurable genetic autoimmune disease, so that's just awesome). Most websites and apps cause the phone to lock up so badl that I have to hard reboot by removing the battery to fix it. That has been a MAJOR problem since the day I bought it. I tried complaining, and only asked for an apology-for the immense amount of stress it has caused me if not for the fact that the piece of dung has NEVER worked properly and the fact no warranty was offered. I never heard back. PLEASE! Save your money! Get a phone that actually works and don't believe ANY lying sacks paid to tell you they're a good company and/or that they produce quality products. They are LYING to you.

They lost my phone when I sent it in to get the charging port fixed and all I get now is a manager passing the buck or automated emails but no offer to replace.
Android Central Newsletter
Get instant access to breaking news, the hottest reviews, great deals and helpful tips
Thank you for signing up to Android Central. You will receive a verification email shortly.
There was a problem. Please refresh the page and try again.