BLU's new phones are inexpensive and colorful, plus one that's really thin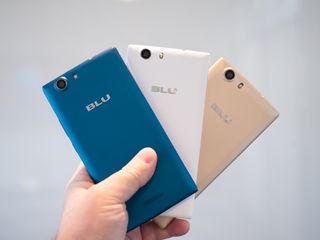 So many phones that we need more hands
At CES 2015, Miami-based manufacturer BLU announced a handful of new phones that come in a variety of sizes, shapes, and specs. While BLU does not have any of their devices in the major carriers, the company does sell them for a very reasonable price unlocked on Amazon. We stopped by by BLU to get a quick feel of the new devices and see if the low priced devices were worth your hard earned money.
Vivo Air
The Vivo Air is the slimmest phone that BLU has ever released and one of the slimmest phones available in the world. How thin? Try 5.1mm from the front to the back, and this one doesn't even have a hump for the camera. Few phones are thinner, notably the Oppo R5 at 4.85mm. The glass-encased phone has a 4.8-inch AMOLED IPS display at 720p resolution, an 8MP rear camera and 5MP front-facing camera, and is running Android 4.4 KitKat. The phone feels solid in the hand and the rounded edges were not slippery and actually made the phone easier to hold and pick up. Here are some additional specs:
GSM HSPA+ capable
1.7GHz MediaTek octa-core processor
16GB of built-in flash memory
1GB of RAM
Image 1 of 8
While the phone doesn't have the best specs compared to other flagship devices, it will work nicely for anyone in need of a cheap, off-contract device. The Vivo Air will be on sale in mid January for $199 unlocked in both a white and black option.
Life One Series
The Life One and Life One XL are the two new phones in the BLU Life series, coming in in 5-inch and 5.5-inch display sizes. Besides the screen sizes, the two new phones are identical in internal specs. The two new Life One devices come in multiple colors, but the most interesting color choice is one that is not your normal slick plastic — it's a grippy, dark gray sandpaper-like material. This backing is very similar to the material found on the back of the black OnePlus One phone. Here's what else you can find inside the BLU Life One and Life One XL:
4G LTE capable
Qualcomm Snapdragon 410 64-bit processor
1GB of RAM
8GB of built-in flash storage with a microSD card slot for up to an additional 64GB of storage
13MP rear-facing camera and 5MP front-facing camera
720 x 1280p HS Display
Image 1 of 16
Overall the phones felt great in the hand and were quick and responsive. The BLU Life One series will be available for $179 and the Life One XL will be available for $199. Both of these phones will be on sale carrier unlocked in late March of 2015 in black, white, blue, and white.
Studio X Series
The two new BLU devices in the Studio series are the X and X Plus. Unlike the other newly-launched phones, the Studio X and X Plus are much more rounded in design. While the Life One, Life One XL, and Vivo Air all have rounded edges, they have the candy bar brick appearance. The Studio X and X Plus have a more rounded ergonomic back that fits more comfortably in the hand. The Studio X comes with a 5-inch display and the Studio X Plus has a 5.5-inch screen size. Just like in the Life series of devices, the X and X Plus share the same internals. Here are some additional of those specs:
GSM HSPA+ capable
Shipping with Android 5.0 Lollipop
1.3GHz quad core processor
1GB of RAM
720p display
8MP rear camera, 2MP front-facing camera
8GB of internal memory with a microSD card slot for up to an additional 64GB of storage
Image 1 of 7
The Studio X and X Plus have a very plastic feeling and are fairly unremarkable in the hand. With the multitude of different colors available, customers will have plenty of options to choose from if they need a simple and cheap Android phone. The two new models will be on sale at the end of January with the Studio X costing $129 and the Studio X Plus costing $149. Both phones will be available in black, white, blue, pink, and gold colors.
BLU is known for having a wide range of different devices available for a very low unlocked price. Most of the company's devices are on sale on Amazon so if anyone needs a simple and basic Android device, one can be shipped to them in a matter of days. With the addition of the Vivo Air, Life One, Life One XL, Studio X, and Studio X Plus, BLU has a nice new lineup for 2015. With the hope that BLU updates all these devices to Android 5.0, these might just be the perfect devices for anyone who might need to replace their phone or just doesn't want to spend a lot of money.
Be an expert in 5 minutes
Get the latest news from Android Central, your trusted companion in the world of Android