BlackBerry 'Mercury' hands-on: Riding into 2017 on a phone with no name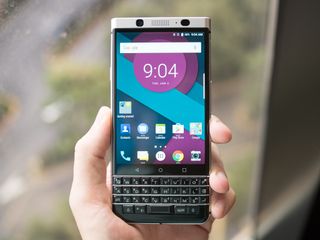 Under new direction, BlackBerry Mobile's smartphone business is poised for a relative revival. It's no big revelation to say that BlackBerry's market share and mind share are nowhere near what they were in its prime, but at CES 2017 BlackBerry is hoping to kickstart a new direction by announcing a new phone.
And even though the company won't actually tell us the specs, price, features, launch date or even the official name, many will recognize this smartphone as the rumored BlackBerry "Mercury." So in lieu of a proper name, that's what we're calling it. The Mercury is real, that much has been established now — it's a solid metal phone that fits the overall size mold of a modern slab smartphone, but manages to fit in a full hardware keyboard on the bottom without a Priv-like slider.
Image 1 of 5
The incorporation of the fixed keyboard leaves a somewhat-awkward aspect ratio to the screen since it has to be a little shorter in order to make room — but if it wasn't, the phone would be absurdly tall, like a Priv with its keyboard out. As it stands the Mercury is nearly the same height as the BlackBerry DTEK60, though notably narrower. The Mercury itself isn't very thin, though the solid metal build with a nicely textured soft touch back are far more important than the actual thickness of the phone.
As a welcomed sight for the BlackBerry faithful who may have been put off by the all-screen DTEK60, the Mercury has a full-featured and gorgeous hardware keyboard. And not only is it good for typing, but it also retains the great capacitive swiping gestures we saw in the Priv — you can swipe on the keyboard to navigate the interface, and swipe up on it during typing to help with word corrections and suggestions. Above the keyboard you'll notice BlackBerry chose to move back to fixed capacitive navigation keys, which is a tad odd after going with software keys on the Priv and DTEK60.
The rest of the phone hardware really rounds out in a typical layout as if the keyboard wasn't even there. You get a volume rocker and programmable key on the right edge, a power button the left edge, a headphone jack on the top and USB-C port on the bottom centered between two speaker grilles. Again we don't know details like the battery capacity, but I was able to confirm that there won't be wireless charging under that soft touch back.
Image 1 of 5
The biggest thing that stands out about the Mercury is how decidedly BlackBerry the whole design is. After seeing somewhat simple repurposed hardware designs in the DTEK50 and DTEK60, it's refreshing to see an altogether fresh — yet entirely familiar to BlackBerry fans — hardware design. The phone has a proper heft to it, the keyboard has a trademark clickiness and when you see it on a table you couldn't mistake it for a phone from any other company.
The Mercury holds the distinction of being the first BlackBerry to be running Android 7.0 Nougat, though the pre-production software version I was able to see wasn't final and the company couldn't commit to much on that front. From what I was able to use it looked very similar to Marshmallow you'll find today on a modern BlackBerry, including the messaging Hub, DTEK security suite, and productivity-focused launcher tweaks.
Image 1 of 5
So where does this leave us? Well, we're all going right back into a holding pattern to rely on leaks and speculation about the final details of the BlackBerry Mercury. BlackBerry Mobile says that more information will be coming around the same time as Mobile World Congress, which kicks off February 27, but until then you can simply look at the photos and try to decide where this phone will fit in the big world of Android. At the very least, it has us excited about BlackBerry in 2017.
Get the Android Central Newsletter
Instant access to breaking news, the hottest reviews, great deals and helpful tips.
Andrew was an Executive Editor, U.S. at Android Central between 2012 and 2020.
Keyboard! I miss keyboards. I want this phone for that alone, hopefully it doesn't have a plastic camera lense.

You'd be better served getting a blackberry classic like I have for my key board fix . Most of my favorite android apps are all in the store to

yeah I don't think anyone can realistically say that the BlackBerry Classic is a good replacement for a modern Android phone in 2017.

SOLD! I have not rocked a backberry since 2010

Looks like a fairky small screen, but I willl reserve judgement until I see the actual specs.

I wish that they would make a larger screened phone. Larger footprint allows for a larger keyboard.

As I note in the article, the phone would get unwieldy really quick if the screen got bigger. Because it doesn't scale proportionally — the phone gets taller faster than it gets wider because of the keyboard. They couldn't go much larger than this.

I wonder if they went with capactive touch buttons because it would mess up the screen ratio even more? Because I would've made this device have software buttons in favor of more screen real estate and have capacitive buttons on the Dtek 50 & 60. I'm glad Blackberry is back!

Unless you rotated the screen by about 90 or so degrees... *cough* passport. *cough*

I love the look, although it looks too skinny, and the keyboard looks a little small.
I have and love my BlackBerry Passport and think the keyboard size is perfect. This size keyboard is great and suits my aging eyesight lol, also the man size fingers (no insult to anyone). I say the perfect size phone is as wide as the Passport, but taller giving the ideal ratio for wide screen movies. It might be bigger and for some, cumbersome, but the Passport with the taller screen would feel great in my books. I had a Z10 prior to the Passport and loved the full touch screen. I thought the keyboard on the Z10 was better as it could predict whole sentences based on a single word and a couple flicks of the suggested words following. If a Passport width phone, a little taller with a full featured touch screen and a Z10 style keyboard would be my perfect phone hardware wise.
As far as software, I do like the BB10 software, and like that I can run Android, but until the other day I had never touched an Android phone. My dad asked me to setup his Samsung J1 and I found the same apps flew on his phone which was a much lower spec phone. I wouldn't mind getting hold of an Android based BlackBerry and see how well it runs.
I'd also be interested in finding out how secure an Android BlackBerry is compared to a BB10 BlackBerry. Some interesting days are coming our way from BlackBerry. I really hope BlackBerry survives and continues to produce some high quality devices.

I don't. The reason I haven't gotten a Priv is because I want something similar to my old Q10: Something smaller. My real disappointment with Android phone producers after switching from BB is the fact that I can't find anything awesome with a screen size equal or below 4.5 inches. I am now with a Huawei Y560, and even though it is cozy and nice, it is so difficult to type well. I expect the Mercury could come in a decent price (something not too overvalued), because for sure I would put it on my wish list.

I agree, it is hard to find that on Android. I love the look of it too, but I thought it would be smaller.

After the awful Priv, no more BlackBerry phones for me.

There are no more BlackBerry phones after the Priv and it sounds like there never will be. Blackberry is so done. They pooped the bed with the Priv, then sold out to TCL aka Alcatel, an OEM that has never made a flagship phone. They mislead everyone about their security and have never shown any signs that they even know what makes a good Android phone, let alone that they plan on actually creating one. I wish they would fix their own OS, bring it up to date and start releasing real BlackBerry phones again.

No one was buying the phones with their own OS, why would they buy them now? And saying these are just TCL phones is like saying that iPhones are just Foxconn phones.

Totally different. iPhones are designed, hardware and software, by Apple and Foxconn is just the factory that machined and assembles . In this relationship, TCL designs the hardware and software, using some software licensed from BlackBerry and some licensed from Google + whatever else they want to add, then TCL will ship the phones to a factory, probably also Foxconn, to have the devices machined and assembled.

Looks like a blackberry to me.

You sir, need to get your facts straight. The hardware is Designed in-house by Blackberry and this was quoted to be the last device to be designed in-house by John Chen himself. However the manufacturing will be done by TCL and the software is 100% controlled by Blackberry.

False, at least one the software front. The software security features and the BB Suite are from BlackBerry, everything else either came from Google or is TCL. I don't see anything about John Chen in this article or the one about being "hopeful", because somehow we are supposed to forget that BlackBerry removed themselves from the OEM game and is trying to be nothing but a "software and security services company".

Software is completely supplied by BlackBerry. Don't make false claims, read the BlackBerry blog. Posted via Android Central App

Lol, why don't you read the official Blackberry Blog instead of 3rd party opinion articles. I bet you didn't even know who John Chen is before today. You either have an ego problem or are just trolling. Either way, you should probably get your facts straight before posting, unless you're just posting an opinion. which everyone has a right to be ignorant. ;)

This is one of the things I'm basing it on: Android Police: Unlike the DTEK50, this is obviously designed by TCL specifically for BlackBerry.
Android Central: TCL's new BlackBerry is still nameless, but it does have one thing: our attention. MrMobile took it for a spin, and you should see what he thinks so far.
Android Central: Though it doesn't actually have an official name, the Mercury is real — and TCL is hoping its the first step in rebuilding the BlackBerry brand for smartphones.
Android Authority: In December 2016, TCL Communications announced it'd be taking care of the designing and manufacturing of BlackBerry phones from now on.
The Verge: TCL's next BlackBerry has a physical keyboard, and that's basically all we know I went to their blog and searched for "Mercury" before posting as well, no results. I read the TCL link someone posted as well, it doesn't mention this device at all or any reference to BlackBerry designing anything.

Last device engineered in house by BlackBerry.
http://blogs.blackberry.com/2017/01/mercury-the-last-phone-designed-by-b...

The Mercury is designed by BB in-house. The DTEK50 and DTEK60, on the other hand, are based on the Alcatel Idol 4 and 4S in terms of its exterior and basic design. I not entirely sure how this will be going forward. Will TCL handle the design and development or will BB do the design and development while TCL handles the manufacturing or is it a joint effort?

The licensing announcement specifically says, "Under the terms of the agreement, BlackBerry will license its security software and service suite, as well as related brand assets to TCL Communication who will design, manufacture, sell and provide customer support for BlackBerry-branded mobile devices." So TCL will produce phones which will include BlackBerry's security and BB's app suite, etc. (According to Jerry this means BlackBerry will create the firmware) and TCL will handle 100% of the design, production, sales & support. All of the above linked blogs, including Android Central, are calling this TCL's phone. I'm not sure how I could draw any conclusion other than it is TCL's phone without someone having some other information to add to the conversation. So far I've gotten nothing but complete bullshit from people thinking I'm insulting their baby, rather than pointing out the consensus of the media.

Basically, the Mercury is the final BB-designed device and future BB devices will be handled by TCL running BB software, eh?

Oh my God you are everywhere on these BlackBerry articles. Shut up and go sit down.

I made one comment in two articles and people went nuts. I'm not being rude to people or calling names. That's your team. So you can step off.

Awful? I thought it was/is an amazing device. You must be impossible to please

If you look in the forums, all the problems you see there infected all 4 of the Privs I tried to make work.

Hmm. That is unfortunate! I don't blame you for dissing the Priv, since that's what you experienced.
However, I have one and I love it. It works really well and I even prefer to use it over my GS7Edge. Still, I guess it depends on personal preference (as long as you get a usable phone).

Well, Priv was their first phone using Android. I don't like to justify for something I haven't done, but I would guess Priv was part of the experiment. Maybe they will improve (I am hoping that because that phone looks attractive for what I'm looking).

Why wait so long? They shouldn't wait until the heavy hitters release theirs. Time is now!!! Should have been ready since the "Vienna" rumors.

Looks amazing. A proper good handful.
Have to wait and see now what Nokia comes out with. And then choose

I love how different it looks. Thanks for the size reference in this article because I was wondering about that. It might be too tall for me then. :( I'm still curious on pricing though and all of the other holes. Great write up though!

Andrew said that it is close in height to the DTEK60, which I believe has a 5.5 in display, which means that it is probably around 6 inches tall, if not close to that. For me, tallness means that it is less pocketable for me and just too long for my purse,

I like the design, the metal and soft touch plastic color combination reminds me of the Nokia N95 era. I don't see any fingerprint sensor, any word on that?

fingerprint sensor is built-in to the spacebar

Meh...I'll rock my blackberry classic for my keyboard fix and it has all my android apps to boot. Blackberry classic is the last great blackberry my opinion of course

Amazing design! The last phone to be designed in-house by Blackberry and it looks great! Typing on all touchscreen phones is a nightmare! at least with physical keyboards i can type much faster and without looking to make sure it typed the right words.

a screen-to-body ratio under 75% is unsellable, this looks like 60%. Fail!

.... it has a full hardware keyboard. Of course it's going to have a low screen to body ratio.

Welcome to the world of physical keyboards. We've been there before.

Nice looking phone for the PKB users, long live BlackBerry 👌

Well actually it's android but I get your point

I think Mercury is a pretty cool name. I'd say that I hope they keep it, but considering that Venice was also kind of a cool name and we got Priv from that...

It is my impression or the kb looks to be really small?

Yeah, Andrews thumb looks like it would cover at least six keys in that first picture. I really wanted a physical keyboard but the one on the Priv was just too small for me.

Having owned and fought with an earlier release of a Blackberry, I wouldn't buy another if they were the only company making mobile phones. Although BB's parent company sent out a regular newsletter, there's was no link on them to respond with a question. As something else failed several times in the first month, none of my various attempts to get a fix or any kind of support succeeded. BB referred me back to my Verizon store of purchase and Verizon referred me back to BB. A complete waste of time and money. A mobile phone without support is a useless brick -- in this case a brick with keys and a battery that never held a charge for more than 30 minutes.

Ah, well it's a good thing then. We can all enjoy this awesome new phone. You can go back to a boring iPhone :)

What blackberry were you using?

Nostalgia in 3....2.....1......

Thats funny!!! Winter is coming!!!!

YEEEEEEEESSSSSSSS!!!!!!!!!! Thank you BB! I think you managed to keep a fan!

I wonder if AT&T will carry...

Right off bad, no option for charging pad.

Would totally rock this thing if it has good battery life (and if I could afford to buy it).

Finance it. Everyone can afford these phones.

This is what should've been made years ago from BB.. Good luck prying iPhones from sheeples hands.

Im sold. Consistent software updates and patches, a killer battery in all likelihood, a keyboard, productivity focused features, capacitive keyboard and a little extra security. As I mentioned elsewhere, with how many connected devices I have including smartwatch I just need a durable workhorse for mobile working. The rest can be reserved for tablets chromecast my watch etc.. Just give me Bluetooth 5 and maybe a 821 as opposed to 625 as extra loveliness.

The phone looks awesome! I want one specifically for the hardware keys. Nothing beats ( or shouldn't rather ) the real thing.

BTW is that an edge screen? If it is, Blackberry is on a winner for sure.

SOLD! I have not rocked a backberry since 2010.

I don't get it. If the physical keyboard is so much better then why did the market completely abandon them?

People want to scroll facebook on whole screen ;) thats why ;>

Shut up and take my money!!

If performance is solid I may actually buy it. If not I'm ditching my Priv for an HTC 11 (or whatever they call it). BlackBerry 's android features are great, but the performance on my Priv sucks

I'm worried about Blackberry's history of overpricing their devices. Hopefully, reality has set in now that they've seen the results from the Priv, DTEK50, and DTEK60. If the cut the margin a bit and gave the Mercury a killer price, they could bring back a lot of customers. I'm fine with what looks like a 4x3 screen ratio, but disappointed that there's no mention of it being AMOLED. After using an HTC One A9 with AMOLED for the past year, it'd be hard to go back to LCD.

PLEASE PLEASE PLEASE have better cameras than the Priv. The front facing on it was like a homemade shoebox camera.