BlackBerry DTEK50 review: The phone with no name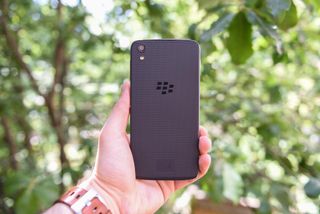 Quick take
The BlackBerry DTEK50 is a solid entry-level Android phone that puts security front and center without overshadowing the core Android experience. What it lacks in power it makes up for in a vibrant set of BlackBerry-branded apps that enhance and almost singlehandedly justify its purchase to the average consumer.
What's a BlackBerry with no keyboard, designed and built by another company, running Android? It's the DTEK50, a $299 phone that makes the argument for keeping the Waterloo company's handset division open by offloading as much as possible the work of actually making a phone.
The Priv this isn't. That phone, for all its quirks, is still one of our favourite Android phones, and proves that, in 2016, there's still a place in the market for a hardware keyboard. The DTEK50 is... well, I'm not quite sure. After using it for a couple of weeks, I know enough to say it is a solid phone that, despite its security focus, may be a bit expensive for a budget user, and too slow for a power user. But that doesn't take away from its promise, nor my recommendation.
5.2-Inch FHD display
1920x1080 (424ppi)
13MP rear camera
ƒ/2.0, Phase Detect Auto Focus, Dual-LED flash
1080p 60fps video
8MP ƒ/2.2 front camera
2610mAh fixed battery
Qualcomm Quick Charge 2.0
Snapdragon 617 Octa-Core 64-bit processor
Adreno 405 GPU
3GB RAM
16GB internal storage
microSD expansion
Android 6.0.1 Marshmallow
On-screen BlackBerry keyboard
Contextual auto-correct, word prediction, and learning engine
Touch-sensitive gesture control
BlackBerry DTEK50 Hardware
Over the month I've spent with BlackBerry's latest smartphone I've vacillated between hearty recommendation and near despair for the company that almost singlehandedly began my adventures in smartphone journalism. When I upgraded from an LG Shine to a BlackBerry Pearl in the heady days of early 2008 I recognized in the company an overly confident tech giant operating at its peak, one that commanded the attention of consumers and professionals alike in a way that no company has been able to do since. (That the industry has ballooned to 10 times its size since then is the primary cause for that irretrievable status quo.)
The BlackBerry of today is not that company. First, it is not a hardware company, and builds handsets only to further its software business. Second, it is run by people who understand that the consumer market is no longer friendly to newcomers, especially those commanding high prices.
And yet it is my mandate to review this handset from the perspective of a consumer hardware enthusiast, an inauspicious job that will leave people inevitably disappointed with my ambivalence.
At its core, the DTEK50 is, as many others have stated, a repurposed Alcatel Idol 4, built by the relatively unknown but masterful white label pros at TCL. But it is also a capitulation, BlackBerry's first truly mercurial smartphone; it can and will be anything you or your company wants it to be. Even unassuming products like the Leap, by virtue of running BlackBerry 10, called attention to itself. And the Priv, with its imperious frame and almost decadent keyboard, attempted to justify its existence with gleeful nods to the company's past successes.
The DTEK50 is as much a clean slate as the company has ever been awarded. Buoyed by the warm reception of its app suite's transition to Android, BlackBerry is positioning its latest phone as the cheap phone that does the fewest things badly. And to that end, it is wholly successful.
The first thing you'll notice is that this thing is light. It is so light, in fact, that it often got forgotten in my pocket until the damn thing buzzed like BlackBerrys are wont to do. It's also thin, at 7.4mm, and compact for a 5.2-inch phone. These are all good things. Despite the odd placement of its power button, on the top left of the plastic frame, I grew to appreciate its usability over the month I spent with it.
You may have heard about the phone's Convenience key, a button on the right side you'd be forgiven for thinking was its power toggle, and that it opens any app of your choosing. Yes, it's convenient. Yes, I, in my addition to my job, made it a Slack button. You're welcome.
But other than that there isn't much to say about this phone's hardware. The backing takes a turn from its Idol forebear with a soft, rubberized grip that reminds me of a soft-bristle toothbrush — in a good way. I also find it amusing that even as BlackBerry slowly retreats from hardware it continues to spend time crafting rear covers that at once impress and confound.
I feel like I should reiterate, for the first of likely a few times, that I like this phone. It's become a well-worn Canadian refrain to feel the need to reinforce this fact, lest I be accused of an innate bias against my country's former tech darling. (At this point, it should be safe to bring up the fact that BlackBerry's internal structure these days is as Canadian as Tim Horton's and The Hudson's Bay Company.)
What about using the phone? Well, the screen has ample sharpness and gets bright enough in most use cases, except for under Waterloo's imposing summer sunshine, where it seems to fall short. And its battery life, given the power-sipping nature of the Snapdragon 617 chip, is sufficient to last an entire day of emails and BBM (bless the continued existence of that red LED, the North Star of smartphone addiction).
But — getting serious for a moment — it is that Snapdragon chip that is this phone's biggest source of disappointment. BlackBerry is good at eking out its best nature, but a Sisyphean battle this is — for anyone using this chip. We've seen considerably better results from the newer, more power-efficient Snapdragon 625 in devices like the Moto Z Play, and though its presence likely would have pushed the cost to $349, the tradeoff would have been worth it.
That's not to say the DTEK50 (that name!) disappoints like the 2015 Blue Jays' playoff performance against the Royals, but it does manage to hit a few too many foul balls (just to burn that metaphor right into the ground). Even the ample 3GB of RAM cannot save it.
One area in which the phone does excel is in call quality. Like all BlackBerry devices, the tuning here is superb (though the company's Paratek IP appears to be missing from the spec sheet) and I thoroughly enjoyed the call-making experience. That counts for something these days, doesn't it? (Doesn't it?)
Image 1 of 12
Image 2 of 12
Image 3 of 12
Image 4 of 12
Image 5 of 12
Image 6 of 12
Image 7 of 12
Image 8 of 12
Image 9 of 12
Image 10 of 12
Image 11 of 12
Image 12 of 12
Finally, the camera. BlackBerry has fashioned a pretty great camera app, all things considered, and the DTEK50 inherits the Idol 4's consummate imaging chops. The Galaxy S7 this isn't, but it's almost the next best thing: a $299 phone that can take the kinds of colorful, sharp, well-exposed photos you'd expect from a $499 a year ago, or a $699 phone two years ago.
BlackBerry DTEK50 Software
If you spent any time at all with the Priv, you know what you're getting here: an Android 6.0.1 experience that largely resembles what you'd get on a Nexus device — if Google decided to replace all of its own apps with ones designed by HTC. That's a compliment, by the way.
BlackBerry has somehow, in just under a year, managed to fashion a suite of Android apps that people will actually be happy using, from the everything-in-one-place consolidation of the Hub to calendar and note-taking apps I actively seek out when I use other phones. (That you can now actually download many of those apps at once undermines and reinforces the attractiveness of using a device like the DTEK50. Weird, right?)
So if you can recreate those experiences on other phones, what's the big selling feature here? It's in the phone's very name: DTEK. BlackBerry's masterful combination of hardware and software security has, since the day it announced the Priv, been at once its linchpin and curse. Google can't come outright and say that BlackBerry's hardware is more secure than its own, nor can Samsung, a vibrant BlackBerry partner in the enterprise, suggest someone buy a DTEK50 over a Grand Prime.
And while the company's critics claim that processes like kernel hardening and hardware root of trust are merely gloss on top of a fortress, Android has been subject to disruptive and potentially dangerous vulnerabilities that, whether due to foresight or oversight, BlackBerry has jumped in front of. One can make the claim that it is better in that scenario to be safe than sorry, and along with the Priv the DTEK50 is that safety blanket.
To the average consumer merely looking for a good cheap smartphone, the promise of a "hardened kernel," among other flashy rhetoric, may be enough to move them in the direction of the DTEK50 — or at least that's BlackBerry's hope. In lieu of that, the company has its software business to increasingly fall back on, though at this point it is less of a cushion than a bed of blunt nails.
BlackBerry DTEK50 Bottom line
No, this isn't the definitive review of the DTEK50. For that, check out CrackBerry's far more thorough, far less evasive attempt to figure out this phone. I am just happy to have come out of this experience with a renewed appreciation for BlackBerry's stubborn perseverance.
The DTEK50 isn't a great phone, but it's not a bad one, either. Despite my ambivalence I recommend you at least seek one out, if only to disavow yourself of the idea that BlackBerry circa 2016 in any way resembles the hardware giant you have been defending or raging against for the past seven years. Under John Chen's reign, success looks very different — it looks like a phone designed and built by another company, utterly unremarkable and free of affect.
And its best chance at success in some time.
Daniel Bader was a former Android Central Editor-in-Chief and Executive Editor for iMore and Windows Central.
It is ok. It's actually better than ok. I've had mine for about 3 weeks and I really like it. My first Android phone, which takes some getting accustomed to but overall a good experience

In the exact same boat, and I'm really happy with this phone, coming from an iPhone 6. It's a pretty pure iteration of the Android OS, preloaded with a set of security and productivity apps that only improve on the experience. I really haven't been let down by any part of it, and, seriously, it's half the price of an iPhone or Galaxy. Half. The other price tags seem utterly unreasonable now. I don't use my phone for gaming, I'd imagine it's not optimal for that kinda use. But for handling work and personal email, messaging, podcasts, image editing, coding apps, etc, it's a blast. I picked one up at first as a holdover til the release of the iPhone 7, but I think I'm gonna stick with it. Hope BlackBerry keeps putting out new Android devices, they do it right.

Didn't Chen promise to get out of the phone business if the Private failed? Well the priv failed...time to keep promises. Blackberry still has a future as a software vendor...but these devices are destroying what's left of their brand image...to all but the most zealous crack berry fanatic, or Canadians...

No one asked for your wise comments. The phones software has an identity of its own along with some neat & useful functions. Its always better for any consumer to have more options. The problem will the dtek is its availability & the pricing is a tad bit higher or else its a really capable mid range phone.

You're speaking to someone who wants the binary 'Samsung or Apple' choice. You may as well direct your comments to a wall.

Hey Slackerjack, BlackBerry don't keep promises. Hehe.

Why are you so concerned about Blackberry getting out of the phone business?

"You see, I've been through the desert with a phone with no name. It felt good to have updates, just the same..."

How the hell is a 299 price point entry level?

Kinda the point where Entry meets Mid-Range I suspect.. High end Entry/starting point for Mid-Range.. So could almost use the two terms interchangeably here, but yeah, it's not just spare change either...

Exactly! Only $100 more and you could get an Axon 7 with a SD820, 4GB RAM, and 64GB storage. The pricing on this 617 is pathetic. Oh well.... when will they learn?

That's not what I meant what I was saying that is Daniel is off his rocker on his description of the price point

But the software on the Axon is unapologetically laughable compared to the DTEK50 (did I write it right?) This does fine with the crappy chipset, no phone with a SD820 should have the jank in places where the Axon has...

Yup, its an idol 4 for 100 dollars more to sport a bb logo

Shame the reviewer didn't mention the exceptional stereo (front and back) speakers that pack an impressive 3.4 watts of sound, coupled with the impressive wave sound settings - you get a wonderful sound stage, great for music and movies. I think Blackberry have managed to merge the media and business functionality really well. BTW, this isn't entry level!! it's a mid ranger - for £15 to £17 per month on contract or £250 outright, I think it's a decent phone for the price

But they didn't make the hardware.

They might not have made it but they tweak it and the os. On top.of that better monthly patch update and the first to patch quadrooter exploit.

Yes but you are talking a hardware feature that was already in the original phone. This article is talking about the differences, which are all software changes. That's is why I am saying that speaker shouldn't be mentioned in the article because that is not a change Blackberry has made. I am sorry for any confusion.

The article is about the phone in its entirety. Hardware and software.

They are selling the phone with their name on it so it doesn't matter who made it.

Are those stereo speakers at the top and bottom?

Yes. It's essentially a re-branded Alcatel Idol 4 and if they sound anything like those on the idol 4s, they're among the very best there is on a phone.

If they would have stuffed a large battery in there, it would have made the phone so much more appealing to me. The phone itself is nice looking and everything else about it is perfectly fine. That's the problem though, the phone is just "fine" unfortunately.

The apps make the phone...a lesson Blackberry had to learn the hard way. Now that they have the whole play store along with their awesome apps this is really a great combo. Love my Priv so no reason to buy this but for a big corporation that needs 10,000 of these along with the day and date release of security this seems to make sense. For the users who understand trusted root and hardened kernel then this makes sense also. Finally, for those who use their phone for communication over games and the like this phone makes sense. Love the Hub, Love the Calendar. Is it at the top of the entry level, yes it is but when you realize how much work they have done and continue to do on the software it is worth it. Unfortunately they haven't done a good job of communicating what value add they have done.

Wait hasn't this Already been reviewed and everything else?

I'll always have a soft spot for Blackberry and occasionally find myself missing their devices. With that in mind, I'm curious: has Blackberry managed to impart a uniquely "Blackberry feel" to Android and the DTEK50? From some other reviews I've seen, it seems like it might have, but I guess I want to know whether the whole (the DTEK50) is greater than the sum of the parts, i.e, just installing the Hub+ suite on any Android device. Anyone have experience here that would like to comment?

I think it's basically a fleet Android phone with extra security and business apps. Aimed at the BlackBerry crowd. I wouldn't say no if I got one from my company.

I'll wait for the Priv-IID.
The ultimate Phone.
A real Blackberry with Dual OS (Ultra Secure BB10 / Pseudo Secure Swiss CheeseDroid)

"it looks like a phone designed and built by another company" That sounds like a nexus phone. I mean the nexus 6 was a stretched out moto x, and the 5x looks like a nokia lumia.

All I know is that when I walked into Verizon today to check out a few phones I'm considering to purchase, the Priv is a serious contender at $400. I am using the BB virtual keyboard on my Nexus 6 and I love it. I also love the texture/grippiness of the back cover on the Priv. I hate cases and some of the new devices are just too slippery to go without. After playing around with the device for about a half hour I had zero interest in the S7 Edge or the HTC 10 i had come in to check out. I am probably going to wait till the next Nexus/Pixel phone but you never know. I could get the Priv now and next year grab the Nexus/Pixel when the price has dropped. I may have just convinced myself with that last sentence.

It's not too bad. My wife has one. The Hub is not quite BB10 yet, but it's getting closer and closer. All they are really missing is the Hub Attachment option which is awesome for us users who have a lot of emails with attachments. The monthly automatic updates have been great. I haven't experienced any lags either. I don't like BBM with all those annoying ads. Overall, I won't be too disappointed to leave BB10 when my Passport moves on to the after life. Posted via the Android Central App on my BlackBerry Passport

Crossing fingers i can be the proud owner of one soon. it may not posses the greatest specs and it may not have all the bells and whistles. but i love it. :)
Security + Blackberry + Android. = Win Win

I've just swapped from Z30 to DTEK50, mainly because of some apps that started to not run after upgrade from the developers (need Google Services).
Apart from that situation, I would keep my Z30 until forever. The BB10 and Z30 is really a joy for working... The Hub in it's native home works better than in DTEK50, but I see updates coming so I'm expecting the Hub in DTEK50 to close the gap.
Apart that, the media capabilities of DTEK50 are much better than in the Z30: Better photos and better videos. They are welcome positive points, but was never the reason to put Z30 aside, as I use it mainly for work (communications in all aspects).
The display seems a bit better in Z30 with better contrast (Amoled rocks), and whatever the angle you look, the same image is there. DTEK50 IPS when you look from some angles, you see backlight where should be black... But nothing really annoying. Overall, DTEK display seems more balanced for media, wit more light and vivid colors.
The sound in DTEK50 is very good, but I have to say that Z30 is also a beauty in the sound, especially when you put it on the table and the 2 speakers, with a rear tendence, reflects the sound on the table. And seems more powerfull in Z30.
The point that I value and found DTEK50 much better than Z30 is the hands-free quality: The micros of Z30 never worked well when the phone is in hands-free mode. The DTEK50 is, I can guarantee because I tested it, almost a conference phone! The 2 micros can capture sound with very good quality almost up to 2 meters away!
Regarding the UI experience, I'm still getting it, android is android...; Sometimes I miss some of the unique gestures from BB10, like the up-right to get Hub immediately on (yes, I know we have the 3 shortcut -up, left and right- but is not exactly the same), or like a small up to see the date (without leaving the app), or a big up to go back to home page,... Well, the ones that use BB10, know what I'm talking about.
Regarding the keyboard, the BB version in Android is very very close to the native one, but I feel it a bit slower when I type fast. By other words, sometimes when the typing speed is high seems it lags a few "microseconds" to appear the suggestion; but honestly I have to say it's maybe a bit too early to comment on this item, because the KB app is still learning my way of writing, due to exactly it's learning nature.
The power and convenience buttons: The convenience button is a MUST! No other phone, from my knowledge, has it, right? (apart the old BB with the BBM key on the left). I have it configured for Maps, because when driving, suddenly I need to check the traffic very fast to decide other roads, and with that button is just "click and see". Yes yes yes. Sometimes buttons are better than touch. And here is definitely better. I can launch it without looking the phone (obviously after the Map app launches, I will have to look...). The power button, for me is OK on the left, no big deal with it.
The battery, yes, a bit short. With the Z30 I could do 2 days (not allways), in most cases 1,5 day for sure. With the DTEK50 1 day, no more. With the same things being done. So, the real problem is not in the battery (2600 versus 2880, rouglhy 10% less), it seems the SW/HW team is pulling a lot of energy. And sure the display of Z30 is also more energy efficient, we should not discard the Amoled superiority.
Overall, and for the moment, I feel it was a good move and good value for money, mainly, again, because of apps, while keeping more secure than any other android, and with a BB flavour in daily usage (I'll never leave BB Hub and BB Keyboard, never....).
Well, sorry for the long writing, just want to cover the most parts of DTEK50.

Looking forward to the Detek60.
Detek50 is a fantastic feeling phone in your hand. Super Awesome grip, feather like weight. Sweet design. Nothing wrong with this phone especially like the price.

Looking forward to the DTEK55, with a more power-efficient design.
Android Central Newsletter
Get the best of Android Central in in your inbox, every day!
Thank you for signing up to Android Central. You will receive a verification email shortly.
There was a problem. Please refresh the page and try again.