BlackBerry DTEK50 review: The phone with no name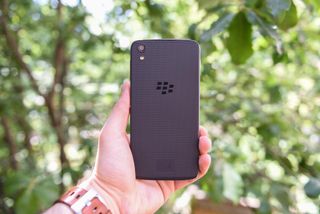 Quick take
The BlackBerry DTEK50 is a solid entry-level Android phone that puts security front and center without overshadowing the core Android experience. What it lacks in power it makes up for in a vibrant set of BlackBerry-branded apps that enhance and almost singlehandedly justify its purchase to the average consumer.
What's a BlackBerry with no keyboard, designed and built by another company, running Android? It's the DTEK50, a $299 phone that makes the argument for keeping the Waterloo company's handset division open by offloading as much as possible the work of actually making a phone.
The Priv this isn't. That phone, for all its quirks, is still one of our favourite Android phones, and proves that, in 2016, there's still a place in the market for a hardware keyboard. The DTEK50 is... well, I'm not quite sure. After using it for a couple of weeks, I know enough to say it is a solid phone that, despite its security focus, may be a bit expensive for a budget user, and too slow for a power user. But that doesn't take away from its promise, nor my recommendation.
5.2-Inch FHD display
1920x1080 (424ppi)
13MP rear camera
ƒ/2.0, Phase Detect Auto Focus, Dual-LED flash
1080p 60fps video
8MP ƒ/2.2 front camera
2610mAh fixed battery
Qualcomm Quick Charge 2.0
Snapdragon 617 Octa-Core 64-bit processor
Adreno 405 GPU
3GB RAM
16GB internal storage
microSD expansion
Android 6.0.1 Marshmallow
On-screen BlackBerry keyboard
Contextual auto-correct, word prediction, and learning engine
Touch-sensitive gesture control
BlackBerry DTEK50 Hardware
Over the month I've spent with BlackBerry's latest smartphone I've vacillated between hearty recommendation and near despair for the company that almost singlehandedly began my adventures in smartphone journalism. When I upgraded from an LG Shine to a BlackBerry Pearl in the heady days of early 2008 I recognized in the company an overly confident tech giant operating at its peak, one that commanded the attention of consumers and professionals alike in a way that no company has been able to do since. (That the industry has ballooned to 10 times its size since then is the primary cause for that irretrievable status quo.)
The BlackBerry of today is not that company. First, it is not a hardware company, and builds handsets only to further its software business. Second, it is run by people who understand that the consumer market is no longer friendly to newcomers, especially those commanding high prices.
And yet it is my mandate to review this handset from the perspective of a consumer hardware enthusiast, an inauspicious job that will leave people inevitably disappointed with my ambivalence.
At its core, the DTEK50 is, as many others have stated, a repurposed Alcatel Idol 4, built by the relatively unknown but masterful white label pros at TCL. But it is also a capitulation, BlackBerry's first truly mercurial smartphone; it can and will be anything you or your company wants it to be. Even unassuming products like the Leap, by virtue of running BlackBerry 10, called attention to itself. And the Priv, with its imperious frame and almost decadent keyboard, attempted to justify its existence with gleeful nods to the company's past successes.
The DTEK50 is as much a clean slate as the company has ever been awarded. Buoyed by the warm reception of its app suite's transition to Android, BlackBerry is positioning its latest phone as the cheap phone that does the fewest things badly. And to that end, it is wholly successful.
The first thing you'll notice is that this thing is light. It is so light, in fact, that it often got forgotten in my pocket until the damn thing buzzed like BlackBerrys are wont to do. It's also thin, at 7.4mm, and compact for a 5.2-inch phone. These are all good things. Despite the odd placement of its power button, on the top left of the plastic frame, I grew to appreciate its usability over the month I spent with it.
You may have heard about the phone's Convenience key, a button on the right side you'd be forgiven for thinking was its power toggle, and that it opens any app of your choosing. Yes, it's convenient. Yes, I, in my addition to my job, made it a Slack button. You're welcome.
But other than that there isn't much to say about this phone's hardware. The backing takes a turn from its Idol forebear with a soft, rubberized grip that reminds me of a soft-bristle toothbrush — in a good way. I also find it amusing that even as BlackBerry slowly retreats from hardware it continues to spend time crafting rear covers that at once impress and confound.
I feel like I should reiterate, for the first of likely a few times, that I like this phone. It's become a well-worn Canadian refrain to feel the need to reinforce this fact, lest I be accused of an innate bias against my country's former tech darling. (At this point, it should be safe to bring up the fact that BlackBerry's internal structure these days is as Canadian as Tim Horton's and The Hudson's Bay Company.)
What about using the phone? Well, the screen has ample sharpness and gets bright enough in most use cases, except for under Waterloo's imposing summer sunshine, where it seems to fall short. And its battery life, given the power-sipping nature of the Snapdragon 617 chip, is sufficient to last an entire day of emails and BBM (bless the continued existence of that red LED, the North Star of smartphone addiction).
But — getting serious for a moment — it is that Snapdragon chip that is this phone's biggest source of disappointment. BlackBerry is good at eking out its best nature, but a Sisyphean battle this is — for anyone using this chip. We've seen considerably better results from the newer, more power-efficient Snapdragon 625 in devices like the Moto Z Play, and though its presence likely would have pushed the cost to $349, the tradeoff would have been worth it.
That's not to say the DTEK50 (that name!) disappoints like the 2015 Blue Jays' playoff performance against the Royals, but it does manage to hit a few too many foul balls (just to burn that metaphor right into the ground). Even the ample 3GB of RAM cannot save it.
One area in which the phone does excel is in call quality. Like all BlackBerry devices, the tuning here is superb (though the company's Paratek IP appears to be missing from the spec sheet) and I thoroughly enjoyed the call-making experience. That counts for something these days, doesn't it? (Doesn't it?)
Image 1 of 12
Finally, the camera. BlackBerry has fashioned a pretty great camera app, all things considered, and the DTEK50 inherits the Idol 4's consummate imaging chops. The Galaxy S7 this isn't, but it's almost the next best thing: a $299 phone that can take the kinds of colorful, sharp, well-exposed photos you'd expect from a $499 a year ago, or a $699 phone two years ago.
BlackBerry DTEK50 Software
If you spent any time at all with the Priv, you know what you're getting here: an Android 6.0.1 experience that largely resembles what you'd get on a Nexus device — if Google decided to replace all of its own apps with ones designed by HTC. That's a compliment, by the way.
BlackBerry has somehow, in just under a year, managed to fashion a suite of Android apps that people will actually be happy using, from the everything-in-one-place consolidation of the Hub to calendar and note-taking apps I actively seek out when I use other phones. (That you can now actually download many of those apps at once undermines and reinforces the attractiveness of using a device like the DTEK50. Weird, right?)
So if you can recreate those experiences on other phones, what's the big selling feature here? It's in the phone's very name: DTEK. BlackBerry's masterful combination of hardware and software security has, since the day it announced the Priv, been at once its linchpin and curse. Google can't come outright and say that BlackBerry's hardware is more secure than its own, nor can Samsung, a vibrant BlackBerry partner in the enterprise, suggest someone buy a DTEK50 over a Grand Prime.
And while the company's critics claim that processes like kernel hardening and hardware root of trust are merely gloss on top of a fortress, Android has been subject to disruptive and potentially dangerous vulnerabilities that, whether due to foresight or oversight, BlackBerry has jumped in front of. One can make the claim that it is better in that scenario to be safe than sorry, and along with the Priv the DTEK50 is that safety blanket.
To the average consumer merely looking for a good cheap smartphone, the promise of a "hardened kernel," among other flashy rhetoric, may be enough to move them in the direction of the DTEK50 — or at least that's BlackBerry's hope. In lieu of that, the company has its software business to increasingly fall back on, though at this point it is less of a cushion than a bed of blunt nails.
BlackBerry DTEK50 Bottom line
No, this isn't the definitive review of the DTEK50. For that, check out CrackBerry's far more thorough, far less evasive attempt to figure out this phone. I am just happy to have come out of this experience with a renewed appreciation for BlackBerry's stubborn perseverance.
The DTEK50 isn't a great phone, but it's not a bad one, either. Despite my ambivalence I recommend you at least seek one out, if only to disavow yourself of the idea that BlackBerry circa 2016 in any way resembles the hardware giant you have been defending or raging against for the past seven years. Under John Chen's reign, success looks very different — it looks like a phone designed and built by another company, utterly unremarkable and free of affect.
And its best chance at success in some time.
Be an expert in 5 minutes
Get the latest news from Android Central, your trusted companion in the world of Android
Daniel Bader was a former Android Central Editor-in-Chief and Executive Editor for iMore and Windows Central.