Best wallet cases for Moto G4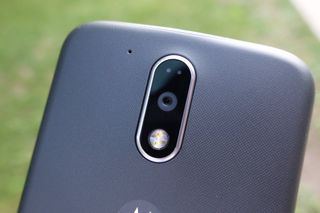 The Moto G4's shape lends itself nicely to a wallet case, since it has a broad, flat front. Let's face it: Thanks to its price, you'll probably have a few bucks left over after you buy the phone. You just need somewhere to keep 'em!
Here are some of the best wallet cases you can get for your Moto G4, so that your pockets aren't overloaded, but your bank account can be!
Abacus 24-7 wallet w/ flip cover
Why you can trust Android Central Our expert reviewers spend hours testing and comparing products and services so you can choose the best for you. Find out more about how we test.
The Abacus 24-7 wallet case is the best-reviewed Moto G4 wallet case on Amazon, and for good reasons.
The synthetic leather is durable and doesn't feel cheap like some "pleather" can, even though you can find this case for around $10. It provides a double layer of protection in that you have the leather wallet, but you also have a TPU bumper into which your Moto G4 fits nicely and snugly, protecting it from bumps and dings.
The case folds into a stand so that you can watch movies, TV shows, and YouTube hands-free, and there's enough room for a few credit cards and even some cash.
You have your choice of black or gold and either pairs well with the black finish on your Moto G4.
If you're looking for a leather case but don't want real leather, either for ethical reasons or because you don't want it to get marked up, then the Abacus 24-7 wallet case is ideal for you and your phone.
Innovaa premium leather wallet case
Innovaa's PU leather wallet cases are for folks who like their phone case to make a statement without having to break the bank to do so. They come in seven bold colors and patterns, including a rather eye-catching light pink and a neat geometric "Dreamstime" pattern.
The magnetic closure is tight and secures three credit cards and your cash snugly, while the free screen protector and TPU bumper inside help keep your Moto G4 protected from scratches, bumps, and dings.
The flip cover folds back into a stand for hands-free viewing, and the cutouts for the camera and ports are precise, so you won't struggle to plug your phone in when it's charging time.
If you're after the leather look but don't want to spend too much and would prefer a synthetic leather case that adds a bit of "pop" to your Moto G4, Innovaa's cases are perfect for you.
NageBee premium PU leather wallet case
NageBee's PU leather wallet cases are probably the prettiest cases in this roundup and a deserve their place because the designs are magnificent.
You could pick the black or brown cases, sure, but the real beauty in these cases comes in the form of three beautiful graphics: "Butterfly Tree", "Plum Blossom", and "Royal Totem". Butterfly Tree is my favorite!
All in all, the NageBee PU leather wallet case is pretty similar to any of the other cases in this roundup, so you're getting the same quality, a great magnetic closure, a flip cover that folds back into a stand, etc.
NageBee's cases are all about the gorgeous designs, so if you're reluctant to cover up your Moto G4 but know you need a wallet case, cover it up in one (or all) of these lovely wallet cases (they're only around $10!).
J&D Slimfit wallet stand case
If you're looking for a wallet case for your Moto G4 but don't want anything bulky, then J&D's Slimfit wallet case should be your choice.
These cases protect your Moto G4 from dust and dirt, as well as drops, thanks to the inner TPU case, while also comfortably carrying three cards and a bit of cash, so that you don't have to have both your wallet and your phone in your pocket.
J&D synthetic leather cases come in four great-looking colors: aqua (my favorite), black, brown, and red. So if you want the classic leather look, you can go with black or brown, but go with aqua or red for some pizzazz (yeah, I said pizzazz).
If a slim wallet case is what you're after, then J&D's wallet case is perfect for your pocket or clutch, and starting around $11, you might as well grab one of each.
Orzly multi-function wallet case
Orzly is a mainstay of great phone cases and its multi-function wallet case for Moto G4 is another great addition to its repertoire.
This is probably the sturdiest wallet case in this roundup and it offers excellent protection, especially for a wallet case. Its textured exterior is enough to stand up to scratches and scrapes, while the inner TPU bumper absorbs bumps and dings. It has all the features you'd want in a wallet case: it can comfortably hold three cards and a bit of cash; its cover folds back into a stand; and the cutouts are exactly where they should be, so you can take photos and charge 'er up without having to take your Moto G4 out.
If you're looking for a sophisticated-looking wallet case for your Moto G4, then Orzly's case is for you.
What's in your wallet?
I'll assume it's the Moto G4, but what wallet case are you using? Is it in our roundup/? Let us know in the comments below!
Sign up for Black Friday email alerts!
Get the hottest deals available in your inbox plus news, reviews, opinion, analysis and more from the Android Central team.
Mick is a writer and duty editor for Android Central. When he's not on the job, he can usually be found vacuuming up pet hair or trying to convince his wife that he needs more guitars.