Best third-party wristbands for the LG Watch Urbane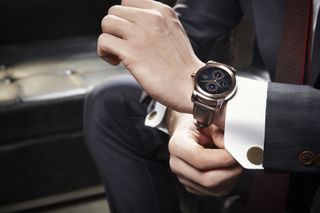 We've reached a point where we can accessorize our accessories. The LG Watch Urbane is where fashion meets functionality in a big way, so why not continue to amp up the fashion with different bands?
You don't have to stick to just LG's bands. If you want to truly personalize your Watch Urbane, then you need to look at some third party options.
We've assembled a quick roundup of the best third party LG Watch Urbane straps out there. Strap in!
MODE Band
Why you can trust Android Central Our expert reviewers spend hours testing and comparing products and services so you can choose the best for you. Find out more about how we test.
The days of annoying pins and cumbersome tiny tools are over! Google has released its MODE bands (currently only manufactured by Hadley Roma BND) and they might just be the most interchangeable watch bands of all time. At least for Android Wear. There's a neat video on the MODE site that shows you exactly how these bands connect to your LG Watch Urbane, and we have to say, it's pretty sweet.
Basically, all you do it remove the original pin that presently in your Urbane, then you add the MODE pin, slide your MODE band over the pin, and lock it shut, kind of like a carabiner. That's it.
So, once you have 10 different bands (when cheaper ones become available; Hadley Roma's models start around $50), you'll be able to make a change on the fly with ease. Just remember that when you go to order yours you need the 22 millimeter band.
GadgetWraps silicone wristband
Let's get things started with the most versatile of the wristbands we'll discuss: the GadgetWraps silicone wristband. These bands are great for those who put comfort and durability above all else, but still want to maintain the dapper design of the LG Watch Urbane.
GadgetWraps are available in eight colors to match your style and with a price tag starting around $20, they won't break the bank.
There's also beauty in the GadgetWraps installation process, since they feature quick-release pins, which means no tools necessary.
Some of the bright colors might not really match the sophistication of the LG Watch Urbane, but, like I said, they're there to match your style.
Ritche mesh stainless steel wristband
The problem with many "cheap" mesh wristbands is that they can be incredibly inflexible to the point of not even forming to the contour of your wrist. You just end up with a weird square around your wrist.
No problem with the Ritche mesh band, which is super flexible and surprisingly comfortable. You do need a watch band too, but that's provided and it means a little more security when you do attach it to the watch unit itself.
You'd probably want to pair this with the silver Urbane, though it may add some funky flair to the gold watch, again, depending on your style.
Barton Quick Release
Add a big splash of color to your LG Watch Urbane, with Barton's line of quick-release watch bands. They're made of soft silicone, so they're comfortable and won't tarnish the way leather or metal bands will.
You can choose from nine colors, ranging from a very punchy bright orange to a more muted charcoal. Starting around $15, you can grab a few and switch them out daily, thanks to the quick-release – no need for annoying tools and tedious installation!
Barton also claims that their bands will fit 95 percent of wearers and that, if you happen to be in the 5 percent their bands does not fit, they'll gladly refund your purchase.
Yesoo stainless steel wristband
Getting back to a more traditional steel band, Yesoo offers a flashy band with a quick-release butterfly buckle, making this easy to put on and take off, with none of the painful pinching that can come with some other types of buckles.
The Yesoo band comes with the necessary installation tools and shouldn't present too much of a hassle in that department, since it's just like any other metal wristband. You can remove links if it's initially too big and you're on your way to shiny urbanity.
RaySun genuine leather brown wristband
Let's look at some brown leather, the way leather was meant to be (or so I've heard). This offer from RaySun is has an anti-slip texture and it's waterproof, so it won't dry and crack like leather generally does.
With the many buckle holes, this strap is designed to fit even the slimmest wrists, which makes it an ideal option for slighter folks. Like all the other bands we've discussed that are traditionally installed, RaySun provides all the necessary tools to get this breathable band on your LG Watch Urbane and out where everyone can ogle it.
The Urbane Professional
Do you have a watch strap that you absolutely love that's not on our list? Make sure to leave a comment and tell us which band you have and why you think your strap is the best one ever made!
Get the Android Central Newsletter
Instant access to breaking news, the hottest reviews, great deals and helpful tips.
Mick is a writer and duty editor for Android Central. When he's not on the job, he can usually be found vacuuming up pet hair or trying to convince his wife that he needs more guitars.