Best Tempered Glass Screen Protectors for Moto Z Droid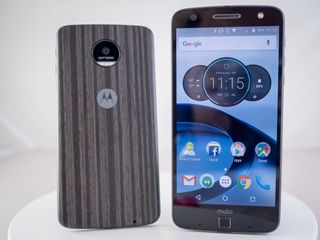 The most important part of any phone nowadays is its screen, so you'll want to protect it with a high-quality screen protector. The best material for screen protectors is tempered glass, which won't shatter into sharp, scratchy shards if it happens to break.
To protect your Moto Z Droid's screen, check out these awesome tempered glass screen protectors.
Supershieldz
This two-pack of tempered glass screen protectors is cut to perfectly fit your Moto Z Droid's screen. It does have curved edges, so no screen protector will cover it completely, but they will protect the bulk of the screen from scratches.
Supershieldz promises a bubble-free adhesive to make for a smooth and easy installation process, and its screen protectors are crystal clear, so you won't have any trouble seeing your screen or using all of its touch features to their full potential. Supershieldz are also covered in a hydrophobic and oleophobic coating, made to repel water and the oil from hands, so you won't have to constantly wipe your phone on your shirt.
See at Amazon (opens in new tab)
Dmax Armor
Dmax Armor is another high-quality tempered glass screen protector brand that offers clear protectors that are fingerprint- and scratch-resistant. They're easy to install, and Dmax Armor promises a bubble-free protector. In the box, you get a dust remover, screen wipe, and a lint-free dry cloth to make sure that you get your screen protector on cleanly with not bumps.
Dmax Armor a lifetime warranty, so if you notice any defects or anything, let Dmax know, and you'll receive a replacement. The screen also has a hydrophobic coating, so water will just bead off. This is a two-pack for around $7, which is an awesome value.
See at Amazon (opens in new tab)
Omoton
Omoton's $5 two-pack of tempered glass screen protectors almost can't be beat. Just like most protectors, you get a laser-cut piece of tempered glass that's made to fit your Moto Z Droid's screen (aside from the curved edges), and it also repels water and fingerprints, thanks to its hydrophobic and oleophobic coating.
Omoton's screen protectors are scratch-resistant, so if you have your Moto Z Droid in your pocket with some keys, you won't pull out a phone that looks like a scratching post.
See at Amazon (opens in new tab)
Spigen
Spigen, purveyor of fine phone cases, also makes some dynamite tempered glass screen protectors. This is another two-pack that comes with a lifetime replacement warranty, so you can rest easy knowing that Spigen fully backs its products.
Like all great tempered glass screen protectors, Spigen's come with rounded edges to prevent chipping, and the space that's left because of the curved edges means that these protectors are compatible with an awesome Moto Z Droid case.
See at Amazon (opens in new tab)
Do you use screen protectors?
Which ones? Let us know in the comments below.
Mick is a writer and duty editor for Android Central. When he's not on the job, he can usually be found vacuuming up pet hair or trying to convince his wife that he needs more guitars.
I got the Sparin 2-pack on Amazon for $7.88. It works well, although the one on my wife's phone started cracking for no reason. I contacted the company and they sent out a replacement pack quickly. They worked fine for me!

Ok, so this is super helpful since my Moto Z Play is on its way to my office right now. But... how do I actually choose between one of these four? They all seem to be roughly the same in every way. Also, can someone recommend me a few cases?

I've been using the Verizon bumper https://www.androidcentral.com/e?link=https2F2F...
With the bumper, a screen protector, and the style shell on the back I feel like my phone is pretty well protected.
I went with a Nilkin tempered glass screen protector, and it has a small space around the edge where it looks like it's not adhered to the screen. Not the best looking, but it is only noticeable when the screen is off.

I don't know the brand but I went with the one Verizon sells in its store. It was more money but I had them install it and didn't have to wait for shipping. Got the phone and screen protector from day one (Z Force) and still looks as good today at day one. Also just use a bumper case (Verizon) and the red style back.

I have Omoton glass screen protector and it's great. Super happy with it.
Android Central Newsletter
Get the best of Android Central in in your inbox, every day!
Thank you for signing up to Android Central. You will receive a verification email shortly.
There was a problem. Please refresh the page and try again.