Best Smart Switches for Amazon Alexa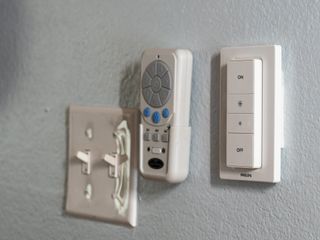 So you've got a home. You've got Amazon Alexa doing her thing, be it in an original Echo or an Echo Dot or maybe the new Echo Show. (Or in any one of the third-party offerings that take advantage of what she can do.)
It's time to ramp things up a little more. Let's talk switches.
This actually is a two-parter. It's absolutely possible to have a switch that works with Amazon Alexa. But you also have to ask yourself what the switch is controlling. That's going to factor into figuring out exactly what it is you want to buy.
Philips Hue light switch
Why you can trust Android Central Our expert reviewers spend hours testing and comparing products and services so you can choose the best for you. Find out more about how we test.
I've got Philips Hue bulbs all over my house. And the ability to turn them off and on with my phone or my computer or my voice — or my new favorite, a motion sensor — is excellent.
But I also have switches. Because sometimes I just want to turn the things off as I'm walking by.
They have buttons for on/off and for increasing and decreasing the brightness. (And if you have color bulbs, hitting the on button over and over will cycle through the different scenes.)
As an added bonus, the switches themselves come off the wall plate (they're magnetic), so you can keep them more handy if you want, like on a nightstand. They're not inexpensive at $25 each, but they're definitely something I'd recommend if you're getting into smart lights.
Note: If you want something a little more futuristic-looking, check out the Smart Tap Switch. It's also compatible with Apple's HomeKit.
If you don't have smart lights — Wemo Switch
I get that not everyone has switched to smart bulbs. (In fact, I haven't switched all mine.) For everything else, check out Wemo's switch. You'll have to do a little rewiring here — the same sort of thing if you've ever swapped out any other kind of switch. And after that, you've got something that's controllable by your phone, and Alexa, and all sorts of other things that hook into it. They've got options for dimmer switches as well.
And while you're at it, Wemo's got a good stable of smart outlets (I took a look at one a while ago) and plugs and stuff. So some things will require wire cutters, others will just plug into your regular outlet — and all of them make your home that much smarter.
Short version? It's a great alternative. Switches run between $48 and $80.
If you also don't have smart lights — Lutron Caseta
Another great option for traditional light bulbs is Lutron Caseta switches.
One caveat here is that fan control isn't quite as complete as you'd hope. As in, we're talking about light control only. Without getting too far into the details there, you'll have to look elsewhere for that, and for now I'm just sucking it up and going old school.
But for everything else, Lutron Caseta is an excellent way to put dumb fixtures under smart control. Pricing starts around $50.
What's your favorite Alexa-enabled smart switch?
Let us know in the comments below!
Get the Android Central Newsletter
Instant access to breaking news, the hottest reviews, great deals and helpful tips.