Best Samsung Galaxy Tab S7 FE cases 2022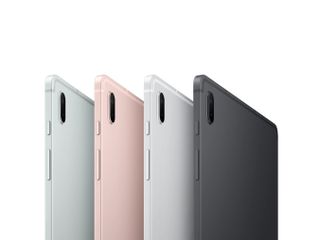 (Image credit: Samsung)
Only one of the best Samsung Galaxy Tab S7 FE cases will keep your new tablet protected from life's little mishaps. The Galaxy Tab S7 FE launched in the U.S. earlier this summer and though it doesn't rank as the best Android tablet like its older sibling, the Samsung Galaxy Tab S7, it is one of the most affordable Samsung 5G tablets yet and features a beautiful 12.4-inch LCD display with 2560x1600 WQXGA resolution. To keep your device's 8MP rear and 5MP front cameras as well as its pristine screen safe, these are some of the best Samsung Galaxy Tab S7 FE cases to consider.
Two peas in a pod
Samsung Galaxy Tab S7 FE Book Cover
Nothing will fit your Samsung Galaxy Tab S7 FE better than a cover straight from Samsung. This book cover is offered in four colors that match your new tablet. It's also slim, lightweight, and keeps everything secure with a magnetic closure. This case also features an antimicrobial coating and is able to be propped up in two different angles so you can easily watch shows or use your S Pen to take notes. There's even an on/off sensor included so you can maximize your tablet's battery life.
Full transparency
(opens in new tab)
Zeking Design Samsung Galaxy Tab S7 FE Case
Sometimes all you need is a simple, transparent case that doesn't take over a device's design. This clear case is made of flexible TPU, which makes it easy to grip, and it has raised edges on all four corners to protect your new device should it accidentally fall. All buttons and ports are easily accessible and there's even a spot for your S Pen. Did we mention this is one of the more affordable cases you'll find?
Two-in-one
Galaxy Tab S7 FE Book Cover Keyboard
If you plan on purchasing a great keyboard for your Samsung Galaxy Tab S7 FE to get more work done, why not go ahead and purchase a protective cover that doubles as a keyboard? Much like the Samsung book cover, this case is sturdy yet lightweight and comes with an embedded S Pen holder. Though it's pricey, this book cover keyboard can help you use your tablet like you would a PC while also protecting your investment.
Multi-angle
Samsung Galaxy Tab S7 FE Aqua SaharaCase
If you're looking for a beautiful high-quality case, the SaharaCase is the pick for you. It doesn't just come in a lovely shade of aqua made of PU leather on the outside and microfiber on the inside, but its triple-hardened construction is designed for long-term use. The case also comes with an S Pen holder as well as a kickstand.
Somewhere over the rainbow
(opens in new tab)
Soke Samsung Tab S7 FE Case with S Pen Holder
It can be hard to find a case that comes in your favorite color, but the Soke case has eight different options so you're bound to come close. This case's hard TPU back shell will keep your new device safeguarded from any impact, and a magnetic closure keeps the case shut. It also offers dual standing positions as well as a built-in S Pen holder.
The best defense
(opens in new tab)
OtterBox Galaxy Tab S7 FE 5G React Series Case
There's nothing like a great OtterBox case to protect your new Samsung Galaxy Tab S7 FE if you're someone that's not too careful with their devices. This sleek case is both slim and resilient, makes gripping easy, and has a pretty solid reputation for durability. There are raised edges to protect each camera as well as the screen, and this case is conveniently wireless charging compatible.
Budget pick
(opens in new tab)
Dadanism Case Samsung Galaxy Tab S7 FE
The Dadansim case is a lot like the more expensive picks on this list and offers just as much protection with a TPU shell and a micro-fiber lining. It comes with tailor-made cutouts that will fit your S Pen but there's also a built-in pen holder to keep it stored inside the case. You can also set it up in two different viewing angles when it's time to watch a movie or get down to work.
The best Samsung Galaxy Tab S7 FE cases to suit your style and needs
Why you can trust Android Central Our expert reviewers spend hours testing and comparing products and services so you can choose the best for you. Find out more about how we test.
The latest Samsung Galaxy Tab S7 FE took many of the most popular traits from the Samsung Galaxy S7 but added a larger 12.4-inch display and 5G connectivity, though its processor isn't quite as powerful and it has a slower refresh rate. Nevertheless, this is a new Android tablet worth buying, and of course, protecting.
If you're looking for a case that'll fit like a glove, then the Samsung Galaxy Tab S7 FE Book Cover is the case for you. There's also a similar, yet more expensive, option from Samsung that includes a keyboard along with the book cover, and both are guaranteed to do a fantastic job at looking good and keeping your tablet safe.
If, however, you're hoping to find something a bit cheaper, you can opt for a clear case from Zeking that'll do the trick, or even the Dadnsim case, which is a lot like other pricier folio cases. And if you're someone who is hoping to find a case with a bit of color, the SaharaCase has a lovely, unique design while the Soke case offers a variety of different colors.
Olivia Lipski is a freelance writer for Android Central and loves testing out the latest smart home tech and discovering the best cell phone plans. When she's not busy running around NYC trying to find great food or coffee, she's in her kitchen trying to make it herself.