Best microSD cards for LG G7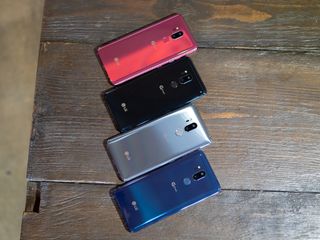 While the 64GB of storage that comes with every LG G7 will be plenty for most people, there are always situations where you'll need more. Whether it's for your giant music collection, capturing a plethora of video footage, or just to use your phone as an external hard drive, there are still great reasons to use a microSD card.
These are the best microSD cards for the LG G7!
Performance options
Why you can trust Android Central Our expert reviewers spend hours testing and comparing products and services so you can choose the best for you. Find out more about how we test.
If you'll be using your LG G7 to record a lot of 4K footage, you'll want to get a microSD with the fastest write speed you can find. If the card isn't fast enough to handle the footage your camera is feeding it, you could end losing footage. As a general rule, you'll want the microSD card to be write at at least 30MB/s. If you're want an easy way to shop for cards, look for ones with the U3 rating.
Samsung EVO Plus 256GB
If you're going to get a card for capturing videos, you may as well get the biggest card you can find. Samsung's EVO Plus card fits that big nicely. You have 256GB of storage for all of your 4K footage, so you can keep recording for longer. The card is water-, heat- and cold resistant as well, so it can be in the same harsh environments that your phone ends up in. There are some cards that offer more storage for less money, but none that are as fast as this.
The Samsung EVO Plus 256GB is available for about $97.
Sandisk Extreme Pro 64GB
This card isn't as spacious, but it's also not as expensive. Just like the previous choice, this card is water-resistant, shock-resistant, temperature-resistant and x-ray proof. Most importantly, it's more than fast enough to handle a steady stream of 4K footage. If you want to easily double your G7's storage, this is the card to get.
The SanDisk Extreme Pro 64GB is available for $38.
Samsung EVO Select 128GB
Samsung has another card that is a nice middle option. The EVO Select is available in 32GB, 64GB, 128GB, and 256GB flavors, but the 256GB version is more expensive that the EVO Plus above. The lower tiers are a great value though: the 128GB version runs for $40, and gets you a fast card with a 10-year warranty. An additional 128GB means you have three times as much storage as you did when you bought the phone, making this card an easy win.
Samsung's EVO Select 128GB card is available for $40.
Value options
If you're not using your phone to record 4K videos — or if you plan to just use the phone's internal storage for this — you can get more storage for less money by getting a slower card. "Slower" is relative — the cards will still be more than fast enough for taking photos, music or video playback, or just carrying your most important files around.
SanDisk Ultra 400GB
It's difficult to believe, but yes: you can fit 400GB of files on some the size of your fingernail. You can also fit that card inside of your phone to give your phone a ginormous amount of storage. The SDXC standard that the phones and cards use is designed for up to 2TB, so microSD cards will keep getting bigger and bigger. This is the largest card on the market for now, so it's not a bad idea to pick it up and have plenty of space for the next few years of use.
The SanDisk Ultra 400GB is available for $195.
Samsung EVO Plus 128GB
If you don't need a ludicrous amount of space, Samsung makes microSD cards at lower storage tiers. The EVO Plus line is available in 32GB, 64GB and 128GB flavors, and is a bit faster than the Ultra card above. Not fast enough for 4K video, but it'll handle 1080P footage with ease. The card is waterproof, so you don't need to worry about your data when your phone takes a dunk.
The Samsung EVO Plus 128GB is available for $50.
What card do you use?
Which card are you planning to put in your LG G7? Let us know down below!
Sign up for Black Friday email alerts!
Get the hottest deals available in your inbox plus news, reviews, opinion, analysis and more from the Android Central team.