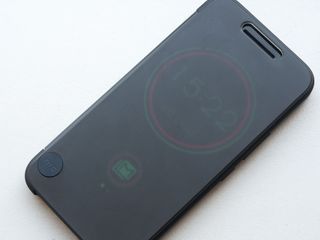 Like any responsible phone owner, you're probably considering a case for your HTC 10. It's a brand new phone and you want to keep it as pristine as possible for as long as possible.
With a new phone, it can be hard to find a good case because not everyone is jumping onboard the new phone train, so reviews are limited. For the most part, we're seeing TPU cases galore, but there are a few rubber and wallet cases and there'll likely be many more to come upon the phone's release.
We've rounded up the best cases (so far) for your gorgeous new HTC 10 that'll hopefully keep it looking like new until the HTC 11 comes out!
HTC Ice View
Why you can trust Android Central Our expert reviewers spend hours testing and comparing products and services so you can choose the best for you. Find out more about how we test.
We'll start with the coolest case you can buy for your HTC 10, which is HTC's own Ice View. With the One M9, HTC had the Dot View to give us a peek at what's happening on the phone. Ice View adds more detail to match the 10's cleaned-up design.
The flip cover allows you to interact with your phone in so many ways that some people might not even need to lift it. You can take photos, read texts, control volume and music, turn on the flashlight, and tons more. Plus, the Ice View supports third party notifications like Instagram, Google+, and more.
If you struggle with covering up such a pretty phone but still want it protected, you might as well cover it up with a case that's super cool and offer a ton of functionality on top of that protection.
Cimo Premium Slim Fit
A great standard for anyone who wants a simple, minimalist case that offers solid protection without breaking the bank, Cimo does it again. It's got a tactile, satisfyingly grippy feeling and leaves all the essential ports open.
The beveled front edge leaves you worry free when leaving your HTC 10 face-down and the slim design means no unnecessary bulk in your pocket. If you're looking for a case just because you know it's the right thing to do, then Cimo is a solid place to start.
Spigen Neo Hybrid
Spigen makes great phone cases. That's just a fact. The Neo Hybrid is no exception, with it's flexible TPU shell and hard polycarbonate bumper, it protects the most fragile points on your HTC 10 – those corners.
Some folks reported issues with previous versions of the Neo Hybrid, notably a loose polycarbonate bumper that was weak around the buttons. But Spigen has upgraded the design for the HTC 10 and now everything should fit snugly and feels sturdy in your hand. This is an excellent blend of protection and a slim form factor, since it really doesn't add a ton of bulk to your HTC 10. It's by no means a "slim fit" case, but it's also not heavy, nor is it too thick.
If you like a great-fitting case and having your phone truly feel like it's protected (without the extra weight), then go for Spigen's Neo Hybrid.
The PC bumper comes in champagne gold, gunmetal, and Satin Silver.
SUPCASE Full-body Rugged Holster
The HTC 10 is a solidly built aluminum phone that feels sturdy and strong in your hand, even without a case. That being said, it's still fragile and if you lead a fairly active lifestyle, a rugged case is a great investment.
SUPCASE's Full-body Rugged Holster is designed to protect your phone from some pretty harsh stuff. It's made of hard polycarbonate and soft TPU, so it's shock-absorbent and protects against bumps, scratches, and drops. Despite being a rugged case, the Full-body Rugged Holster is relatively slim, covering all of your HTC 10 except the screen. Even the earpiece is protected.
And if you're not one for carrying your phone in the pocket, this case comes with a belt clip, so you can wear it on your hip for easy access and a bit of extra stability.
You have your choice of black-on-black or black-on-blue.
Diztronic full matte TPU series
This case from Diztronic is made entirely of flexible TPU, which means extra bouncy shock-absorption all around for your HTC 10.
The matte finish resists fingerprints and gives the case an overall grippy feel, so you know your phone isn't slipping out of your hand. The buttons are covered, but the TPU over them is very responsive and you can feel the click, so if you're controlling volume or shutting off an alert while it's in your pocket, you'll know you're hitting a button.
You have your choice of black, charcoal gray, or a very lovely navy blue.
Love Ying Crystal Clear Ultra
Another great TPU cover that offers minimal bulk with cushioned shock absorbency is the Love Ying Crystal Clear. Like Tauri, Love Ying offers as view different colors to match your style; theirs are a little more vibrant and playful.
The cover is raised both on the front and the back, so you're not putting your HTC 10 down right on its screen or right on the camera lens, which is a nice feature if you happen to drop it flat. It's dust and scratch resistant and fits like a glove.
As with other TPU cases, just be aware that your case may yellow over time thanks to the Sun. Also be careful putting it on your HTC 10 and taking it off too much, since it might stretch and stop fitting so well. Other than that, it's a great way to protect your phone without adding a ton of bulk or breaking the bank.
What do you think?
When you get your HTC 10, let us know which case is your favorite by sounding off in the comments below!
Get the Android Central Newsletter
Instant access to breaking news, the hottest reviews, great deals and helpful tips.
Mick is a writer and duty editor for Android Central. When he's not on the job, he can usually be found vacuuming up pet hair or trying to convince his wife that he needs more guitars.