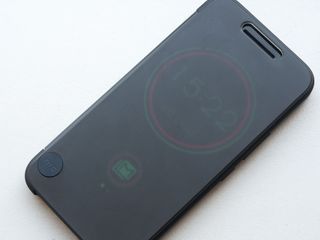 Like any responsible phone owner, you're probably considering a case for your HTC 10. It's a brand new phone and you want to keep it as pristine as possible for as long as possible.
With a new phone, it can be hard to find a good case because not everyone is jumping onboard the new phone train, so reviews are limited. For the most part, we're seeing TPU cases galore, but there are a few rubber and wallet cases and there'll likely be many more to come upon the phone's release.
We've rounded up the best cases (so far) for your gorgeous new HTC 10 that'll hopefully keep it looking like new until the HTC 11 comes out!
HTC Ice View
Why you can trust Android Central Our expert reviewers spend hours testing and comparing products and services so you can choose the best for you. Find out more about how we test.
We'll start with the coolest case you can buy for your HTC 10, which is HTC's own Ice View. With the One M9, HTC had the Dot View to give us a peek at what's happening on the phone. Ice View adds more detail to match the 10's cleaned-up design.
The flip cover allows you to interact with your phone in so many ways that some people might not even need to lift it. You can take photos, read texts, control volume and music, turn on the flashlight, and tons more. Plus, the Ice View supports third party notifications like Instagram, Google+, and more.
If you struggle with covering up such a pretty phone but still want it protected, you might as well cover it up with a case that's super cool and offer a ton of functionality on top of that protection.
See at Amazon (opens in new tab)
Cimo Premium Slim Fit
A great standard for anyone who wants a simple, minimalist case that offers solid protection without breaking the bank, Cimo does it again. It's got a tactile, satisfyingly grippy feeling and leaves all the essential ports open.
The beveled front edge leaves you worry free when leaving your HTC 10 face-down and the slim design means no unnecessary bulk in your pocket. If you're looking for a case just because you know it's the right thing to do, then Cimo is a solid place to start.
See at Amazon (opens in new tab)
Spigen Neo Hybrid
Spigen makes great phone cases. That's just a fact. The Neo Hybrid is no exception, with it's flexible TPU shell and hard polycarbonate bumper, it protects the most fragile points on your HTC 10 – those corners.
Some folks reported issues with previous versions of the Neo Hybrid, notably a loose polycarbonate bumper that was weak around the buttons. But Spigen has upgraded the design for the HTC 10 and now everything should fit snugly and feels sturdy in your hand. This is an excellent blend of protection and a slim form factor, since it really doesn't add a ton of bulk to your HTC 10. It's by no means a "slim fit" case, but it's also not heavy, nor is it too thick.
If you like a great-fitting case and having your phone truly feel like it's protected (without the extra weight), then go for Spigen's Neo Hybrid.
The PC bumper comes in champagne gold, gunmetal, and Satin Silver.
See at Amazon (opens in new tab)
SUPCASE Full-body Rugged Holster
The HTC 10 is a solidly built aluminum phone that feels sturdy and strong in your hand, even without a case. That being said, it's still fragile and if you lead a fairly active lifestyle, a rugged case is a great investment.
SUPCASE's Full-body Rugged Holster is designed to protect your phone from some pretty harsh stuff. It's made of hard polycarbonate and soft TPU, so it's shock-absorbent and protects against bumps, scratches, and drops. Despite being a rugged case, the Full-body Rugged Holster is relatively slim, covering all of your HTC 10 except the screen. Even the earpiece is protected.
And if you're not one for carrying your phone in the pocket, this case comes with a belt clip, so you can wear it on your hip for easy access and a bit of extra stability.
You have your choice of black-on-black or black-on-blue.
See at Amazon (opens in new tab)
Diztronic full matte TPU series
This case from Diztronic is made entirely of flexible TPU, which means extra bouncy shock-absorption all around for your HTC 10.
The matte finish resists fingerprints and gives the case an overall grippy feel, so you know your phone isn't slipping out of your hand. The buttons are covered, but the TPU over them is very responsive and you can feel the click, so if you're controlling volume or shutting off an alert while it's in your pocket, you'll know you're hitting a button.
You have your choice of black, charcoal gray, or a very lovely navy blue.
See at Amazon (opens in new tab)
Love Ying Crystal Clear Ultra
Another great TPU cover that offers minimal bulk with cushioned shock absorbency is the Love Ying Crystal Clear. Like Tauri, Love Ying offers as view different colors to match your style; theirs are a little more vibrant and playful.
The cover is raised both on the front and the back, so you're not putting your HTC 10 down right on its screen or right on the camera lens, which is a nice feature if you happen to drop it flat. It's dust and scratch resistant and fits like a glove.
As with other TPU cases, just be aware that your case may yellow over time thanks to the Sun. Also be careful putting it on your HTC 10 and taking it off too much, since it might stretch and stop fitting so well. Other than that, it's a great way to protect your phone without adding a ton of bulk or breaking the bank.
See at Amazon (opens in new tab)
What do you think?
When you get your HTC 10, let us know which case is your favorite by sounding off in the comments below!
Mick is a writer and duty editor for Android Central. When he's not on the job, he can usually be found vacuuming up pet hair or trying to convince his wife that he needs more guitars.
The ice view is the coolest, and I like a good kickstand case, but I have to say I like the way the Cimo copies the rear design of the phone on the back. Posted via the Android Central App

The ice view case has a kickstand?? Posted via the Android Central App

The ice view doesn't has a kickstand

I love the neo hybrid Spigen. http://www.spigen.com/products/htc-10-case-neo-hybrid?variant=17254899905 Can get through Amazon much cheaper. Posted via the Android Central App

Yeah, that's looking very nice

I'm surprised to not see a single Spigen case on this list, yet they have several for under $20. Of which most are near $10 and with coupon could be less....????? Posted via the Android Central App

I think Spigen screwed up by having that large cut out on the top of their cases for no reason.

The cutout is for better signal. Posted via the Android Central App

I hope this is sarcasm lol. Posted via the Android Central App

At quick glance on my phone with the brightness on auto in a dark room, your pic looks like you're holding a huge dong... Posted via the Android Central App

Leave him alone. He likes them big, nothing wrong with that #TeamFrosty Nexus 6P

Some men like cucumbers too.....i guess....

Says the guy with a Mighty Mouse avatar... Posted via the Android Central App

Can you do a better version of cases for LG V10? Posted via LG V10

Not sure how I feel about putting subpar TPU on a gorgeous metal phone.. :/ maybe I'll stick with dbrand skins, if Verizon has it in stock I might pick it up for kicks and giggles Posted via the Android Central App

Already ordered my Ice View case, going full OEM this time.

I'm thinking of getting the HTC 10 for my work phone. I've always liked HTC since the Evo days but got disappointed with the quality of the One M9. How are people like the 10?

The 10 is an excellent choice for a work phone. I haven't had any dropped calls or heard or read 1 complaint about call quality. Of course I'm in a major metropolitan area so that could be part of it.

Neither the Tauri, nor the Cimo (even though the article says it does) leaves the buttons open. That is a feature I'm looking for in my cases, so I've bought the Spigen® [Thin Fit] Exact-Fit [Gunmetal] Premium Matte Finish Hard Case for HTC 10 (2016) - (H09CS20274) with a coupon from Amazon for about $8. I also like it because it keeps the form of the phone back (compared to other cases which have their edges rounded).

I ordered one of the on sale spigen cases and I'm not even certain if I'm going to buy the phone yet.
All going to depend on the bootloader situation.
If it's locked I'll just keep my s7 edge. Posted via the Android Central App

thoughts on the Spigen clear TPUs?
http://www.spigen.com/collections/htc/products/htc-10-case-crystal-shell
http://www.spigen.com/collections/htc/products/htc-10-case-ultra-hybrid?...
Never used Spigen stuff, but definitely want a clear one to show of that sweet carbon grey

Spigen makes good cases. No hesitation in telling you to go buy one. #TeamFrosty Nexus 6P

they are pretty stylish. I'm current rocking the Tough Armor on my Note 4.

I hate cases, particulary the ones that cover up the design of a smartphone. It´s a pity, in my opinion, to buy a great looker and cover it up with a plastic case, no matter how good it it. This is why I think using glass on the back (Samsung Galaxy S7) is plain stupid since almost everyone will cover it up inside a case. The front glass screen is manageable since we can use a glass screen protector (2 bucks if ordered from china, they´re all the same, trust me).

The main reasoning behind getting a case for your new, expensive, shiny new phone is so that when the phone hits the concrete, it's able to rise and live for another day. It's almost a comical sight to watch other people's reactions when their $700 phone slips out of their hands and comes crashing down to the floor. More than half (50%) of the time the phone's expensive (AMOLED/LCD) screen gets cracked and as most modern phones are purely touchscreen phones, the phone becomes inoperable or uncomfortable to use. Therefore, protection and slim design are two key factors i look into before purchasing any casing. Incipio & Seido are my two best case makers with quality products for a wide range of phones. Personally, i have ordered the Incipio Octane (Frost/Black) Casing for my Carbon Gray HTC 10. It provides decent protection for your phone without the added bulk that protection adds to the phone. There are other variants in the Incipio line like the Dual Pro & NGP for different layers of protection & portability . Seidio also has the Surface Case with Kickstand for the HTC 10. It comes in about 3 color combinations i think for prospective buyers to choose from.

yeah, I csnt understand people who dont put a case on their phone, i mean i guess they dont care if cracks...... The argument rhat it eiuned the look ans design of the phone is f*cking stupid....have some comman sense.. Reminds me of those young twits who say wearing condoms takes away the enjoyment, It all comes down to comman sense...oviously some people just dont seem to have it....and probably never will... Protect your invesement! U twit face... To the people who DONT do that, well they deserve to get what they get i suppose.. Idiots..

Fingers crossed for an otterbox soon. Just replaced the one on M7. Luckily the phone is so old and the cases are discontinued so it was very cheap :)

Man,that case selection sucks,so far.I ran into the same thing when I bought a moto x pure.incipio and spigen would be a big help here,even if the expensive makers don't want to get on board. Posted via the Android Central App I see from an earlier post that incipio is on board,good deal.

Belt pouches. Need serious belt pouch-cases in this list...

I purchased SPIGEN HTC 10 Slim Armor Series Cases

I recommend ballistic and supcase brands for every phone

I have the spigen. Very satisfied with it.

Incipio...dual pro! Dual layer, feels like a thick tpu, use them on multiple family devices. I'm a case *****...and I found my mate.

nice cases for htc m10 ...

Im drooling over that supercase fully body one.......lol
Android Central Newsletter
Thank you for signing up to Android Central. You will receive a verification email shortly.
There was a problem. Please refresh the page and try again.