Best Amazon Fire HD 10 & 10 Plus cases 2023
Keep your Fire HD 10 and Fire HD 10 Plus tablets looking like new.
When talking about Android-based tablets, it's next to impossible to ignore Amazon's long-running Fire series devices. While they certainly don't come with top-of-the-line hardware specs, they still manage to offer decent, respectable performance at very reasonable prices. That's true of the latest 2021 revision of the Fire HD 10 and Fire HD 10 Plus as well, which even have high-end features such as wireless charging. So, if you're planning to buy one (or both) of these things soon, we suggest getting one of these best Fire HD and Fire HD 10 Plus cases to keep them in top condition.
We've even rounded up some cases for previous generations (from 2017 and 2019) of Fire HD and Fire HD 10 Plus tablets to make things easier for you. From folio-style cases to kid-proof options that are made from soft, recycled materials, there are numerous options for you to choose from.
Here are some of the best Amazon Fire HD 10 (2021) cases
Why you can trust Android Central Our expert reviewers spend hours testing and comparing products and services so you can choose the best for you. Find out more about how we test.
Amazon Fire HD 10 2021 Tablet Cover
Fabrics: Charcoal Black, Denim, Lavender, Olive
If you prefer official accessories, look no further than Amazon's own Fire HD 10 (2021) cover. Available in four amazing colors—Charcoal Black, Denim, Lavender, and Olive—it's made from a premium fabric material with a microfiber interior. Closing the lid automatically puts the device to sleep, and there's wireless charging support included in the mix too. The cover is made from recycled plastics and fabric and even features a built-in kickstand for added convenience.
Mission Cables Made for Amazon Clear Case with Screen Protector
Thin and clear
This clear plastic case has been designed specifically for the Fire HD 10 with an excellent fit and minimal bulk. While it's not going to offer as much drop protection as something thicker, it does come with a screen protector in the box. The Fire HD 10 comes in four colors and this protector lets you show off your favorite.
Fintie Tuatara Rugged Case
Colors: Black, Lilac Purple, Navy, Rose Gold, Sage Green
If you want a case, that'll let your Fire tablet handle anything and everything, Fintie's Tuatara is what you need. Available for both Fire HD 10 and Fire HD 10 Plus, the dual-layer rugged cover is made from TPU and polycarbonate, giving the tablet top-of-the-line protection against all kinds of damage. All the buttons and ports are protected using cover guards, while an integrated screen protector keeps the display safe without affecting touch sensitivity and visual clarity. The case is available in a variety of funky color options, such as Sage Green, Navy, and Lilac Purple.
MoKo Slim PU Leather Trifold Cover
Staff pick
MoKo's cases offer excellent protection for your Fire HD tablet while also making it easier to use. The Slim PU Leather Trifold's front cover can flip back and be folded up for propping up your tablet, thus making for a convenient hands-free multimedia-watching experience. You also get wireless charging support and 16 colors (e.g., Indigo, Rose Gold) to choose from. Apart from that, there are several designer choices (e.g., Blossoming Datura, Abstract Flower) on offer as well.
20 colors and patterns
If you find the majority of tablet cases rather boring and would prefer something with a bit more flair, Auralto's offering might be just what you need. Sporting a hard polycarbonate back and a soft microfiber lining, it offers solid protection for the Fire HD 10 and Fire HD 10 Plus (2021) tablets. However, the real star of the show here is the wide range of decorative patterns on the case's front cover, which make it stand out. From butterflies to colorful unicorns, there are a handful of funky designs for you to pick from.
Fintie Silicone Honey Comb Case
Black, Blue, Gray, Green, Mint Green, Navy, Purple, Red, Sage Green
Specially designed for 2021's Fire HD 10 and Fire HD 10 Plus, Fintie's Silicone Honey Comb case—as its name suggests—has a honeycomb pattern on the back that helps in improving the in-hand grip. It's complemented by raised supports that protect the device against drops and other kinds of impact. You get to access all the ports and openings via precise cutouts, as well as wireless charging support. Some of the color options available include Sage Green, Pink Sand, and Lilac Purple.
Fintie Bluetooth Keyboard Case
Get work done while on the move
Amazon's Fire HD 10 may not be a powerhouse, but it can still do some basic computing, and this Keyboard case from Fintie lets you do just that with ease, all while protecting your tablet from scuffs. The upper part is PU leather and polycarbonate, whereas the keyboard itself features well-spaced keys for a comfortable typing experience. The case's own battery is rated for up to four hundred hours of use on a single charge.
MoKo Soft Flexible Transparent TPU Skin
Clear with extra protection
If you want a clear case with a bit more drop protection, this flexible cover from MoKo could be the answer. Elevated bumpers on the corners and back of the tablet help keep your Fire HD 10 from dragging on a surface while also being easier to grip. The case is designed to redistribute the force from impacts so your tablet is more likely to survive a corner impact.
Amazon Kid-Proof Case for Fire HD 10
Colors: Lavender, Aquamarine, Sky Blue
If you have kids in your home who love having fun on Amazon's tablets, this official kid-proof case is a no-brainer. Made from a soft and comfortable foam rubber material, it provides excellent protection against falls and bumps while still being lightweight. The case's design allows easy access to all of the device's ports and buttons, whereas the adjustable kickstand makes propping up the tablet a fuss-free affair. Made from recycled plastics, the case is available in three vibrant color options: Aquamarine, Sky Blue, and Lavender.
Check out the best Amazon Fire HD 10 (2017 and 2019) cases
Moko Amazon Fire HD 10 Case
Simple but reliable
If you have a previous generation Fire HD 10 tablet, we suggest getting one of these cases from MoKo to protect it. Although its design is a bit basic, the wallet-style cover does a great job of keeping your tablet protected from anything and everything. It comes with a PU leather exterior and a soft microfiber lining on the inside, and there's also a built-in hand strap for one-handed use. Then there's the flip cover, which lets you prop up the Fire HD 10 at two different angles, one for content consumption and one for typing.
Fintie Tuatara Magic Ring Case
Rugged and practical
With its dual-layer (shock-absorbing TPU and impact-resistant polycarbonate) construction, Fintie's Tuatara rugged case does a great job of keeping your Fire HD 10 (2017 or 2019) safe and secure. It even comes with an integrated screen protector that shields the display from damage. However, the case's standout feature is its patented multi-functional 'Magic Ring' built into the back panel. The 360-degree adjustable ring not only allows you to prop up the tablet at any angle—in both portrait as well as landscape orientations—but also doubles up as a carry handle.
Shreborn Kid-Proof Case with Stand
Colors: Purple, Red, Green, Blue, Pink, Black, Orange
If you have a previous generation Amazon Fire HD 10 tablet that kids in your home use, you should take a look at Shreborn's Kid-Proof case. Featuring precise cutouts for all the ports and other openings, as well as raised bezels around the screen, it protects the device from bumps and falls with little to no ease. The case comes with an integrated grab handle that'll allow kids to take their favorite Fire HD 10 everywhere. Apart from that, you get two foldable stands on the back for propping up the device at a comfortable viewing angle.
What are the best Amazon Fire HD 10 cases?
Amazon's Fire series tablets may not be the most feature-laden pieces of technology in the market, but they still manage to strike the right balance between performance and affordability, which is why they continue to be some of the best Android tablets available out there. In fact, the 2021 version of Amazon Fire HD 10 is a fairly capable device that can do a whole lot more than what its price tag might have you believe.
Whether you're planning to get the newest Fire HD 10 or Fire HD 10 Plus soon or have had one of the older models with you for quite some time, it's important to protect your investment. This is why we've done all the hard work and rounded up some of the best Fire HD 10 cases on offer. Our top vote goes to MoKo's excellent flip cover, which not only protects your tablet but also lets you set it up at any angle for hands-free content consumption. Even if you get one for the previous generation Fire HD 10, you'd be getting a well-made product that does its job really well.
On the other hand, go for Amazon's kid-proof case if you plan on handing out these things to the little ones in your home. They are made from a comfortable foam-like material and come in a variety of vibrant colors that the kids are going to love. Then there's Fintie's Bluetooth keyboard case, which can transform the Fire HD 10 from a simple content consumption device to something you can use to get some light work done while you're on the move.
Once you've decided on a case, we suggest checking out the best Fire HD 10 and Fire HD 10 Plus screen protectors to give your tablet(s) total protection.
Get the Android Central Newsletter
Instant access to breaking news, the hottest reviews, great deals and helpful tips.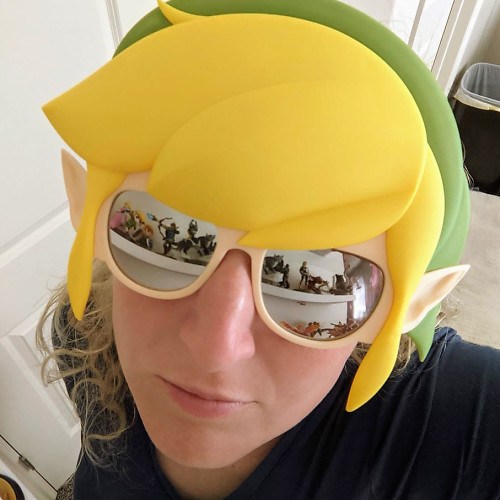 Rebecca Spear is a staff writer for Android Central who loves following the latest tech, drawing with her Wacom, and playing video games. You can find her posting about her pets, art, and video game preferences on Twitter @rrspear.