Best alternative keyboards for the Samsung Galaxy S6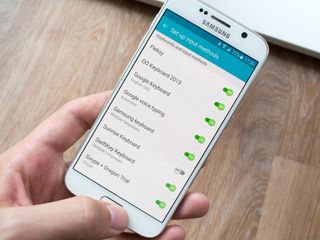 If we're being honest, the built-in Samsung keyboard on the Galaxy S6 just isn't that great. It puts buttons in weird places, has some odd touch responses and is generally poor at auto correct, but that doesn't mean you're stuck with it. Of course you can switch out that keyboard with a free or paid option from Google Play, and that means you have dozens of choices available to you.
We've been using the Galaxy S6 plenty, and these are the keyboards we're happiest with after using them. Read along with us and see if one of these appeals to you as well.
READ NOW: Best alternative keyboards for the Galaxy S6
Google Keyboard
Google's own keyboard app isn't just for Nexus devices — you can download it on your Galaxy S6 as well. The simple keyboard has a choice of dark and light themes that fit nicely with Lollipop-designed apps, as well as a few basic features like swipe typing and predictions that learn from how you type on all of your devices. You can also pick up handwriting input if you install the Google Handwriting Input app (opens in new tab), which can be quickly switched to from the regular keyboard. As you'd expect the Google Keyboard is free, too, without any sort of ads or in-app purchases attached.
Download Google Keyboard from Google Play (opens in new tab)
SwiftKey
SwiftKey has taken a position as one of the top third-party keyboards out there. And even though its technology even powers many of the pre-installed keyboards on popular devices, you get the most benefit out of installing the full app on your own. You'll get swiping text entry, but also some of the best predictive text and auto correction in the business. The keyboard layouts are also customizable in terms of buttons and an extensive set of themes, so you can have a keyboard that fits your style.
You can get the basic keyboard for free now, which is a change from the way it was previously run, but you'll pay if you want additional themes to use.
Download SwiftKey from Google Play (opens in new tab)
Fleksy
Fleksy is a super flexible and customizable keyboard that works well on both phones and tablets, so you can use it on both for consistency without feeling like you're giving anything up. You can adjust its size and layout, set up custom buttons to launch apps or quickly copy/paste, and apply one of 40 themes. The keyboard also has built-in gif support, so you can easily send animated funnies to your friends. You'll have to pay for some premium features, but they're worth it.
Download Fleksy keyboard from Google Play (opens in new tab)
Swype
Swype is one of the original big name third-party keyboards, and like SwiftKey its technology has also been baked into many keyboards that come pre-loaded on phones. It doesn't have some of the more advanced or flashy features of the others, but it looks great and offers a few neat tricks like good next word prediction, gestures on the keyboard for performing actions and bilingual language input.
The keyboard is now free as well, which is always nice to see.
Download Swype from Google Play (opens in new tab)
GO Keyboard
GO Keyboard is another option that bills itself as being extremely customizable, with thousands of themes and tons of layout options to make the keyboard look like no other. You also get emoticons, emoji and multi-character smiley faces included, over 60 languages supported and you get free voice dictation as well. There are in-app purchases to load up GO Keyboard with all of the best features, but the basic set are there for free and you get a nice-looking keyboard as well.
Download GO Keyboard from Google Play (opens in new tab)
What's your keyboard of choice on the Galaxy S6?
We've touched on all of the leading choices in replacement keyboards here, but we also want to know what you've been using on your own Galaxy S6. Whether it's one from our list here or something else, hop in the comments and let us know!
Andrew was an Executive Editor, U.S. at Android Central between 2012 and 2020.
I used to use Swiftkey, but it got so bloated. Now I used Google Keyboard.

Yeah bloated. Wtf is added to the keyboard that you use that is extra? Posted via the Android Central App

How so? Everything on SwiftKey is almost optional... Google keyboard it's so basic... SwiftKey it's still more accurate anyways. Btw, that bloat makes my typing faster and less button to press and quicker to find characters than the other basic keyboards. Posted via the Android Central App

The Google+ syncing between devices, theme store, notifications when you reach typing goals, and more. It tends to lag down at times too. I use a modified Google Keyboard which has the number row and symbols on long press, it's everything I need and nothing more.

SwiftKey bloated?? Wtf?
I personally don't find any of the features gimmicks
And just FYI i typed this entire comment on SwiftKey using entirely th flow and predictions Posted via the AC App with my jacked up GT-P3113

Explains the lack of punctuation and misspelled word. Posted via the Android Central App

:-D
I dropped Swiftkey for Google Keyboard. I like Googles simplicity. Posted via Samsung Galaxy S6

If Google Keyboard had the option to shrink the keyboard to one side like SwiftKey, then I would probably use it on my Note 4. Posted via the Android Central App

I use it on my SGS6.... On anything wider I agree completely. Would love if Google added a way to shrink the keyboard to one side. I far prefer the Google keyboard to most others, especially with the holo themes.

I always switched back to the Samsung keyboard after a day or two because I really like the clipboard feature. I'm surprised that other keyboards haven't copied that. Sure, there are clipboard manager apps in the Play Store but having it integrated into the keyboard is way more convenient.

I like the look of Swiftkey and I like that Swiftkey has a number row (Swype doesn't). But I went back to the default Samsung keyboard anyway for a number of reasons, all adding up to the fact that I like it better. I don't know what the S6 keyboard is like, but if it's similar to the Note 4 keyboard, I really don't get the "It puts buttons in weird places, has some odd touch responses and is generally poor at auto correct" description. It works better than Swiftkey for me.

That's because Samsung took that feature off! We used to have that on the GN4... Ugh pissed about many of the debloating decisions... Make our phones not so special anymore... Posted via the Android Central App

Yes, I agree, removing such features do not make our phones special anymore. Since the release of S5, I always check for what is REMOVED from a new Galaxy phone instead of looking at the new features. Group Play, Air View, Air Gesture, Wireless Camera and other features were all removed from Note 4 which Note 3 and S4 had. I even sent an email complaining to Samsung... Perhaps you should do the same to let them know people do know how to use their devices? There should have been a petition to bring those features back imho..

Ok so I made the petition myself, let me know what other features they removed so I can add them there http://www.petitionbuzz.com/petitions/bring-back-samsung-galaxy-features

AI type. Posted via the Android Central App

I always keeps on my androids A.I. Type Keyboard, Best ever.!!!

Yes. And Ginger keyboard. Posted via the Android Central App

You guys never include thumb keyboard 4....I think its the best! Why you ask? I like that punctuation is on the same screen. No need to switch or shift. Posted via Android Central App

Even in SwiftKey the punctuation is available by just long pressing on the relevant keys Posted via the AC App with my jacked up GT-P3113

Contrary to your allegations, Samsung keyboard is the greatest keyboard. It's functionality is topnotch. It's Handwriting to text conversion feature is the best. Samsung keyboard was the pioneer keyboard to introduce Handwriting recognition feature. Clipboard feature is exclusive to Samsung keyboard. It is the only keyboard which provides you with alphabets and numbers on the same panel; you don't need to switch between alphabet and numeric keyboards. Auto-correction feature is top notch. It is thousand times better than SwiftKey, Swype and Flesky keyboards. The only reason reviewers run down such a great keyboard like Samsung Keyboard is due to herd mentality of labelling pre installed application as bloat ware and considering third party solutions to be superior in quality even if the third party solutions are way inferior. Biased mindset. Just use Samsung keyboard in Note devices for a month, you would not even think of going back to junk third party keyboards you are trying to glorify.

I can seriously vouch for the 'best' handwriting to text conversion of Samsung keyboard; And that's with a Note 3, not S6! It make so much more sense with the Note, I sometimes 'write' instead of type.

I second that. I laughed at the fuss about Google handwriting keyboard when it came out. We already had that, and the magic of the s pen to go with it.

I have to agree with you on this. I love SwiftKey but the Samsung keyboard is best for Samsung devices. Posted via the Android Central App

Totally agree, I have no idea what you other people are smoking but nothing comes close to Samsung keyboard, all others I've tried are laggy, no number keys, or funny jazzy colours, never found a good third party one yet, Google took a step back even. Posted via the Android Central App

love that touchwiz keyboard. Posted via the Note 4 or Tab S 10.5

Without that blanket premise, he'd have no article to write - or at least no excuse to write specific to the S6.

I was wondering what made these keyboards so special on a Galaxy S6. Ah yes...pretense. Posted via the Android Central App powered by Droid Turbo

Search engine optimization, that's all Posted via Android Central App

I was thinking that but if that's the case all these S6 articles should be titled "Best alternative (insert app here) for the Galaxy S6, HTC One M9, LG G4, or most other Android devices". Title would be a little long but it would cover more devices for search engine rankings and it wouldn't leave new Android users potentially confused as to whether these apps will work on non-Samsung devices.

It's not like HTC One M9 and LG G4 are actually any competition for the S6, so why bother mentioning them?

"Samsung is the only one with alpha and numbers on the same panel"?
You do realize you can add numbers to the panel on Swiftkey with the check of a box, right? I like the Samsung keyboard as well but the long press symbols are just too hard to read.

Yeah, I'll give you that. They're easier to read on Swiftkey.

Completely agree. The default samsung keyboard is excellent. this is just biased touchwiz hate from the past.

I don't thing I would ever use anything but the touchwiz keyboard when using a Samsung device. It's that good Posted via the Note 4 or Tab S 10.5

You nailed it. Andriod All Day Everyday!

Try AI type or Ginger keyboard. Posted via the Android Central App

For once I actually like the a Samsung keyboard. Buy you're right, autocorrect is TERRIBLE.

I've been a LONG time SwiftKey fan, but more recently it has been really lagging and I went back to the Samsung Keyboard and I have been really impressed.

Fleksy Forever. I've been using Fleksy for around 6 months now and it's so good. They have a very good algorithm and it is so easy to use. Would recommend it any day. Posted via the Android Central App

SwiftKey for life Posted via the Android Central App

I usually use SwiftKey, but I'm definitely going to try out the Samsung keyboard after reading these comments! Posted via the Android Central App

Samsung keyboard and I've paid for the rest. It's fast and is always ready to enter my email address. Posted via the Android Central App

Swiftkey was laggy for a time (a few months), but it's back to being it's speedy clever self again. I've tried so many keyboards, but I can't find one that corrects my sentences (especially missed spaces) as well. If anyone has a good suggestion, let me know (I don't have an S6 yet, so not Samsung for another 2 weeks).

Switch between Fleksy, SwiftKey, and Swype as I feel like it. Currently using Swype because I really like the predictions that it makes while swiping. The word prediction is also on par with Swift key so it's really good. Fleksy has the best tactile feedback though, and that's why I enjoy using it. Posted on my OnePlus One

I try others but keep returning to SwiftKey. The best autocorrect by far. Posted via the Android Central App

The Samsung keyboard is awesome but it's just too damn ugly. I use Google keyboard or thumb keyboard. Posted via my Note 4...

Oh look, more Samsung ass kissing!

oh look, a samsung hater clicking on samsung articles ....

"best keyboard for (insert android phone here)"
*lists all of the top third party keyboards* Can I get paid for this shit too? Posted via the Android Central App Ooh don't forget a picture of me holding the phone at different angles for each keyboard! Now it's professional

Love Fleksy.
I don't miss swype or any fancy terms for it like Swift flow. Posted via the Sailfish iMore app

SwiftKey for life! Especially on Note 4 Posted via the Android Central App

I love google keyboard, but I like the extra number row the Samsung one gives you Posted via the Android Central App

Smart Keyboard has been my favorite year after year.

I'm a fan of SwiftKey but it did do through a faze where it was lagging. They have a new Clarity keyboard that is responsive but very basic with no emoji support. Posted via the Android Central App

SwiftKey. Posted via Moto X 2014

Iam using Fleksy but no swipe option so going to SwiftKey... Posted via the Android Central App

i bought Fleksy and i love it, i even bought the theme that combines the color of the keyboard with the app i´m using

Like others have said, the samsung keyboard on the S6 is actually pretty great. One of the things I look for in a keyboard is the microphone key to be right up front- no need to press two keys, no press and hold - TAP and SPEAK - DONE. Samsung has this. None of the third party keyboards I've tried have it except swype, and there were other things about swype I didn't like.

AI type. Posted via the Android Central App

Galaxy S6 available in high battery almost 20 hours in 3G talk time ,11 hours in web browsing and 12 hours video playback
other extra features Fingerprint sensor (PayPal certified) - Samsung Pay (Visa, MasterCard certified) Galaxy s6 available in cbuystore

I would use google keyboard or Swype. I just like the flat design. I'm using Google keyboard right now over Swype. Posted via the Android Central App

A BB Passport lol :p Posted via the Android Central App

Google Keyboard FTW. SwiftKey messes up my predictions and the for accuracy is way off. I find myself correcting words SwiftKey thought I was going to say. Don't get me started on 3 letter words. They are almost impossible to type with flow. I install it every once in a while to see if it works any better but I always go back yi the Google Keyboard.

Wow Android Central. I can't even edit my posts because your tap recognition sucks! It's like a job to even reply to a comment. Seriously, you need to get that fixed.

Ginger keyboard and AI type. Posted via the Android Central App

I'm I the only one here who thinks samsung own key board is pretty good. Every time I try something different I always come back to the native key board Posted via the Android Central App

What's going on with Google Keyboard--it hasn't been updated in nearly half a year--and I don't trust the GO Devs...all their apps have shady processes running in the background, even when you're not using their apps.

Ginger page is an awesome keyboard alternative Posted via the Android Central App

I'm using TouchPal keyboard. It is the closest to my old Blackberry Z10 keyboard because you can turn on Wave and get the words to hover over the next letter of the word. The only difference is that you swipe the word down to the space bar and not up, but it was an easy transition. Posted via the Android Central App

I have used SwiftKey pro for years and do not find it bloated. It prediction rate is about 86% after 1 letter and 68% correct prediction based on prior context or habits. I have not seen a better predictor. Google (imho) isn't there tet

If there was a keyboard that mimics my iPhone's KB I would be happy, so much more responsive than this S7 pos
Android Central Newsletter
Get the best of Android Central in in your inbox, every day!
Thank you for signing up to Android Central. You will receive a verification email shortly.
There was a problem. Please refresh the page and try again.