Best 4K Android TVs 2023
Get 4K resolutions and easy streaming controls with these 4K Google TVs.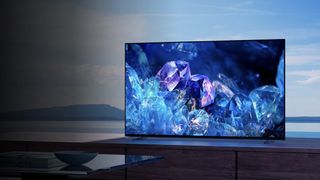 (Image credit: Sony)
Getting the 4K TV for your home involves many factors ranging from size, panel type, and software features. Like the best Android TVs, the best 4K Android TVs inject a bit of familiarity into the mix with the Google TV interface making it easy to get your favorite streaming apps, especially if you've already used Google TV. The Sony A80K OLED is our favorite 4K Android TV thanks to the clarity of its OLED panel, Sony's lovely industrial design, and Sony's color tech. If you're looking for something cheaper, there are a lot of options available and you may not need to give up as much as you think to save some money.
These are the best 4K TVs for your home
Why you can trust Android Central Our expert reviewers spend hours testing and comparing products and services so you can choose the best for you. Find out more about how we test.
Sony Bravia XR A80K OLED
A splendid display to entertain everyone
Reasons to buy
+
Gorgeous OLED image quality
+
Five-speaker audio (two subwoofers)
+
Dolby Vision and HDR10
+
Alexa, Google Assistant, AirPlay 2-compatible
+
VRR and ALLM support on two HDMI ports
+
Super thin design
Reasons to avoid
-
Expensive
-
Some HDMI features are limited to two ports
Sony does special things with OLED panels, and the A80K Bravia is an example of that. There are 55, 65, and 77-inch panels available, and Sony's Bravia XR processor offers plenty of ways to calibrate and improve the screen's output. With Dolby Vision, IMAX Enhanced, and even a Netflix calibration mode, this is a gorgeous display that can adapt to almost anything you want to watch and make it look great.
Thin bezels and an adjustable stand make this fit right into your decor. Bright or dark rooms don't matter, either, courtesy of advanced contrast boosting that brightens and darkens pixels at the right moments. The HDR effect is truly vibrant, and you can make various adjustments to the device or app you want to use. It's also perfect for your PS5 with auto low-latency mode (ALLM) and variable refresh rate (VRR) on two of the HDMI ports. You'll be able to play your favorite titles in 4K at 120fps in all their crispy glory.
Navigating Google TV is a breeze, too, where fluidity is important. GoogleTV also means you get the Google Assistant included, and even Alexa and AirPlay2 support. For audio, Sony has opted for a five-speaker setup with two subwoofers so you don't need to run out and get a soundbar right away. If you do though, you'll find that a Sony model can work with your TV speakers for an even wider sound stage. Finally, you have Dolby Atmos support, which can put you on a whole new audio level should you hook up a soundbar or system to it.
Hisense Premium U8H Mini-LED
Beauty and value all wrapped in one
Reasons to buy
+
Beautiful picture quality
+
Dolby Vision and Dolby Atmos
+
Versatile product
+
Native 120Hz refresh rate
+
Reasonable price
Reasons to avoid
-
Heavier than other options
-
Fewer zone on the 55-inch model
OLED is all the rage for a reason thanks to its incredible contrast thanks to the pixels being lit individually. Mini-LED TVs like the Hisense U8H by contrast achieve a comparable look with hundreds of dimming zones. That is, its panel is divided into hundreds of blocks that can dim when the scene is dark or get brighter than normal with up to 1500nits of peak brightness. That's a lot more than a standard TV backlight. The 55-inch model has 336 dimming zones while the 65-inch and 75-inch models take that up to 504 and 528 zones. Working with Dolby Vision, HDR10, HDR10+, and HLG HDR formats, this TV looks great with just about any content.
ALLM and VRR are supported on two of the HDMI ports with up to 120Hz refresh rate. That helps make this TV a strong pick for gamers since consoles like the PS5 can automatically switch to its gaming mode reducing the time between button presses and onscreen action. This all works for Xbox and PC gamers as well so if you were on the fence between a gaming monitor and a TV, this does the job of both as long as you're fine with the size.
Ignoring all of the gaming stuff, this is a great TV for cord-cutters with fast Wi-Fi 6E wireless connectivity so you can virtually eliminate buffering if you've got one of the best Wi-Fi 6E routers. Hisense has also taken audio seriously with dual stereo speakers at 10W each and a center-mounted 20W subwoofer on the back. This helps keep the audio crisp and dialog understandable even when the action ramps up.
Sony Bravia XR X95K Mini-LED
A TV that looks better than you might expect
Reasons to buy
+
Gorgeous LCD display
+
High-performance local dimming
+
Support for 120Hz and VRR
+
Six-speaker audio
+
Chromecast, AirPlay 2, and Google Assistant
Reasons to avoid
-
Fewer dimming zones that competition
-
Only big sizes are available
At first, OLED may seem like the obvious pick for those looking for a vibrant TV with plenty of contrast but there are a few things LCDs still do better. One thing the Sony Bravia XR X95K Mini-LED TV gets right is the brightness. This LCD panel gets brighter than most OLED TVs and will look better in a bright room with windows. While the actual number of zones is a fraction of OLED and some other mini-LED options, Sony's color tech and great zone performance give the X95K one of the best 4K images you'll find.
This TV is large with the smallest size coming in at 65 inches with 75-inch and 85-inch options available. HDR support is strong with Dolby Vision, HDR10, and HLG supported. ALLM and VRR are supported for gaming on two of the HDMI ports and a 120Hz refresh rate helps keep the feeling of action high in-game. Sony notes that this is a great fit for the PS5 and indeed it is but you could use any modern game console or PC with this TV for great results.
Finally, Sony has made good on its history of audio excellence with a six-speaker setup. This component speaker setup includes two tweeters for treble, two speakers for mids, and two subwoofers for lows. This should give the TV well-rounded audio in a wide range of environments so you don't have to order a sound bar unless you want to.
Hisense U6H Series Quantum
Looking good without breaking the bank
Reasons to buy
+
Good image quality
+
HDR10+ and Dolby Vision support
+
Google Assistant and Alexa
+
Four screen sizes
+
Affordable pricing
Hisense has embraced Google TV, and with its aggressive pricing, it stands out as a quality alternative to other brands. The Hisense U6H Series comes in four different screen sizes starting from 50 inches and going all the way up to 75 inches — and all at prices below what you would probably expect. This upgraded model comes with some audio improvements as well as picture quality upgrades.
The U6G uses a ULED panel and quantum dot technology with 48 local dimming zones to help deliver better contrast and color accuracy. That it also supports both Dolby Vision and HDR10+ puts it in good company with other TVs aiming to display the best possible image quality for the price. This TV has a 60Hz refresh rate, though it includes a Motion Enhancement feature to raise that to 240Hz, which may or may not work for the content you're watching if the "soap opera" effect makes you feel weird.
With Google Assistant and Alexa to talk to, the TV offers the same voice functionality as others do, but it also helps that Android TV is the interface of choice for Hisense. The remote comes with a hands-free feature where you can talk to the smart assistants on board to help you execute tasks.
TCL 5-series QLED
Cheap but capable
Reasons to buy
+
Crisp 4K image
+
Support for Dolby Vision, HDR10, HDR10+, and HLG
+
Affordable pricing
+
Color contrast zones (60)
+
Wide range of sizes
Reasons to avoid
-
Weak audio setup
-
No local dimming
The TCL 5-series is a mid-range 4K TV line with all of the most important features intact for those looking for a new TV without spending too much. The also TCL 5-series is available as both a Roku TV and Google TV so be careful that you add the right version to your cart. This TV comes in four sizes starting at 50 inches and going up to 75 inches.
HDR support is included with Dolby Vision, HDR10, HDR10+, and HLG support so you can get the full color of your source whether you're watching a 4K Blu-ray, HDR stream, watching your own videos, or playing a video game. To improve the colors further, TCL has 60 contrast zones on the TV so you can get vibrant colors across the entire panel.
For gamers, VRR and ALLM are supported so your games look and feel smooth even if the frame rate drops a bit. There are three HDMI ports around the back so you can keep several devices connected at once. One of the HDMI ports has eARC for a soundbar, which you'll likely want as the disappointing dual 8W speakers leave much to be desired.
Get the right size and the right tech
The best Android TVs have gone through their share of hiccups since they originally launched, but the maturation process only makes smart TV interfaces more competitive. Sure, you can buy a great Google TV box, but having the OS included with the TV can make the experience more seamless while freeing up an HDMI port for something else.
Some do it better than others, and while this is an impressive group to choose from, the Sony A80K Bravia OLED TV strikes the best balance of quality, performance, and versatility. Two of the HDMI ports are great for gaming with VRR support up to 120Hz and ALLM mode. It won't come cheap, but you get something you will be satisfied with for years to come. Plus, Sony has a record of providing quality firmware updates. You get what you pay for, and that's no exception with a really good 4K TV.
Get the Android Central Newsletter
Instant access to breaking news, the hottest reviews, great deals and helpful tips.
Contributor, Audio Reviewer
Ted Kritsonis loves taking photos when the opportunity arises, be it on a camera or smartphone. Beyond sports and world history, you can find him tinkering with gadgets or enjoying a cigar. Often times, that will be with a pair of headphones or earbuds playing tunes. When he's not testing something, he's working on the next episode of his podcast, Tednologic.