Audiogalaxy 2.0 hits the Android Market with new features in tow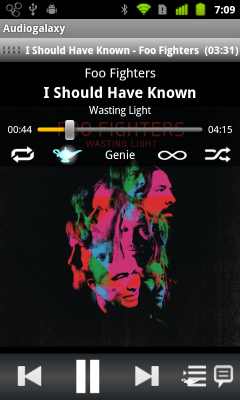 With music streaming apps becoming more and more popular, developers are finding stiff competition from some really solid services. (Google Music, anyone?) Audiogalaxy, one of the better streamers on the Market today, has released its Version 2.0 update, upping the ante in both simplicity and usability.
Audiogalaxy is known for its easy-to-use interface: simply set up an account on your computer, and the app will do most of the work for you. Once set up, you can stream your music collection over your 4G, 3G, EDGE, or Wifi connection. Version 2.0 brings some welcome new features including the ability to add songs to existing playlists straight from your phone and to promote/delete upcoming songs in Genie mode. Social networking has been added, too, with the ability to see what your friends are listening to at any given moment. Version 2.0 is currently available on Android only and can be downloaded from the Market after the break.
Looks cool, does anyone know how many GB they allow?

Unlimited, it streams from your home computer to your phone. It's what I use, I like it a lot.

Dang... Only have a laptop... Thanks for the info.

if you laptop stays at home and connected to the network, you can still use it.

There is an excellent web portal you can use, I use it at work. Just go to their website and log in from anywhere once it's set up from home

Technically none. It streams the music that you have on your computer. So your computer has to be connected to the internet and on to listen to your music. But if you have a lot of music (more than 5GB)...this is probably better than Amazon.

The only limit is your own hard drive. The server runs on your computer and pushes the music to your device. Which makes this a better option than Google Music or Amazon cloud music as long as you have a desktop.

Unless of you course you want to copy actual files of your music to your device for use in a non wifi/3g/4g area, then the cloud is preferable. I've found room for both in my daily use.

Autiogalaxy is far the best out & there is no limit but Your HD. I have tryed Amazon cloud music it does not wok well and as Google still waiting for my invite. Stay with the best Autiogalaxy !!!!

It's not about space. It allows you to use your own music. Keep your music at home and stream to your phone....AWESOME....I am able to stream from my music library of 500GB without any hiccups.

Ok, there is technically not a space limit, but there is a limit to the number of songs you can have in your collection (see their FAQ in the help section). Fortunately, that limit is 200,000 songs, so I don't think most of us have to worry.

what about network storage hooked up to your router can it stream off that without a running pc or laptop?

what about network storage hooked up to your router can it stream off that without a running pc or laptop?

There is a server app that runs on the computer do probably not

Love Get it. Works Great Google waiting to test ( Google Music) or (Amazon cloud music testing & don't like it )

Can you have more than one computer connected streaming music?
I have a desktop with the majority of my music on it but I also have a laptop with a couple gigs as well.

Well that was surreal - I was singing that very Foo Fighters song to myself at my desk (last one in the office) when I scrolled past this article! Also that album is phenomenal, at least check it out for free on Soundcloud: http://soundcloud.com/foofighters/sets/wasting-light/

This is a way cool app, been using Google Music, but this is faster since you don't have to upload your collection and the 200,000 song collection is awesome. Nice to be able to stream your music from anywhere as long as your home pc is connected.
Android Central Newsletter
Get the best of Android Central in in your inbox, every day!
Thank you for signing up to Android Central. You will receive a verification email shortly.
There was a problem. Please refresh the page and try again.