AT&T Samsung Galaxy S3 gets minor software update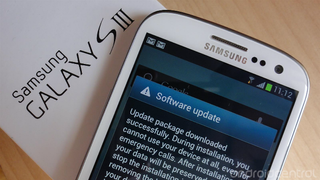 AT&T Samsung Galaxy S3 owners are waking up to a new software update this morning. The latest 82MB over-the-air upgrade brings AT&T's S3 up to version UCALH9 appears to add in some features that were added to the international model a few weeks back. The most noticeable change is the new brightness slider in the notification dropdown, though according to Android Central forums posters, there are also new VPN and enterprise security enhancements under the hood. On the whole, though, this is a pretty low-key update.
The update is still based on Android 4.0.4 Ice Cream Sandwich -- there's no Jelly Bean update for the AT&T S3 just yet. For the technically-minded, a new radio firmware is also included -- version I747UCLH9.
To see if your AT&T Galaxy S3 is ready to grab the latest over-the-air update, head to Settings > About phone > Software update. Once you're done, be sure to drop by the comments below and let us know how you're getting on with the new firmware.
Source: Android Central forums
Alex was with Android Central for over a decade, producing written and video content for the site, and served as global Executive Editor from 2016 to 2022.
So, how about Verizon releasing Jelly Bean for the Nexus? And before some moron says "Root your phone", I am already running Jelly Bean. But what about all of the people I know dying for an update to their Nexus?

VZW Nexus isn't a Nexus... Poor saps.

I have a stock ATT S3 and since day one I've always received a message something to the effect of "Communication failed. Your phone will automatically check for new updates within the next 48 hours" every time hit the check for software updates button. Is that normal? I have never received an OTA update to the phone. Tried both on wifi and on mobile data, too.

I had the same updating issue, I used samsung kies software to update my phone for the first update. Right now I am currently downloading this update, there may have been a bug in the original release and the update through kies fixed it. Since I tried about 50 times for the previous update and I only tried once for this. Hope this helps.

Kies worked like a charm. Thanks!

how did you get it to download

I'm not sure what the deal is for me but is anyone else having an issue with the update downloading incredibly slow, or is that ATTs servers being stingy?

Anyone know when the official Jelly Bean is supposed to drop or the estimated release date is for the Galaxy S3 on Rogers?? I cant wait because my battery is so bad on ICS and it would barely last me 7 hours and my day is a lot longer than that.

check for update via kies that`s will be fixe your problem with your battery

My S3 is rooted, but with the stock ROM. Will this update screw with my root? Or will the update fail on restart?

Failed on reboot for me. Went into recovery and died a quick death.

Similar issue coming with my phone as well. It says recovery booting... and then goes blank.

OTA update went smoothly for me (Denver: 7:00am; 20mbps wifi connection) and was over in about 10 minutes. i see the new Brightness slider in Notifications dropdown but haven't seen anything else different yet. From the sound of it I probably won't either.

The other thing I noticed is in the text messaging application. They moved the attachment icon to the left hand side of the text box which I personally love. Used to be right over the send button. Also when you change from vibrate, to silent, to normal ring, the silent doesn't show a green icon anymore which makes since because no volume is active on the phone when silence is on. That's the few things I noticed as soon as I got done with the update 15 minutes ago.

There's also an OTA update for Verizon Wireless SCH-i535.

Yes, woke up to an update this morning. Any idea what the "enhancements" are? I see no difference and the link given "for more information" ... doesn't work :-(

I don't know if you AT&T SGS3 users had the LED notification color issue, but the Rogers version of this update seemed to fix that problem on my Rogers SGS3.

exactly same for me that`s fixed this problems !

What was the notification problem?

It changed a few thing with the Internet explorer. It moved the bookmarks icon and I belive added forward and back arrows.

I tried to do the OTA update and I got nothing. It is stuck with a notification message of "Connecting to DM server". I have to wait 24 hrs to check OTA again (after I reboot to get rid of the notification message). Using Kies it says the update is current. UCLG1 was the version available.

No need to wait 24 hours. Just go to the date and time settings, uncheck the box that says "Automatic date and time" then manually set the clock 24+ hours ahead (e.g. tomorrow). Now recheck for an update and install. Once the update is complete, just go back into settings and correct the date and time, or recheck the "Automatic date and time" box.

Thanks. I am usually leery of changing the time but I did and everything downloaded just fine. Took about 15 mins to complete. I have no problems so far. I am impressed that Samsung is updating. This is the 2nd or 3rd update in the last few months. For Samsung Captivate they did not update often.

The update went fine for me. It fixed the problem I was having using SVoice over my BlueAnt bluetooth headset.

Thanks so much for letting users know since AT&T certainly didn't inform me either by text message or email. I did check the AT&T website while reading this & there was a notification posted, https://www.androidcentral.com/e?link=https2F2Fcli... The d/l, which was a FOTA & 82.05MB in size, took ~5 minutes to complete using my wireless network. The phone auto-restarted & took ~3 minutes to complete the install. Then, there was another of ~1 minute of "Android is upgrading... (optomizing 225 applications". My antivirus & antimalware apps indicated & scanned "EnterprisePermissions". Per the AT&T website, "The software update provides device improvements and ISIS certification". Frankly, I've noticed very little thus far but will report back if anything of significance pops up. This update most definitely didn't resolve the horrid copy & paste bug!

I'm also having trouble with the AT&T update today. I'm rooted with a stock ROM, the OTA downloaded, but failed to install. I've tried Kies and Kies says in the Firmware section:CURRENT Software Version PDA:LG1/Phone:LG1/CSC:LG1 (ATT) Latest Software Version PDA:LG1/Phone:LG1/CSC:LG1 (ATT). Also nowhere can I find a mention of an update in Kies that an update is available.
Do I need to "unroot" my phone or just do the system restore and start over?

I got the update last night, but I don't see the new brightness slider in my drop down menu? Am I missing something?

Same boat here.. I updated via Kies, though. No drop down brightness slider.

DO I have to defrost my bloated software?
update and then freeze again? or unroot all together?

Anyone else notice that once you do this OTA update, and then cable up your phone to the PC and launch Kies, you get the message: "Your device does not support upgrading via Kies"? Looks like AT&T yanked direct control of upgrades back in-house.

yes I did. you never know what can happen after you do a update till its done. I did a backup and that was it.

You'll need to uninstall the current versiin of Kies completely & get the new version from the Samsung site. It works fine after that. If you check for the update in yout existing version it will not show the new one. Has to be from the Samsung page.

You have to first put your phone into download recovery mode and the try again. Kies should then ask for your serial number and model number and will then update your firmware.

Seriously?!? And update that completely ignores the giant issue that the phone can't copy and paste a single word? I'll trade a brightness switch for clipboard functionality in a second...

I was able to successfully update my phone via CWM recovery. CWM asked if i wanted to install untrusted package after reboot so i did. The update did remove universal search again but the old fix of putting the googlequicksearchbox.apk in the system/app directory still works. So far iv notice that the web browser now has a back and forword button and there is now a brightness lever in the notifications menu. I did not lose root access.

Seems to have dramatically improved my battery life.

got the update and having one noticeable problem with T9 (Samsung Keyboard), the T9 will list words choices in order, but NO LONGER chooses the obv choice for me. e.g when typing t-h-e, it no longer chooses 'the' but lists it as first choice...it leaves the generic 'tgd' in the window until I change it manually by selecting 'the' from the bar. Is this a setting or check box?

Yep, that change is pissing me off too. I have yet to figure out why they would change to that behavior and have not found a way to correct it. Argh!

I got the update as well and am having the same problems. The auto correct is not working at all no matter what options I turn on or off! "Dont" and "doesnt" change to Don't and Doesn't for example. There is just NO correction of misspellings or punctuation at all. Does anyone have any ideas?

I had the same problem. Go into the Samsung keyboard settings and turn the hand writing setting to off. Go to Settings. Go to Language and Input. Hit the cog next to Samsung keyboard. Toggle the handwriting switch to off. This fixed my issue.

I tried that method and it's still not correcting anything. If it's misspelled and I hit the space bar it just asks me if I want to add the misspelling to my dictionary. Any fix?

same problem here! I can't figure out how to get it to autocorrect. I also noticed that my gmail doesn't automatically notify me about new emails. I'd have to click on the actual app and then it would refresh itself. does anyone else have this problem?

I updated my Galaxy SIII today(Sept. 24) at 4:00pm. I have lost my texting ability, both sending and receiving SMS. Has anybody figured out how to get this going again?

Same issue! I just upgraded today (6/26), and also haven't been able to send or receive SMS. Would be curious about a solution... Is it a phone issue (Samsung) or a carrier issue (AT&T)?

If you are still having this problem, see my suggestion below.

I'm had the same problem. I took out the SIM card and forced it to WCDMA (3G/HSPA+).
How To:
1.Power Down
2.Pop out the SIM card (card is spring loaded so press in on it and it will pop out)
3.Power on the phone with SIM Card removed
4.Open Dialer and type *#2263#
5.Select option "WCDMA"
6.Select option #6 "All"
7.Press the Android menu soft key and select back.
You should see that WCDMA has an asterisk(*) next to it.
8.Turn off phone, and put SIM back in, turn phone back on.
9.When the phone comes back on, you should see the 4G (faux-G) icon instead of the 4G LTE icon.
10.Try sending a test message to someone. It *should* work.
11.When you confirm the message works, repeat steps 1-4.
12.Select "LTE" from the list and then select #6 "All" and repeat steps 7-11 making sure the asterisk(*) has moved to LTE.
13.Select "Automatic". Make sure Automatic has the (*) next to it and repeat steps 7-10 and you should be good to go. Hope this helps

Updated smoothly, and my battery life has doubled. I made no other changes, but I'm now at 10% after 2d1h. Previously I had not gotten more than 1d6h on a charge.

My texting does suck since the update but I'm getting used to the cheesy predictive text. I have noticed my internet is a lot faster via wifi. I don't know if the update did anything to my wifi connection but it used to buffer all the time on youtube videos and movies and now it doesn't

I need some serious help. So I updated my AT&T galaxy S3 on Saturday 9-29 and that day and the following day I noticed the new changes and the same battery life that I always get. However today I charged my phone all night and took it off the charger this morning at 6 am. With very light use (less than normal)my phone died by 2 pm. I had power saving on all day and the wi-fi and mobile data turned off. I have no idea what the problem could be. I cleared all my active applications and the ram as well when I noticed the drop in battery performance. Normally I can get to about 11 pm with 20-30% left on the battery. If someone could help that would be greatly appreciated. Thank you.

I am having the same problem with my AT&T S3!!! I came here to see if anyone else is experiencing this. My battery life was good until the update. Very frustrating!!

I also had little problem with battery life before this update, now battery life sucks and, of all things, Cellular Standby seems to be the culprit. It's using approx. 26% of my battery second only to Display (which has always been the highest usage.) I sure hope that 4.1.1 resolves this!

Just got notification from ATT of the update this morning. Despite checking for updates every few days since I got the device when it first came out. Noticed the brightness slider and the move of the attachment icon in messaging. I hope it doesn't make battery life worse, MIne did not last 5 hours before hitting 20% warning, so I'm hoping for an improvement in battery life! Any news on when JellyBean will be released to us?

WIFI FREQUENCY BAND (feature) MISSING AFTER UPDATE!! Galaxy S3 - I747 - AT&T WIFI FREQUENCY BAND (feature) MISSING AFTER UPDATE!! -------->Kernel Version: 3.0.8-985684 - BUILD # IMM76D.I747UCALH9 Under the 'WiFi Advanced Settining' Menu > These are the default options which are supposed to be available : - Network notification: - Keep Wi-Fi during sleep - Auto Connect - Wi-Fi Frequency Band: Specify Automatic, 5 GHz, or 2.4 GHz frequency bands <-- THIS OPTION (feature) IS MISSING!!! - Mac Address -IP Address Why did samsung remove this very important feature (Wi-Fi Frequency Band) with this new update? How am I supposed to chose between Auto, 2.4GH and 5GH connection now? Will you put it back? Any OAT to fix the problem? CAN ANYONE AT SAMSUNG EXPLAIN THIS? I HAVE CALLED AND CHATED W/ SAMSUNG SUPPORT, BUT NOBODY CAN GIVE ANY INFO. IS ANYBODY HAVING THE SAME PROBLEM?

I was having a huge problem with the autocorrect after the most recent update. No setting changes or amount of patience resolved the issue. Finally I just decided to download a keyboard app: one of the better decisions I've made in awhile. I ended up installing SwiftKey 3 Keyboard, and my life is infinently better. It autocorrects appropriately. It also learns my pattern of speech and which words I use most often and takes those into account. It has some other pretty neat features too. Long story short, if this is a problem you're having, this is my suggestion to you. It took the stress out of text.

I think you just saved my sanity... Anyone looking for a fix for the autocorrect issue should follow this response and download Swiftkey 3. It worked like a charm!
Android Central Newsletter
Thank you for signing up to Android Central. You will receive a verification email shortly.
There was a problem. Please refresh the page and try again.