AT&T HTC One X 1.85 update now rolling out over the air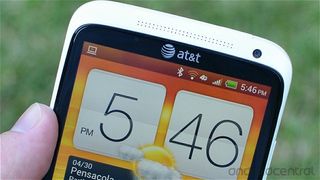 As noted by folks over on the Android Central forums, the AT&T HTC One X is now receiving an over-the-air software update to version 1.85.502.3. For those keeping score at home, that's the same version that leaked a couple of weeks back in the form of an RUU (ROM Update Utility.)
AT&T One X owners can look forward to a variety of fixes in this latest update, including a solution for the intermittent Wifi drop-outs affecting many users. Here's the full change list --
Wi-Fi Connectivity Improvement - improves operation when a device leaves Wi-Fi coverage.
Wi-Fi Throughput (Speed Increase)
AT&T Address Book fixes - Contacts formatting when synced to AAB
To grab the 64.55MB update, head to Settings > About phone > Software updates, and hit that button. When you're done, be sure to let us know how you're getting on down in the comments.
Source: AT&T HTC One X forums
Alex was with Android Central for over a decade, producing written and video content for the site, and served as global Executive Editor from 2016 to 2022.
Looks like I gotta wait till tomorrow scense the update force closed. I hate how it makes you wait 24 hours between checks. specifically for this reason.

manually change the date and check again

i love how my phone is slower now after the update running quandrant.. i would get 4900-5200, now i get 4500-4700... awesome

Be aware that this OTA will break ROOT. and 1.85 is unrootable at the moment

Yeah my phone downloaded the update and now keeps reminding me every 8 hours to install in. Don't want to break root though. Going to be a little annoying having to ignore this message a few times a day.

This is a large misconception, I'm rooted, unlocked and on 1.85. You just have to get superCID before you update and unlock your phone, then relock, then upgrade and then you can unlock your phone on 1.85 which allows you to install recover and superuser.

I downloaded this earlier but when it was done downloading, it was stuck on "verifying update" even after multiple resets. So I went into astro and deleted the update so I could redownload it somaybe it would work but whenever i hit the stupid "check software update" button NOTHING happens...I hope i get the update tomorrow cus the bugs on here are annoying :/

I got the same issue except I didn't delete the file in ASTRO.... The check update button isn't working either... I will say that I changed my date several times in order for it to download for me. I restarted it several times as well. And every now and then I will get a notification at the top of my status bar saying that it successfully downloaded... So I don't know what's going on... Also I am not rooted

Does this fix the multitasking issue?

HTC said that it was working as intended ... So I wouldn't hold your breath...sorry dude

Does anyone know when Rogers Wireless (the Canadian equivalent to AT&T) is getting this? Up here our software number is 1.73.31.1 @Starfleet I wouldn't hold my breath on the multi-tasking it, I am going to deal with it because I love everything else about this phone. I suggest we keep harassing @HTC @HTCUSA until they get it through their heads and stop treating us like AntennaGate sheep.

Yeah I tried changing the date and it still won't even start redownloading...UGH

Yeah I tried changing the date and it still won't even start redownloading...UGH

I downloaded the RUU last week and still have the same issues with the WIFI. If the OTA is the same as the RUU this is very disapointing.I think this is a hardware issue for sure. The Galaxy S3 is looking real good right about now.

finally I got my update over the air
http://siddavarapu.com/blog/2012/07/04/att-htc-one-x-gets-software-update/
Android Central Newsletter
Thank you for signing up to Android Central. You will receive a verification email shortly.
There was a problem. Please refresh the page and try again.