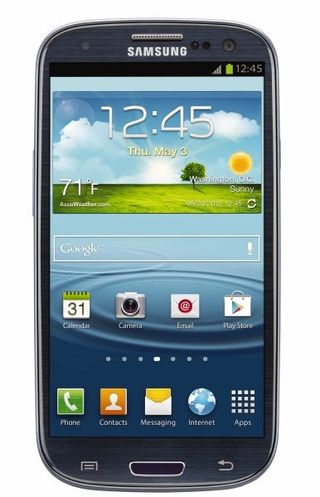 4.8-inch HD Super AMOLED display (1280 x 720)
Android 4.0 (Ice Cream Sandwich)
Dimensions: 5.38 x 2.78 x 0.34 inches
Qualcomm Snapdragon S4 1.5 GHz dual core CPU
Weight: 4.73 ounces
2GB RAM
16GB Internal storage
Up to 64GB expandable memory (microSD)
2100mAh battery
Bluetooth 4.0
MicroUSB
4G LTE / HSPA+
8MP Camera w/ LED Flash (4x zoom)
1.9MP Front-facing camera
S Beam capable
Android Central Newsletter
Get instant access to breaking news, the hottest reviews, great deals and helpful tips
Wait, apparently I haven't looked at this device very closely before. Is that a goddamn menu button?! Google said they were killing it off: http://android-developers.blogspot.com/2012/01/say-goodbye-to-menu-butto... With manufacturers continuing to put it on their devices that means theres less push for developers to incorporate it into thir apps which means the annoying 3 dot action bar at the bottom of apps is going to annoy me even longer...

You got it. To catch you up a bit, Alex Dobie has a theory that (I only think this is what he was getting at, so this is not a quote) Samsung is trying to make all their devices look similar (for Europe anyway) so as not to cause too much confusion for consumers when they go into a shop and see a bunch of different looking phones after seeing the Galaxy S III on a big Olympics poster. Then Samsung somehow got all the US carriers to agree to the same design. So we lost in the button department, then won in the 'carrier messing with the hardware' department... and somehow still lost.

I really wish they would have put out an LTE and non-LTE (Quad-Core Exynos) version like they did with the SGS2. I won't be upgrading to this.

Quad Core or 28nm S4 WITH 2GB RAM AND LTE. IM taking the 2GB RAM and LTE version.

So.... Somehow coming across the ocean in a big boat, caused the little SG3 to lose it's quad core CPU? Poor little thing, must have fell off on a big wave... :( Yeah, so far nothing makes me go WOW about this other than it is... Blue. :) Sticking with me Galaxy Nexus. :)

Pretty sure the lack of quad core is due to the compatibility with LTE. Don't think there is a quad core processor currently being used that supports LTE while there are dual core ones that do.

It lost quad core but gained 1 GB of RAM! That's enough to WOW me!!!

doesnt the intl version come with ics 4.0.4? why then does the US version come with 4.0?

I'm sure the phone actually does come with 4.0.4, but to keep the specs simple, it just says 4.0.

Hi, please help me.
I want to change my lock screen to the pattern mode but everything i go into settings, lock scream (put my pin in) then it brings all that info up but i cant tap one either its like its locked (greyed out). How do i change that?
Android Central Newsletter
Get instant access to breaking news, the hottest reviews, great deals and helpful tips
Thank you for signing up to Android Central. You will receive a verification email shortly.
There was a problem. Please refresh the page and try again.