ASUS Zenbo is a strange little robot on wheels that can do things for you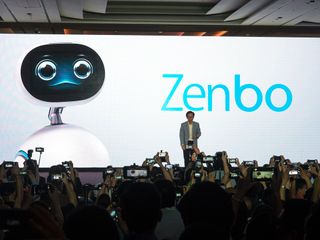 ASUS isn't just announcing laptops and smartphones, but also robots too. The company has just announced the Zenbo, a new robotic companion for $599. Connected to the internet, Zenbo will be able to perform a wide variety of tasks, including communicating with contacts and interacting with smart home appliances. Moving around on three wheels, the little unit can not only get around, but also has a voice and a screen to better interact with human owners.
The screen also doubles up as a touch screen, so you'll be able to carry out actions without having to sprout a word. Developers will be able to utilize the power of the SDK to create some interesting experiences with Zenbo, which ASUS will be pushing hard to get more functionality packed into their little friend. The company will target multiple partner sectors, including healthcare, education, and more.
As noted already, the Zenbo will be available for $599.
Get the Android Central Newsletter
Instant access to breaking news, the hottest reviews, great deals and helpful tips.
I watched the keynote live stream and this thing is really going to be awesome. I cant wait til it releases!! $599 for an amazing helpful robot? You can't beat that! Posted via the Android Central App

I would be concerned about privacy with this thing. Posted via the Android Central App

You're on the internet.
You live under a government.
You probably have social media. Yet you are worried about privacy? Lolz... Posted via the Android Central App

Oh yes, the robot is the issue, just because.... uh ..... robots! Posted via the Android Central App

Time for robot insurance. ;)

I would be more concerned about the robot getting hacked.. And coming to kill you at night

Looks like what you'd get when crossing BB-8 with Guido from Flubber.

That video was cringe #TeamFrosty Nexus 6P

"sprout a word" Posted via the Android Central App

I dream the next version will be a R2D2 replica or at least the BB-8 Posted via the Android Central App

Ill be interested to see what this things all about when someone makes a video about the product and not whatever the hell that piece of crap video was. I hope they sued who ever stole their money and gave them that discarded Lazy Town footage. Posted via the Android Central App

$599? NOPE! Let this thing do something that my smartphone can't and then we might talk...

Well smartphones don't have wheels.

I see what you did there Posted via the Android Central App

So, other than this being the equivalent of Alexa on wheels, the robot does what that a phone can't?

Roll around and look cool?

isnt that reason enuf? This is a cool product and its a hell of a lot less than google glass was or other novelty things. I would try it under one condition. It can charge itself on its own. like a lil cradle its rolls over and like sits on contacts to charge

So cute! Posted via my Moto X Pure Edition using the Android Central App

Throw a vacuum on the bottom of this thing and you have a product i might be interested in. Posted via the Android Central App