ASUS EeePad Transformer Prime ICS update arriving today! [updated]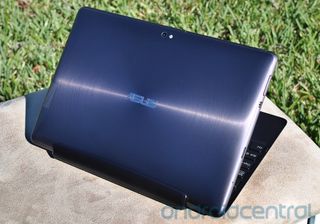 Update - The update is now fully rolling out, you can discuss it in the Android Central Forums.
We're live at NVIDIA's CES 2012 press conference, where it's just been announced that the ASUS EeePad Transformer Prime will receive its Android 4.0 Ice Cream Sandwich update today, instead of the previously-announced date of Jan. 12. This makes the Prime the first Android tablet to be upgraded to ICS, so head over to that software updates menu to see if your update is ready to roll out.
Prime owners, be sure to shout out in the comments when that all-important update arrives.
More: NVIDIA CES 2012 Liveblog
Alex is global Executive Editor for Android Central, and is usually found in the UK. He has been blogging since before it was called that, and currently most of his time is spent leading video for AC, which involves pointing a camera at phones and speaking words at a microphone. He would just love to hear your thoughts at alex@androidcentral.com, or on the social things at @alexdobie.
Just checked mine, not yet.

No update yet available on the two Primes I have access to.

Im ready for some ics!!! Not availabe yet :(

i just hope it fixes all of the crazy bugs mine has. Now it won't display flash unless I reboot every half hour.

I've noticed that as well. I hope this fixes the bookmarks sync issue.

Nothing for me yet.. ~Mashes Check update

You see everyone this is how the upgrade allaince should work.
The update from when Google releases the code to its release should be like this. Samsung, Motoralla. LG and HTC take note. If ASUS starts releasing phones you can be damn sure I will look to them for my next phone because they are updating things like they should be.
Not this 6+ month BS that is going on or not paying any attention to phones that are just several months Old. Motolla HTC this is looking at you. Also ASUS is not even part of the so called Upgrade alliance and yet they seem to be doing the best. What the hell is up with that.

I'm with you all the way. I think we all ready have a nexus tablet and it's called the transformer prime.

Well something that might interest but it's not out yet. Do a search for the Asus Padfone. It's a smart phone with a tablet dock. Seemed like another innovative and good idea from Asus, and knowing how they do their attachments I'm betting it will be an interesting product.

I agree fully as I look at my honeycomb Xoom... but also ASUS might want to take note as to how easy this was because they didnt load their own custom interface on it.

rumor via twitter says around 11PM EST time, if you are inclined to believe things you see on Twitter.

No update yet for me...Hopefully soon...Very excited if I can get this tonight!

No update here! Oh wait my Transformer is not a Prime!

Mine just showed up from Amazon today!! (Yea!!) :) But the battery was only at 6% (Booo!) :( It's charging now and doing the whole app restore thing - so hopefully after the game I'll be all powered up and ready to taste some ICS!

The nice thing about your tablet is that it charges really quick!

This would be a considerably more exciting announcement if you could actually buy one of these somewhere. The only place I've seen them are via the Amazon marketplace where they are gouging at 60-80% over the list price.

I bought mine at bjs.com last Wednesday. Everyone said they were backordered everywhere and i ordered mine and had it on Friday. I just started watching sites no one was talking about.

They don't appear to be listed online anymore, unless you need to be a member to order.

I obsessively checked OfficeDepot, B&H, J&R, BestBuy and other sites for weeks. I noticed on Friday, 12/30 that OfficeDepot had it for sale. I didn't have time to place the order at that moment and when I came back they were already sold out. I was, as you could imagine, not a happy camper. Last Friday, OfficeDepot put the Prime up for sale again and I pounced. As it turns out, BestBuy also had the Prime for sale from last Thurs until about Saturday morning, when they sold out again. Keep at it and you'll find one. I'd say if you haven't by Friday, keep checking OfficeDepot's website as they put the Prime up for sale each of the last 2 Friday's.

I've been checking regularly too, especially Best Buy (I have a couple hundred $ in gift cards and reward zone cash from Xmas), but no joy. I saw the 32GB grey pop up on the website last week for a day or two, but couldn't order. It said that it wasn't available for shipping, and none of the stores anywhere near me had stock. I assumed that the site was bugged.

No update, but, then I have had to do my last 2 updates manually - my Prime will not update via wifi (perhaps because it has an 'unknown' serial number). I hope they put it online for download tonite.

Asus has confirmed that ics will be hitting primes all over at 8 o'clock Pacific standard time. Get ready for a delicious bite of ice cream sandwich!!!!!!!!!!!!!!

This mean the original transformer will get it soon?

Wow thisbis crappie!! I I bought the motorola xoom because it was a GED and it was supposed to be the first tablet to get ICS... What happened motorola??. You really dropped the ball here!

What an absolute embarrassment for Motorola, ged and its "test" update isn't even out yet
Between this and the atrix I will never purchase another Motorola device again they even hold upa release on a supposed ged

9:00 pm Central here in WI and I'm downloading it now!!

Update is live. been stuck at 99% for about a minute now...

stuck on 99% for about 5 minutes now... Please hurry...

Downloading now hope it all goes good

Where is the TF101 love? Not even a year old and already kicked to the curb? Renaming it to the Kardashian Transformer.....

Should of been out with prime update. It is coming atleast

They said earlier in the week that it will be out after the Prime update is rolled out. They have to phase these things. Asus certainly have not kicked the original Transformer to the curb and have been fantastic to date with updates. Expect it soon and likely well ahead of many other manufacturers updating their tablets.

Download complete installing now!!!

Downloaded and running on ICS!!!

Android update is done and working wonders

browser seems to be faster which is good news

DOWNLOADING NOW !!!!!!!!! Baltimore Md

THE SUSPENSE !!!!!!!!!!!!!!!!!!!!!!!!!!!!!!!!!!!!!!!!!!!!!!!!!!!!!!!!!

Just got the update. Noticed increased browser experience immediately but I still need to play with more stuff. I just need the do the firmware update for my camera and I'll be good to go.

Not a lot of change so WiFi still really bad. May still return it due to that.

Woohoo! Just got my Prime 2 weeks early today, and got the ICS update just now! Thank you, Santa!

update did not break root great news there :)

Downloading now......its taking a while though....I must be getting a big serving of Ice Cream Sandwich ;)!!!

Updated to ICS and now there is another camera firmware update as well.

So my Prime arrived from Amazon today, and I've been playing with it all evening, and 30 minutes ago the ICS update downloaded and installed - good day! :) Only took about 10 minutes or so to update, very smooth. The camera firmware update is a separate download after ICS installs. One thing I noticed is that, similar to reports I've read about the Galaxy Nexus, the auto-brightness with ICS is way to aggressive, I had to turn it off and manually adjust the brightness. Fortunately the brightness control is just one click away, but it worked fine in Honeycomb. Off to check out the rest of the build now ...

Just got it and already am pleased.

Yahooooooooooooooooooooooooooo!

I got the ics update for my ASUS Transforrmer Prime. I wish I hadn't. It is very buggy. Puts horizontal lines across the screen rendering the tablet essentially unusable. Very disappointed.

Agreed, same issue here. Was fine before update. frustrated!

Got my primes dock today and now I get ICS! This kind of makes up for Asus saying they have already outdated the Prime. My only hope is that they offer some kind of upgrade path for those of us with the current primes.

Just got mine. Updating as I type.

Patiently Received, thanks Asus.

Hope the TF101 will get it soon. :-(

The UI is very sticky. Not at all fluid.

I'm very pleased with the update so far. Haven't found any bugs and the UI on mine is very good, smoother than before the update.
I'm sure there will be additional updates over the next several weeks.
Enjoy everyone!!

The update is really awesome, enjoying it a lot! However, I don't have the facial recognition unlock. A little disappointed with that...

Got it this morning, so far so good!

Nevermind the Xoom. I thought all official Nexus devices were supposed to get it before anyone else. My wife's Nexus S (I9020A) on Fido in Canada is still awaiting her official update. So much for Nexus devices being first. I think it's Google who dropped the ball on that one. (I, on the other hand, am rockin' ICS on my SGS Captivate. Thank you custom ROMS.)

why dose mine say there is no update???went to ....about tablet ...system firmware ....check update and......then it says no updates?????

same thing here..... Is it: Settings > About Tablet > System Firmware Update I don't see a software update anywhere and this firmware update isn't giving me anything.... It's not giving me the 8.8.3.33 either (I know the file is on Asus support download site but I'm making a point that this update isn't giving me sh*t). So.. what did the rest of u guys do to get ur update?

Got my update. Honeycomb had been flawlessly tethering to my epic 4g without any mods or rooting. The ICS update put an end to that.

If you can't get the update it's due to your tablet being broken. Look under about tablet under status if you see under the serial you see the word UKNOWN welcome to a $500.00 piece of junk. Either RMA it or return it other wise you will never get any OTA updates on the device.

I dont have anything that says serial... so it doesn't say unknown or serial. Nice or what? LOL fucking piece of shit

I come here to report that I am getting an update. I turn on my tablet at work around 3:10 pm and vola!! Update. I didn't know what it was, and I didn't think ICS would come till 01-12-2012 but here it is. My battery is 59%, Wifi signal is weak and I am updating one of work Vista laptop to Window 7. I am charging my prime now, I will update it once I get back home.

Updated my pri,me to ics a few days ago and it is awesome there was a little bit of lag through out the os at first but after about ten minutes it went away. I think the processor just had to recover since i,m running it on power saving :-) disappointed that there dosen't appear to be a face unlock feature like someone else mentioned earlier. Camera is nice and I really like the new folders and the new keyboard. Awesome great job Asus you made a great thing better

My Prime shipped from Best Buy on 1/10/12. Do you supposed it shipped with ICS? It's supposed to arrive tomorrow. I wait with baited breath.
Android Central Newsletter
Get the best of Android Central in in your inbox, every day!
Thank you for signing up to Android Central. You will receive a verification email shortly.
There was a problem. Please refresh the page and try again.