ASUS EeePad Transformer update to bring Android 3.2.1, fixes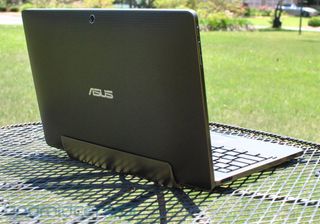 ASUS today dropped word on its Facebook page about an impending update to the EeePad Transformer. Here's what's in store:
Google Update: Android 3.2.1: Security enhancement
New Feature: Supernote
IME/Translation: Added Farsi IME support; Czech IME improvement : support Qwerty & Qwertz; JP SKU fixed translation bug and Polaris office font; Added more language translation into ASUS App
App Updates: CN SKU 3rd party app bug fix; Polaris office & ASUS WebStorage update
Improvements: Browser with Adobe Flash improvement; ex: YouTube; Browser force-close improvement; Improve Wi-Fi stability; Improve Chinese handwriting prediction : recognize character from each stroke
Looks like some are seeing the update push out now.
More in the Transformer forums
Android Central Newsletter
Get instant access to breaking news, the hottest reviews, great deals and helpful tips
This is great. Asus is really on top of this tablet with updates.

installing now, I just hope the lag is gone when typing (onscreen not the dock)

Ha! I just updated my Android Central prize last night to 3.2. Guess I know what I'll be doing tonight.

This has got to be the top Android tablet. Let's face it; spec wise they are all the same. Asus support is great with this tablet.

Will this Tablet be getting ICS? I've been wanting to purchase this Tablet for a while, but am debating on getting the TF2 when It comes out. They said October.

Kudos to Asus for continuing to put out solid useful software and updates. I love my Transformer because of the included software and thoughtfulness of the updates. I just used the new supernote that was included with this update and it is great. I was just trying to decide which handwriting app I was going to buy, but this one works beautifully. Great Job Asus!!!

Hey Phil...do you still have the same feelings about the desire now than you did at launch? It seems like the Galaxy Tab has stolen all the thunder. It would be cool to see a kind of retrospective on some of the reviews from that past few months. Steve in CT

Battery no longer charges. Don't know if a coincidence, but after installing today's update, the tablet battery will no longer accept a charge unless it is docked... Have done a restart with no change. Others???

I had the TF for about 2 weeks and returned it for the light bleeding issue and exchanged it with the Galaxy Tab instead. TF's been updated twice and all the Galaxy got was the Touchwiz (which I don't really care for). Hopefully, Samsung will get on the ball sooner rather than later.

Love Asus, as mentioned above, they are always updating their products.

3.2.1 loaded. Will report back if any issues with Tablet or Keyboard.

It solved my reboot while locked problem, so now my battery life is what its supposed to be. love it

Update broke my /com.google.android.processes.gapps/, then did the same to my /com.google.android.processes.music/ while using any browser. Had to manually move important downloaded info and settings from internal sdcard to my external one, backup all non-market apps, and factory reset my tablet. Works fine now but having to find out where each of the 157 downloaded apps put their files on my internal sd was tedious. Oh, do we have to have the dock to connect usb controllers or can the proprietary cord, a female to female connector, and a usb controller work okay?
Haven't had any luck without using a friend's laptop dock.
Android Central Newsletter
Get instant access to breaking news, the hottest reviews, great deals and helpful tips
Thank you for signing up to Android Central. You will receive a verification email shortly.
There was a problem. Please refresh the page and try again.