Are you going to keep using LastPass in 2021?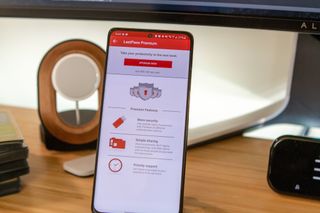 (Image credit: Andrew Myrick / Android Central)
Last week gave us some pretty controversial news around LastPass — one of the best password managers currently available.
Beginning in March, LastPass is drastically changing how its free plan works. Specifically, free users of LastPass will be limited to using the application on just a single type of device. And then beginning in May, free members will lose access to LastPass's email support.
These changes have a lot of people talking about whether or not they'll be sticking with LastPass in 2021, and taking a look through the AC forums, a few of our members have shared their own thoughts on the matter.
Now, we want to hear from you — Are you going to keep using LastPass in 2021?
Android Central Newsletter
Get instant access to breaking news, the hottest reviews, great deals and helpful tips
Joe Maring was a Senior Editor for Android Central between 2017 and 2021. You can reach him on Twitter at @JoeMaring1.
I'll stick with Keypass. https://keepass.info/

Ever since Last pass ownership changed a few years back the app has honoe down hill. I was a long time subscriber and then they increased the cost over 100%. That's when I found Bitwarden and never looked back. Open source, integrated 2FA authenticater, and for $10/year sone online storage to save small encrypted documents or pictures. Last pass should go out of business!

I started using LastPass when they started before they acquired XMarks. As their price started to increase, I decided to move elsewhere. I use Bitwarden, which is a simpler product but has all the features for my own requirements. It's been about two years I moved away from LastPass.I agree password managers are something we need in 2021, but I think such service should remain at a reasonnable cost.

I too was a longtime user of LastPass premium but with Xmarks, they started drastically changing things. The last straw for me was their interface change last year. No longer the easy one/two click interface, it was now 8/9/10 clicks and things were not where they'd always been and...I don't mind change, but not for the worse. Considering how much it had gone up in price for the 'privilege' of now having to jump through way more hoops, I changed over to BitWarden and haven't looked back. Way more user friendly, 2FA, most everything I need. Why would I pay upwards of $60 a year for the same thing?

How in the world is $36/year upwards of $60? The premium plan jumping in price after Logmein bought them was annoying, but it is still good value for the price. Also, everyone is up in arms about this change to the free model, but the original free model also only allowed one type of device as well, then they switched the model, and now have switched back.

I'm a LastPass family account user so the changes to the free tier don't affect me. The price increases do though. I've considered switching to bitwarden but it took a lot of work to get my wife used to LastPass and even longer before she actually would take the time to update passwords in her account. So for now I'm staying with LastPass, but if the price increases continue I might have to consider something else.

I'll stick with it. Bought the premium a few months back. You can easily find discount codes online for the year subscription. I think I paid $25 for it. Worth it.

Nope. Already moved and deleted it.

I was using it for the last 7 years. But I shifted to Bitwarden the moment I received the email about the price hike last week.

Having a muck around with bit warden at the moment, seems to be ok, there are a few things which I am not fond off, but I will get used to it. I will give it until the end of the week and if I like I will scrap lastpass.

Well I am also a longtime user but I have exported my passwords to bitwarden, myki, enpass and recently to microsoft authenticator. I will be moving to bitwarden. I just have to update the passwords on bitwarden. I do also have sticky password as well been getting a year license through sharwareonsale deals. I will stick with bitwarden going forward. I don't need cloud storage for now

I looked into Bitwarden about a year ago, but decided not to switch because I liked LastPass' Security Challenge better than Bitwarden's Vault Heath Reports. But I finally switched from LastPass to Bitwarden---one week before the policy change for free users was announced. I did so at the time because 1) LastPass was constantly bombarding me with notifications to upgrade to Premium; 2) LastPass raised their prices for Premium without increasing what you get for it, except that they 3) put paywalls behind previously free features like the aforementioned Security Challenge. After switching to Bitwarden, I discovered that it allows me to generate TOTPs from 2FA secrets stored directly in my vault. Also, Bitwarden's support is better and Premium is cheaper. So now, because LastPass kept bugging me to sign up for LastPass Premium, I'm using Bitwarden Premium instead. If you want me to sign up for Premium, don't take features away and charge more; give me more incentive by offering more features, and stop bugging me when I say no.
Android Central Newsletter
Get instant access to breaking news, the hottest reviews, great deals and helpful tips
Thank you for signing up to Android Central. You will receive a verification email shortly.
There was a problem. Please refresh the page and try again.