Are you going to ditch the Galaxy S20 for the Note 20?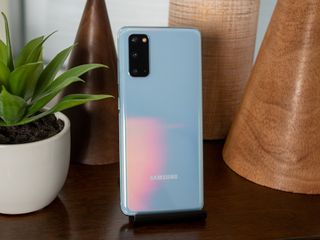 (Image credit: Andrew Martonik / Android Central)
The Galaxy S20 continues to be one of the best Android phones you can buy this year, but in just a few short months, we're expecting Samsung to usher in yet another new handset in the form of the Galaxy Note 20.
Samsung's latest Note release is always a fun one to look forward to, but given just how good the S20 series ended up being, is anyone super interested in picking up this year's Note when it becomes available?
One of our AC forum members recently asked this very question, and this is how our other members responded.
What about you? Are you going to ditch the Galaxy S20 for the Note 20?
Joe Maring was a Senior Editor for Android Central between 2017 and 2021. You can reach him on Twitter at @JoeMaring1.
I just recently upgraded from my Note 10 plus 512gb to the S20 Ultra 512gb for £75 :) so I will see what happens but with the Note 20 having to house a s pen theres no way the battery will beat the Uktra's

Nah, not getting anything from Samsmug! I have no more arms or legs to chop off for something that will be junk in less than two years! Besides, there are so many other phones that will do everything the average person "needs" for way, way less money. And to those who say "well, I can afford the higher prices and I want to pay them" I say, do you shop for the cheapest internet access, or the cheapest electric plan, or the cheapest cell phone service? What about your car insurance, or your home owners insurance...do you just accept whatever number is thrown in your face? I highly doubt it! If you can afford it why not let yourself be ripped off by all these other companies? Hypocrites! You know full well that Samsmug, (and other OEM's) are blatantly ripping you off and you say "I can afford it"? Yah, sure you can. It's an addiction, plain and simple, and it will not end up well for those who can't get the monkey off their backs. Cue in the Stones..."it's just a shot away, shot away".

After seeing ads in the stock music app on my N10+, I think I'm done paying $1200+ for the "honor" of being served ads everywhere. Think I'm going to go with the new Xperia.

It was the unhideable ads for TikTok in the UpDay feed that got me. And this is just the beginning...
The Xperia 1 ii looks really good tbf. It seems to have everything this time around. If it was just a little bit cheaper I'd have gone for it myself

Im with you you on that the xperia 1ii for me looks amazing i went the other way and gotbthe p40 pro as Vodafone uk has not got the xperia 1ii. Plus i fancy a break from google.

I love Samsung products but it's absolutely ridiculous that they decided to put ads in their stock music app. Since the Note 3 every year I upgrade to the newest Note. I don't mind spending the money for their devices but no one should have to see ads in any of their apps. I'm furious about it!
Android Central Newsletter
Thank you for signing up to Android Central. You will receive a verification email shortly.
There was a problem. Please refresh the page and try again.