April 2018 security patch released with multiple Pixel 2 improvements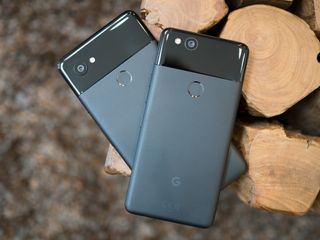 (Image credit: Android Central)
For some people, a new month means a new beginning. A new month to focus on goals, tasks, and projects. For Android users (specifically those with a Nexus or Pixel device), a new month also means a brand-new security patch.
Google just released all of the details for the latest April 2018 security bulletin, and it should be available soon for the Pixel 2, Pixel, and older Nexus hardware.
Like with all monthly security patches, there are a number of fixes for various bugs and vulnerabilities that have popped up over the last month. However, April's patch also comes with a total of 56 "functional updates" that aren't directly related to security.
You can browse through the entire list on the Android Source website, but some of the highlights include fixes for performance delays after opening certain apps, better lock screen performance, improved Wi-Fi stability, and plenty more. Some of these updates are specific to the Pixel 2/2 XL, whereas others apply to all supported Pixel and Nexus devices.
The April 2018 security patch should be rolling out soon, so be sure to keep an eye out for an incoming update.
Joe Maring was a Senior Editor for Android Central between 2017 and 2021. You can reach him on Twitter at @JoeMaring1.
What? 56 non-security functional improvements to the best Android phone you can buy? . . Boetshi is going to have a field day with that . . .

😂😂 I know that's right... 👂👂👀 🍿🍿

I mean, it's minor improvements for issues not everyone is experiencing.

Well, yes, but we're commenting on a certain poster who is quite vocal about his opposition to the pixel 2 being the best Android phone you can buy . . .

I don't see one fix on that list that noticeably impacts my phone.

I have noticed some lag when opening apps. I hope this update does indeed fix that.

I notice it most on starting the camera... :)

It's nice April 5th update on my p2xl and it's only the 2nd...living in the future.😋

My Pixel 2 just updated this evening. Go Google.

Yeah got the update. Love how prompt they are with these.

Still no proximity sensor fix, which means I still have a 900 phone that doesn't work as a phone. FU Google

Why do so many proximity sensor on phones have issues. My S7 edge and my S6 both had the issue. It's freaking annoying to constatnly have the screen turn off when trying to use it while connected to a call.

They still have not fixed the Bluetooth! For starters people can not hear me very well, regardless of Bluetooth device. And it can only connect to one device at a time. I always have a wireless headset. And I would also like to connect to a fitbit. Or my headset and my car. My car's microphone sucks, but I want to listen to music. But still be able to use my headset to talk. iPhone has had this ability for years. And those users have come reliant on that. So useless that gets fixed, it will be hard to get them to switch.

I am not exactly pleased with the lack of personalized text tone option! With the update I can not find where this is an option anymore. Am I missing it??? With having kids it was nice to have theirs personalized, now it's just the default with no option.
Android Central Newsletter
Thank you for signing up to Android Central. You will receive a verification email shortly.
There was a problem. Please refresh the page and try again.