With Pixel 8, Google may finally have an answer to Samsung DeX
The Pixel 8 might copy Samsung's DeX mode. Finally.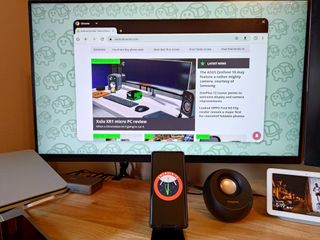 (Image credit: Android Central)
Google is gearing up to release the Pixel 8 series later this year, and one of the most exciting improvements it could bring to the table may have just leaked: desktop mode.
Yes, Google may finally roll out a Pixel phone with proper display output and desktop mode support, according to a new report from Kamila Wojciechowska for Android Authority. I can already hear Samsung fans say something along the lines of: "Who cares? Google's just copying another feature that Samsung has offered for years!"
While it's true that Google doesn't appear to be bringing anything new to the table, there's still a lot to be gained from Google making its own version of Samsung DeX. Because it's not just Pixel devices that'll benefit, it's every Android device. Here's why.
Why Pixel and Android's desktop mode matters
If you think about where we were at with Android devices in the early 2010s, it's reasonable to think that Android on large screens would be far more popular than it actually is today. Google clearly thought so, considering the company's hardware division made five of its own Android tablets: the Nexus 7 (2012), the Nexus 7 (2013), the Nexus 9, the Nexus 10, and the Pixel Tablet C. But Google later got cold feet on putting its OS onto larger screens, even going so far as to cancel all of its plans for making any new tablet…until they released the Pixel Tablet this year, of course.
Google's rise-from-the-ashes moment didn't come from anywhere, though. They've returned after record-high demand for tablets was seen during the pandemic. They've put years of work into addressing many of the problems that soured people on Android tablets in the first place. Lastly, they're capitalizing on a new category of large-screen devices that has a serious chance of becoming the new standard — the foldable.
That last point is the reason why I think developers this time around need to pay attention to what Google's doing with Android on large screens. In the past, optimizing an app for a large-screen Android device meant you could get it to run on a handful of additional devices, almost all of which were tablets. Today, however, a large-screen optimized Android app can find a place on the home screen of foldable phones, Chromebooks, and even Windows PCs.
To help developers optimize their apps for these larger screen platforms, Google has released new tools, libraries, documentation, and Android platform features since the release of Android 12L last year.
This is why it's important that Google is directly involved in each platform; if they didn't have skin in the game, then many of these developments would have never happened. And since Google is the maker of Android's main development tools and the Android Open Source Project (AOSP) repository from which all Android-based OSes are derived from, almost everything that Google does to improve Android on its own hardware — like the new Pixel Fold — trickles downstream to all other Android devices in the same category.
Remember the letterboxing feature I mentioned the other day? Google is using it on the Pixel Tablet and Pixel Fold so that apps that try to force portrait mode are instead displayed in landscape orientation but with a letterbox. You can double tap to reposition! pic.twitter.com/Hxl8ZTApsoMay 10, 2023
Instead of displaying portrait-locked apps in their preferred orientation, the Pixel Tablet and Pixel Fold make use of a new feature Google introduced in Android 12 that allows the system to override the app's orientation preference. This means users won't have to flip their device over to use certain apps, and developers won't have to worry about their apps being stretched. This Android 12 feature is available to all OEMs.
So the revelation that Google might be working on its own version of DeX for Pixel phones should have every DeX fan excited rather than unimpressed. But it's not just DeX fans that should look forward to this feature: Motorola devices have their own version of DeX called "Ready For" that's in some ways better than DeX. Huawei, Xiaomi, and OPPO also offer desktop mode experiences. As for every other device that currently doesn't offer any sort of desktop mode experience, they'll especially reap the benefits of Google's work since it'll all be added to Android's open-source foundation.
Well, maybe not every device will benefit, as Android's desktop mode may only work on devices that properly support display output over USB-C. That would mean, out of Google's lineup of Pixel phones, only the upcoming Pixel 8 series will support desktop mode, if the Android Authority report is to be believed.
Although, Google has been testing desktop mode on current Pixel phones for the last couple of months, and I can see how Google could get it to work on current Pixels that don't support display output over USB-C. It's also possible they could bring desktop mode to the Pixel Tablet in the same way that DeX operates on Galaxy tablets, ie. it runs on-device in addition to externally since the screen's big enough!
Since we're months away from the Pixel 8's release, though, we don't know the specifics about which Pixels will get desktop mode. What we do know is that they're working on desktop mode, and we're not just saying that because of Kamila's track record: The feature is already present in the Android beta releases for us to take a look at.
A look at Android's WIP desktop mode
Longtime readers may remember that Android already has a desktop mode feature. Since Android 10, there's been a "force desktop mode" toggle tucked under developer options. Enabling this setting, though, doesn't do you much good. At worst, nothing will happen because your phone doesn't support display output; at best, Android's barebones desktop mode interface will pop up when you connect your device to an external display. And when I say barebones I mean barebones.
There's more to the story, though. While the launcher interface is barebones right now, that's only because Google hasn't been working on this particular aspect of its desktop mode overhaul, at least as far as I know. Instead, they're focusing on something far more important: Improving how Android apps behave in freeform windows.
When desktop mode is active, apps on Android gain what Google calls a "window caption" (basically the title bar from desktop OSes). The design of this window caption has evolved over the Android 13 QPR and Android 14 beta releases, but in the latest Beta 3 release, it looks like this:
Google still has a LOT of work to do before desktop mode is ready to ship, judging by the current state of the feature. The Pixel 8's launch is still months away, though, so if this feature does launch with the new Pixels this fall, Google still has plenty of time to polish it. Changes I'm looking forward to include a better launcher interface like the one found on DeX and window snapping support like on Windows.
If the Pixel's desktop mode even comes close to Samsung's DeX or Motorola's Ready For, then it's good news for those among us who dream of using their phone as their workstation. Android still has a long way to go before it can challenge desktop operating systems, but Google probably doesn't intend for Android to do that anyway (they've already got Chrome OS for that). Still, as more and more developers continue to optimize their apps for large screens, this setup will only become more practical over time. I'm all here for the desktop-ification of Android, what about you?
Get the Android Central Newsletter
Instant access to breaking news, the hottest reviews, great deals and helpful tips.