App Shortcuts on Nova Launcher: A little taste of Nougat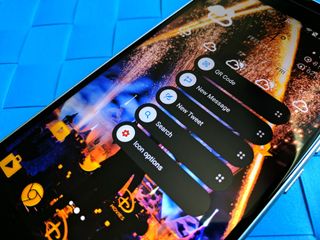 App Shortcuts — the little dropdown menu of shortcuts sorted into specific activities — came with Android 7.1 rather than 7.0, and haven't been widely implemented in the 4 months since it started rolling out in the Android 7.1 developer preview. It's half Force Touch, half gestures on steroids, and all awesome when implemented properly. There's just a few problems with getting it implemented properly: we need more devices that can use App Shortcuts, and we need more developers who are willing to enable it.
That's where Nova Launcher comes in.
Nova Launcher brought App Shortcuts to all users on Android 5.1 and above with the Nova Launcher 5.0 release in December. This means that if an app supports App Shortcuts, you'll see them when you long-press an app on your home screen. If an app doesn't, then you'll see the traditional app/icon options.
There's a hell of a lot of the latter and not nearly enough of the former, but if you're a Nova user, you should see which apps of yours have Shortcuts for you to use. Beyond the usual Google apps, there's a smattering of other apps with shortcuts enabled, like Twitter and Evernote.
Why this is important
We've had Android 7.1 since December, and it's on a whopping 0.3% of devices. That means that while App shortcuts are cool, there are very, very few people who can use them right now straight out of the box. There are very few developers who can use them straight out of the box. However, because Nova Launcher opens up App Shortcuts down to Android 5.1, it's available not to 0.3% of the Android world but 55% of the Android world.
Third-party launchers back-converting features like these help developers who can't afford a $1000 Pixel, allowing them to test App Shortcuts and see which ones work best for their apps. And developers need to thoroughly test App Shortcuts before implementing them because they're only supposed to offer four shortcuts, and if one is useless or broken, they're wasting a quarter of their potential.
Making a 7.1 feature available on 55% of Android devices also means that developers have more incentive to get App Shortcuts added to their app sooner rather than later, because more users can take advantage of them.
I wish that more 7.1 features could back-convert as easily as App Shortcuts can, (like image keyboards), but I'll take what I can get. And as long as launchers like Nova keeping bringing more goodies from the newest Android versions to the not-so-new Android devices most of us own, it'll make the poor state of Android updates a little more bearable.
Do you Nova?
Do you use Nova Launcher? Do you think App Shortcuts are a valuable feature? Let us know in the comments below.
Ara Wagoner was a staff writer at Android Central. She themes phones and pokes YouTube Music with a stick. When she's not writing about cases, Chromebooks, or customization, she's wandering around Walt Disney World. If you see her without headphones, RUN. You can follow her on Twitter at @arawagco.
This feature is great on Nova!

I absolutely use Nova Launcher Prime. It is the first app I load on to any device I own. I appreciate the added features it as to my device. Plus it allows me to apply different themes and icon packs so my phone fits me.

action launcher had this long time, and its mixed with quickcuts, making it even more awesome.

But Action hasn't backported it as far from the documentation I've seen.

Agree with mrushie.......First thing loaded and makes the phone mine.

A long time Nova user here but I have yet to use the shortcuts in any meaningful way. It's a nice feature but I usually find myself going to the main app so shortcuts into lesser used parts of an app are useless for me,.

The only shortcut I use is the play store shortcut that brings me right to my app list. Otherwise none of them are very useful. The maps shortcut to bring me home or to work is nice as well but if I just use now on tap from my home screen I get those same shortcuts faster. Overall I'd say they aren't very useful. I would like textra to start using them though. I'd use one to send messages to my most used contacts.

Didn't know about the Play Store one! Cheers!

And that's exactly what you need to tell Textra!

Dam looks like Lollipop is still the king. That's just crazy

Its a neat feature but I have to admit that I really rarely use it. I guess it will stay that way until more apps supports that feature.

It's great but unless you are using Android 7.1, only a few apps will work with this as the shortcuts seem to be replicated by hand. This became apparent when I upgraded to 7.1 and noticed many new shortcuts and also because the shortcuts on Maps did not work correctly on other languages besides English.

I used Nova years ago. My Moto X had Google Now (And its gone.) However, now i use OOS on my OP3T.

I like Nova alot, but I feel like AL3 has better features sooner and looks cleaner. A few days after the head of Nova said that it was near impossible to enable the Google now page, AL3 implemented it for root users, and the shortcuts and pixel launcher settings hit Al3 first.

Cool feature but needs development..
I use my apps s/c it's useful now and again, but only after I've set it as a permanent s/c.
any long touch operations or force touch seems slow after tapping and swiping, don't think I'm really into waiting an extra few milliseconds to access something..

I can't imagine not using Nova.. They are unmatched in usefulness

I keep my desktop locked down so my daughter doesn't move and delete stuff. Now I have to be careful not to hold down too long otherwise I'll go right past the shortcut into the unlock menu to unlock the desktop. It's a minor inconvenience but nevertheless one that makes me hesitant to use the shortcut. I know a lot of people poo poo 3-d touch on iPhones, but I find the hard press much easier than the long press.

Even though I have Nougat on my devices I couldn't imagine not using a launcher like Action or Nova. My 5X is running 7.1.2 Beta and the speed and optimizations Nova offers are still valuable (love that Play Store shortcut to My Apps). Even my ancient Nexus 7 runs beautifully on LineageOS 14.1 (7.1.1), but still needs Nova and FrancoKernel for full optimization (and a bump to allow the max allowable CPU to 1.7GHz helps too).

This title sums up Android's biggest problem.

Yes, I use Nova. Do I think App Shortcuts are valuable? I wouldn't know. I haven't used any apps that have the feature.

Lineage OS and Nova with Tesla Unread has brought so much life back into my old Moto X 2014 I'm not even thinking of a new device.

I miss the IR sensors on that phone... and having a custom trigger phrase for Google Now... and the size... and the cases...

I use Action Launcher 3, and they also seem to have this feature.

I'm not sure how/why anyone would use any other launcher.

Cool. I had missed the rollout of this in Nova. One BIG question. If they are so great why doesn't AC app have them?

That... is a question for our developer team, and I think they're working on a few other things at the moment. My question is what shortcuts should the AC app use? A shortcut to the forums? To the latest article?

I have Nova Prime on Nougat 7.0 but very few apps have quick actions. The only ones that I have besides some Google Apps is aCalendar+. Slacker Radio says it has them but I don't see them using Nova so it seems not all apps are backwards compatible.

I have used Nova Launcher since 2013 - back when I still used Samsung devices. Now I'm on a 6P and have the app shortcuts anyway, but it's phenomenal nonetheless. I love using it and it just reiterates my desire to stay with Nova.

Nova is one of the first apps I download on to any device. However I have to confess I don't use the shortcuts they back engineered into previous versions of Android via Nova launcher. In fact they're just there for me and I wish I had the option of turning them off... But I swear by Nova Launcher...

Just shows that older devices can have new abilities if the manufacturers would just update their launcher. They don't even need to do a full system upgrade.
Android Central Newsletter
Thank you for signing up to Android Central. You will receive a verification email shortly.
There was a problem. Please refresh the page and try again.