Android TV announced at Google I/O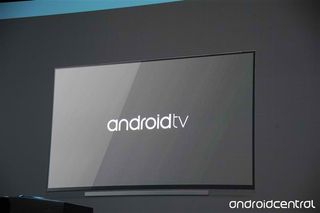 As expected, Google has taken the wraps off a new version Android for the living room at today's Google I/O 2014 keynote. Android TV, the successor to the ill-fated Google TV, brings a new, streamlined user interface to TVs, game consoles, and set top boxes, designed to put content front and center. Android TV brings music, games, apps, movies, and TV shows alongside Android to your big screen.
Follow our live coverage of today's Android TV announcements, and the rest of today's keynote, in our Google I/O keynote liveblog. We'll update this story with more info as it becomes available, so stay tuned!
Google says there is now one Android SDK for all form factors that will make it easier for developers to bring their games and apps to the larger screen in the living room. Android TV is designed for game consoles, TV sets, and set top boxes.
Android TV will come with a familiar UI. It will show live content and users can channel surf how they're used to using a traditional TV or cable box. Android TV will rely on the Material Design UI of Android L, which brings in support for HDMI, IPTV, and other sources.
To navigate Android TV, a simple remote requires a d-pad with voice input, so manufacturers can build this into a standard remote, a game controller, or other form factors. And if you don't have your remote, Android Wear watches can also serve as a remote control for Android TV.
You can press home to go back to all your content, which is overlaid on top of what you're currently watching. Unlike a phone or tablet, the UI is simple to enable a lean-back experience.
Apps and content on Android TV are ranked by your usage pattern so if you play an app more, it will show up near the top.
Android TV is now powered by voice so you can search and navigate for content using voice and results are delivered similar to how Google Now brings back entries. You'll see cards and you can purchase or rent content through the Google Play store or any app or service you have installed. Additionally, it brings more flexibility to searching for content as well, so you can query "Oscar nominated movies this year" using your voice and Android TV will show you everything.
Developing for TV calls for a 10-foot UI as that's typically how far users are from their TV. With Android L, developers can create tablet apps and quickly add the lean-back package to quickly convert tablet apps for Android TV.
Android TV also allows you to play games on your big screen. You can tap into Google Play Games to tap into leaderboard and achievements with friends. Multi-player games can be accomplished by incorporating tablets and phones as controllers alongside the synchronized Android TV experience.
If you have content on your phone, you can use use Android TV to cast videos and musics from your phone or tablet to Android TV. Android TV has a built-in Chromecast functionality built in.
The Play store for Android TV will officially launch this fall, and 2014 Sony, 2015 Sharp, TPVision Philips 4K and HDTV ranges will run on Android TV on a variety of chipsets from NVIDIA, Intel, and many more.
Android.com/TV will be the developer portal to check out.
This I/O was a huge meh..
Compared to Apple WWDC, this looks so dull. These subtle UI changes are of least importance. All claims about batterylife and performance are alright, everyone does that. It's not like I will be unhappy if I don't get that in my N4.
No bothered about smartwatch, TV or Auto.

Really? Troll, wwdc was a snooze fest. Years behind android. Apple drone.

+43 Posted from my Nexus 7 2013 or Samsung galaxy S5

I love my Apple devices, but I completely agree. WWDC was pretty boring, I/O had lots of stuff that I want to play with now. Heck even the watches entice me and I haven't worn a watch is 15+ years.

Just beacuse I use google product doesn't mean I have to like everything google does. Not fanboys like you people who will even tell that N4 has a better camera than Lumia phones.
Apple was behind Android, but they did massive changes this year. They will even have multi-window this time.
I have an opinion, which apparently doesn't match with yours. If that makes me a troll, then you are a troll too.
if you like astroturfing, do it for money. Don't waste your talent for free.

"I have an opinion..." Not all opinions are equally valid.

Well said. I completely disagree with your original opinion about I/O announcements but I respect your "freedom" (according to the TOS for this site) to express it. You were not trollish and kudos for standing up for yourself without being disrespectful to the naysayers.

they really did change a lot this year...they almost look like an android now.

Opinions are like @ssholes, everyone has one and some of them stink

yeah well, that's just like, your opinion, man....

Who are you to tell me what I should do? Don't like my comments, close your eyes. If you can't do that, kill yourself. I assure you I won't bother you after you're dead.

iMore, more like go back to the Verge

Such empty threats coming from a Apple TROLL. Go back to wacking off to a picture of Steve Jobs, while pushing your precious iphone 5 in and out your butt. Just be sure to lock the door so you don't get surprised by mommy or daddy, little boy.

You go to an Android site and post about how the Apple conference was better and somehow expect not to have people come out in crowds to give you the business. Then when they do you suggest that people should not read your comments or commit suicide. Yes, you do have the right to post your opinion and live in a world of your own creation where anyone would ever kill themselves over anything you did. Other users have the right to respond to you. That's the danger of posting something publicly, particularly in a place where almost everyone that reads your thoughts is guaranteed to disagree.

I can see how it seems that way. Apple had some interesting stuff (and a lot of wow, they didn't have that already?)
I agree there wasn't a lot of flair here, but I think besides the show off examples of stuff these conferences have... the real excitement is seeing these come to regular usage. Chromecast improvements I'm looking forward to. We'll see if Android TV gets traction better than GoogleTv did. Auto.... another we'll see. I think the watch is interesting, But really, I expect more details about some finer points of the L release will come out at I/O... remember, that was just the Keynote... I'm hopeful for more like the rumored camera api rework, etc. to come out over next few days.

These comments really take turns quickly. AC App via Nexus 5

Just to see if I understand you: Google and partners announce a bazillion things that are objectively cool, even if you wouldn't personally use them = boring Apple announces ios has almost reached feature parity with Ice Cream Sandwich = amaze-balls Did I do that math correctly?

Hey man you for real? wwdc was pathetic, all I saw was grown ass audience wooing like kids, Posted via Android Central App

Haha really.. Omg iOS 8 yippy. Who cares. their no features are old news. Posted via Android Central App

Oh hells yes. This is awesome. Sealed it with allowing streaming of content from my phone.

Android TV looks cool! Posted via Android Central App

Yeah, so did Google TV. I'm sure Google learned it's lesson, but I still hold it against Google for that piece of crap Google TV. They should have refunded everyone's money.

This I/o is oozing with AWESOME! The reverberations from the shockwaves put out today will be changing our lives for many years to come. Google Everywhere, making our lives easier and smarter!

I wish the PS Vita ran Android... Seems like it would be awesome. Posted via Android Central App

That's random Posted from my Nexus 7 2013 or Samsung galaxy S5

I wish my Gameboy Advanced ran Android, it's the international version BTW.

Sorry Google but after sinking $600 into Google TV devices that never really delivered, I think I'll pass on AndroidTV. With Chromecast and my game console I'm covered.

While I agree, I also think that it's likely that you won't have to pay extra in a few years. Your Samsung/LG/Vizio TV is likely to come with Android built in as the TVs OS instead of the terrible stuff that passes for a TV OS these days. Why wouldn't Samsung add TVs to their Android lineup?

Because, like their phones (Time?) , they're trying to get out from under Google's control of the app store.

Didn't google promise google tv on every device a few years back? Google is great at showing what is possible, but they fall short from actually doing it. Maybe this year will be different (which is what I tell myself every year)

I do agree with the part about terrible smart TV OS's. I got a Toshiba last November that looks incredible, and I loved that the remote has a Netflix button. The TV even came with a wireless keyboard. But the OS was soooo slooow and such a pain to use that rarely did anything but press the Netflix button on the remote. Then I got a Chromecast for Christmas and I've never touched the "smart" features of my TV since.

You should try the latest Samsung Smart Tvs. The UI is pretty damn good and smooth as well.

My parents actually have a Samsung smart TV that they got about 9 months ago. The OS is definitely better than my Toshiba, but it still has some things that make it less convenient that my Chromecast. For instance, both my Toshiba and my parent's Samsung allow me to play YouTube videos from my cell phone to the TV without a Chromecast. But it launches the YouTube app on the TV (which takes about 10-15 seconds) then finds the content I want (another couple of seconds) then starts buffering and playing. All told, it takes about twice as long to get a YouTube video playing through the TV's app as opposed to using the Chromecast. Now, there is overhead with the Chromecast getting connected to YouTube/Netflix/Etc, but it seems to be much shorter (at least with a good connection) than launching the TV version of the app. And the TV app seems to have a bigger delay with subsequent videos than the Chromecast does, too, although I have no idea why. And then there's the whole deal with "searching" for content. Even with that wireless keyboard, it's just easier to use my phone to find it. It's usually already with me, not hidden away under an end table or (where mine is right now) on top of the entertainment center below the TV. Personally, I've found the Chromecast to be a much more convenient option than current smart TV offerings. That doesn't mean that your experience can't be different. I'm sure there are people who have situations where the smart TV works better. Like if you need a wired network connection. I just love my Chromecast :)

Lack of a flagship Android TV device isn't too confidence inspiring. It would've been nice if they had a nice cheap OEM box to show off along with these announcements.

Holy crap. They're really shaking things up. AC App via Nexus 5

More importantly did anyone notice that he was playing Leo's Fortune on Android TV and its an IOS only game (Today anyway)?

With all of the ways to get content to the TV all I really want is a high quality dumb TV - a monitor. I can cast, stream, play, game, and whatever else using the stuff I already own. Having said that - I'm sure there is a market for this technology if it actually runs better than the subpar and non-standard UIs developed for the various "Smart" TVs and Bluray drives.

And the Roku will continue to dominate. Posted via Android Central App

You sure about that? Check Amazon, the top two best sellers in electronics right now are a chromebook and a chromecast.

Be cool if I could upgrade my POS Logitech Revue to this. Posted via Android Central App

Since I'm not a gamer, I'm hoping my Chromecast is suffice, given mirroring will be an option soon.

Android TV sounds nice and all, but did they mention whether or not you'll be able to record TV shows on Android TV? That would really make it a lot more valuable considering it plays Live TV

I'm wondering about updates for existing devices. I have the Sony NSZGS7. Does anyone know if that will receive an update to Android TV? Or any update? The thing hasn't seen any love from Google and Sony in a while. Some network websites won't play as the flash player is out of date.

I have been on the fence with cutting cable for months now, as soon as I can get my hands on an Android TV box I think I may finally take the plunge!

Why is it that Android and Apple fans are always at each others throats?? As an Android fan, I hope that Apple continues to put out super quality products because I know it will only help make The Android products I want to buy even better.

AQUOS is now new trend creating in television which is powered by Android TV
Android Central Newsletter
Get the best of Android Central in in your inbox, every day!
Thank you for signing up to Android Central. You will receive a verification email shortly.
There was a problem. Please refresh the page and try again.