Android TV announced at Google I/O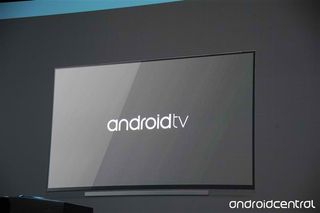 As expected, Google has taken the wraps off a new version Android for the living room at today's Google I/O 2014 keynote. Android TV, the successor to the ill-fated Google TV, brings a new, streamlined user interface to TVs, game consoles, and set top boxes, designed to put content front and center. Android TV brings music, games, apps, movies, and TV shows alongside Android to your big screen.
Follow our live coverage of today's Android TV announcements, and the rest of today's keynote, in our Google I/O keynote liveblog. We'll update this story with more info as it becomes available, so stay tuned!
Google says there is now one Android SDK for all form factors that will make it easier for developers to bring their games and apps to the larger screen in the living room. Android TV is designed for game consoles, TV sets, and set top boxes.
Android TV will come with a familiar UI. It will show live content and users can channel surf how they're used to using a traditional TV or cable box. Android TV will rely on the Material Design UI of Android L, which brings in support for HDMI, IPTV, and other sources.
To navigate Android TV, a simple remote requires a d-pad with voice input, so manufacturers can build this into a standard remote, a game controller, or other form factors. And if you don't have your remote, Android Wear watches can also serve as a remote control for Android TV.
You can press home to go back to all your content, which is overlaid on top of what you're currently watching. Unlike a phone or tablet, the UI is simple to enable a lean-back experience.
Apps and content on Android TV are ranked by your usage pattern so if you play an app more, it will show up near the top.
Android TV is now powered by voice so you can search and navigate for content using voice and results are delivered similar to how Google Now brings back entries. You'll see cards and you can purchase or rent content through the Google Play store or any app or service you have installed. Additionally, it brings more flexibility to searching for content as well, so you can query "Oscar nominated movies this year" using your voice and Android TV will show you everything.
Developing for TV calls for a 10-foot UI as that's typically how far users are from their TV. With Android L, developers can create tablet apps and quickly add the lean-back package to quickly convert tablet apps for Android TV.
Android TV also allows you to play games on your big screen. You can tap into Google Play Games to tap into leaderboard and achievements with friends. Multi-player games can be accomplished by incorporating tablets and phones as controllers alongside the synchronized Android TV experience.
If you have content on your phone, you can use use Android TV to cast videos and musics from your phone or tablet to Android TV. Android TV has a built-in Chromecast functionality built in.
The Play store for Android TV will officially launch this fall, and 2014 Sony, 2015 Sharp, TPVision Philips 4K and HDTV ranges will run on Android TV on a variety of chipsets from NVIDIA, Intel, and many more.
Android.com/TV will be the developer portal to check out.
Get the Android Central Newsletter
Instant access to breaking news, the hottest reviews, great deals and helpful tips.