Android Oreo gets its first update with September patches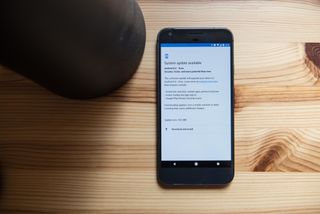 Google's Pixel and Nexus devices are receiving their first updates since Oreo was pushed last month in the form of a minor patch with September's security patches. While some people already began receiving over-the-air updates (disguised as a downgrade to Nougat), the update is now official with factory images and downloadable, sideloadable (is that a word?) over-the-air (OTA) files available from Google's website.
The files are currently available for all Oreo-compatible devices but the Nexus Player, including the Pixel, Pixel XL, Nexus 6P, Nexus 5X, Pixel C tablet. The Nexus 6 and 9, while still on Nougat, have also been updated with the latest security patch.
The September update patches the newly-revealed BlueBorne vulnerability that reportedly affects nearly two billion Android devices with Bluetooth support.
How to manually update your Pixel or Nexus device
Android Central Newsletter
Get instant access to breaking news, the hottest reviews, great deals and helpful tips
Daniel Bader was a former Android Central Editor-in-Chief and Executive Editor for iMore and Windows Central.
My 6P was suddenly super janky with the first final build of Oreo. It was actually much better on DP4. Now with the September update it seems to be running smoothly again...

When will the Moto G5(s) series get the update? Any ideas??

They have an exact date and time, but like most journalist they withhold information just to be jerks.

No one knows the exact date, but they will eventually get Oreo at some patch level. Motorola recently updated their Software Upgrade page to reflect this. The G5, G5 Plus, and G5s are all confirmed with this message: "This device will be upgraded to the Android 8 (Oreo) release of Android, pending partner support."

No security update for me yet.... I was on the Oreo beta.... Got the full Oreo on time via OTA.... But currently still sit with last months security update...

Instead of waiting for an update notice to appear, try hitting the "check for updates" button in Settings. Sometimes it just needs a little prompt.

I'm having apps crash and Bluetooth issues on my Pixel. Just updated yesterday. Unacceptable from a modern smartphone, especially one at this price point.

Every Android phone I have had has had awful bluetooth, I think that is just an Android problem, which is even more unacceptable as far as I am concerned. Haven't seen any app crashes though on my Pixel XL.

I mainly bought Nexus prior, never had an issue. This is my first time experiencing the illusive Android Bluetooth issues

Same here. That's why I have very little confidence that removing the headphone jack on the Pixel 2 will go over well.

Id bet money you dont even have a Pixel and are just a Pixel basher. My Pixel has NEVER had any issues.

You'd lose that bet.. Stupid thing to lie about. I'm not bashing, I'm stating a fact that I'm experiencing And its not all apps, it's just a few. The my att app, seeking alpha, and Android Central - that's today. It just started doing that after Oreo update I also have some Chromecast issues periodically. Typically a reboot fixes that one though.

Guess I've been a lucky one with my Pixel XL 128 - The only issue that I had was the microphone issue just cutting out.... Google claimed it was not a software issue but a hardware issue.... That being said, when I entered the Beta program for Oreo, the microphone issue creased... Got to say that the phone is by far the one of the best I have used (Droid Incredible / HTC Rezound / HTC 8 / HTC 9 / HTC 10). No Wifi issues and no Bluetooth issues...

The Bluetooth issues I'm referring to are:
1 not always automatically connecting to certain devices. Intermittently automatically connects
2 not connecting media to my car automatically, only phone connects.. Once connected its fine. Have to do it manually sometimes. And to get media in car, I need to navigate through car menu to establish the connection. App crashes, just here and there since Oreo. Hopefully that passes. Chromecast, doesn't find devices. Reboot finds them, but then volume issues or loses connection. But sometimes no issues at all. Both original and replacement device have exact same issues. It's a Pixel issue. This is nothing more than an expensive Nexus that doesn't work as well.

I think it may have also gotten rid of the stupid unremovable persistent "apps running in the background" tray notification. Should have never been unremovable in the first place.

the Bluetooth issues are real on Oreo. it's what kept me off the beta with my pixel. i was hoping they'd be fixed by the time Oreo launched, but the issues remain... very frustrating. I'm getting occasional Bluetooth connection issues to both my vehicle and my watch that i never got before.
Android Central Newsletter
Get instant access to breaking news, the hottest reviews, great deals and helpful tips
Thank you for signing up to Android Central. You will receive a verification email shortly.
There was a problem. Please refresh the page and try again.