From the Android Forums: Photo storage in the cloud with Google Photos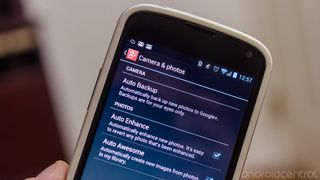 Ohnelson77 asks in the Android Central forums,
A couple of great questions there! Let's see if we can help get some answers.
It sounds like you're looking for the best place to store your photos and videos, and you'd like to use Google Drive. I've got some good news for you -- you can, and it's easier (and cheaper) than you thought. Like a lot of things Google, it involves Google+.
Have a question you need answered? (Preferably about Android, but we're flexible.) Hit up our Contact Page to get in touch!
Google+ photo storage is directly tied to your Google Drive space. You get 15GB free to store anything you would like, and extra storage is priced as follows:
100 GB $4.99/month
200 GB $9.99/month
400 GB $19.99/month
1 TB $49.99/month
2 TB $99.99/month
4 TB $199.99/month
8 TB $399.99/month
16 TB $799.99/month
Other companies, like Dropbox, offer similar competitive rates for storage. Others are even cheaper, and some offer promotions to get you in the door at greatly reduced pricing. Since you specifically mentioned you wanted to use Google Drive, that's where were focusing.
The best, and almost completely unadvertised, thing about using Google Drive space for your photos and videos is that not everything you upload is going to eat away at your storage space. Any image you upload that is 2048 pixels (or smaller) on the longest side is a freebie -- meaning it doesn't count against your upload storage limit. For videos, anything that's 15 minutes or less in length (unless it's shot at higher than 1080p) is also a freebie and won't count against your storage limit. The file sizes do not matter, only the dimensions of the pictures or length of the videos. I've got about 7,000 images stored, and since most of them are smaller than the sizes listed above, I've barely touched my storage quota. For those asking, you can check yours right here.
The best part? All my photos and videos that are taken from my Android or iOS devices are automatically uploaded right into my Google Photo albums via the Google+ app.
If you open the Google+ application settings, you can turn on auto backup under the Camera & photos option. You can specify to resize everything to keep it under the size limit for free items, or upload at full size. You can also tell the ap when to upload -- while on Wifi only, or not while roaming, etc. You can also upload everything you have on your card now with just a click -- be warned, this can take a while!
You might not want to use Google+, and that's fine. You can still use the Google+ app, and an account you never check and already have to get your pictures uploaded to Google's cloud. the best part is it's easy and automatic!
Android Central Newsletter
Get instant access to breaking news, the hottest reviews, great deals and helpful tips
Senior Editor — Google Ecosystem
Jerry is an amateur woodworker and struggling shade tree mechanic. There's nothing he can't take apart, but many things he can't reassemble. You'll find him writing and speaking his loud opinion on Android Central and occasionally on Twitter.
Bitcasa has unlimited storage, 10 a month and instant uploads from your camera.

or you can use Flickr which is 1Tb free (for phone picture size, 1Tb is almost unlimited) and use a 3rd party app on google play to auto upload all your pictures. No way I use supscription service !

But Google drive allows large uploads like HD videos, Box is limited uploads of 250MB and I got 100 gb free forever, DropBox is $20 a month for 100 gb (overpriced) and I do have MS SkyDrive which does allow large video files but I didn't look at prices. Pound for Pound GDrive is the best and best priced, I had the 200 gb for a year now and just upped to 400 gb, HD videos eat a lot of memory, 1080 10 minutes = 1 gb and 720 around 20 minutes = 1 gb, I use my GNex HD video record more than my camera and just tap the screen to take pics while recording, Just hope android comes out with stabiliztion added to camera software to get rid of shakiness

If your photos have been backed up to google+, is it OK to delete them from your phone? Memory on my phone is full because of pictures and videos.

Hi. I would like to know the same thing. If my photos are stored in the cloud, it's it ok to delete them from my phone storage completely? Are they safe stored in the cloud? I'm worried that they could disappear there too. Had anyone experienced issues with losing things stored in the cloud? My phone is running slow and I have no more room left on my sd card either. Thanks!

As of now, Bitcasa costs $99 a year for unlimited storage.

I now use Google+ and save my photos using the smaller file sizes. Speaking of cloud storage, if you bought a Galaxy S3 you were given 50 gig of free storage for 2 years. Does anyone know what happens to your dropbox account when the 2 years is up? Posted via Android Central App

It reverts back to the size you had prior to the promo, or whatever the standard free size is at the time it expires.

Yep, Google auto-upload for photos and videos is fantastic. Plus the G+ app has settings for managing data and battery use. You can set it to only upload when on wifi and/or only when charging. Plus if you chose to resize so they don't use up your storage, they are still large enough to be really good quality even for printing. I also then use a combination of dropbox and copy.com to store the full-size ones I want to also keep. Copy.com gives you 15GB at signup (or 20GB if you sign up with a referral link such as, https://copy.com?r=ZD820D ) Plus get your friends and family to sign up with your referral and it'll net you a bonus of 5GB per referral. But the pricing for Google storage is quite reasonable if you want to go the paid storage route.

I recently lost my cell phone which had hundreds of photos in the gallery. Google plus has saved the images but I cannot download or save the photos to my new phone

This is creepy. I just bow installed Drive and manually uploaded photos. Two seconds later, I open up my trusty AC app and see this article just now posted! Perfect! Posted via Android Central App

*now. BTW - how about adding "edit comment" to the AC app? Posted via Android Central App

Just 'bow' it's funnier thou. :P

Mega gives you 50gb free when u sign up. They also have a nice new android app. Posted via Android Central App

I've signed up for mega and downloaded the app. I've not used it yet though. I'm still using drop box google and box (where I also got 50 gig free) Posted via Android Central App

I don't trust Mega for long term...

You cant view you data after you upload it though. You have to re-download it to view any media. That sucks.

Ok, I'm confused. I checked the settings to auto backup. I took a photo with my HTC One. It took a while, but it backed up to G+. However, when I open up my Google Drive app, it's not there. Is it only in G+??? Posted via Android Central App

Yes, its in the G+ app. Also online. One thing that I didn't see mentioned is that they uploaded by default to a private album so no one will see them unless you share. Using the G+ website you can do some extremely cool stuff with the photos. This is such an under valued feature of G+ I never understood why it wasn't very well advertised. Cost to El Goog I suppose. Posted via Android Central App

That's a shame. I never use G+, but just started using Drive. From how the article is written, it seemed that it would show up under Drive after the setting was checked. Bummer. Wonder why the Drive App doesn't have the auto-upload setting itself? Posted via Android Central App

because it used to be for documents and G+ already has unlimited storage for pictures.

I was trying to save room on my phone so I started to move all of my photos to google drive, and then go into my gallery and delete off phone I happened to have my google plus open on the laptop while doing this and all of my photos started deleting before my eyes. I was able to retrieve them via the laptop google plus garbage restore, so if I want them in google plus they have to be in the gallery on my Phone?>? isn't that taking up phone space?

Use Cloudii to mange your online storage accounts, and it has the option to auto upload. Posted via Android Central App

I prefer Ubuntu one. They have apps for android, ios, windows 7 & 8, mac and ubuntu, and it's got the option to auto-sync over wifi or mobile network so you don't kill your data allotment if you have overage restrictions. It only comes with 5gb storage (more is optional for a fee), but if all you're using it for is pics, I think that's more than enough. Honestly, I think this is really the best option available right now. Mega could possibly top it, but for me right now mega's upload speeds are abysmal, so it's not even an option.

Does Google allow the US National Security Agency to
have access to photos stored on Google Drive? If so, doesn't that allow the NSA to track movements
of all U.S. citizens who sync photos from their phones
to Google Drive?

here's your tinfoil hat. -.-

+1 Posted via Android Central App

If they intend to follow you, they already have the means to do so. This transmission has been compromised! Gotta go! Posted via Android Central App

The problem with the G+ autobackup is then getting the pictures back on your PC in an elegant manner. I use dropbox to auto-upload - then have Picasa watch the dropbox folder and then auto-upload to G+ (slash Picasa). Dropbox being the temporary intermediary. This way - I have pics on my PC and backed up in the cloud wire-free.

It's incredibly easy to get the photos on your PC from G+. You just highlight the pics you want and hit the download link. It downloads a zip file with all those photos. Posted via Android Central App

Is there a way to Auto-Delete the photos which have been uploaded to Dropbox or Google or Flickr. Pls pls help. I keep getting confused among all these. I mean diff snaps keep appearing on more than one place. 2nd, Pls tell how do I set picasa/google to keep watch on dropbox and acquire those photos?

What are the steps to do this?

My biggest gripe with Android so far is Google trying to tie everything to G+. I dont use it and so I cant review apps or apparently use G Drive. Coming over from WindowsPhone I have 50 gig for Skydrive and 50 gig from Mega so I'm covered for a while.

+1 on trying to tie everything to Google +

they have to tie all their service to something. its the same with microsoft with their outlook, apple with apple id and google with now google+ they are consolidation social aspect of everything to G+. I dont understand what your complain is about. you dont want to use Google+ then dont use it but seem like you want some feature out of G+ but you still dont want to use it. thats selfish

Google + is a social app. I already have a Google email account, that should be enough to be able to use things like Google drive. Posted via Android Central App

Thank you Jerry! I was worried about filling up space so I wasn't using this feature. Now no worries. This will be very convenient and helpful.

I don't use Google+ but I opened the app to explore, since I am a bit confused by all this. It says I have 14.7GB allotment of 15GB storage.
Now, I only have 225 photos stored in Picasa which links to Google+.
In Google Drive, I have some PDF files and one other misc file.
Does the 15GB in Google+ reading what's being used in Drive, Picasa, and Gmail?
I guess what puzzles me. Why would you need to move your photos and videos to Drive, if they all link together? Unless of course it's a matter of preference. Just curious, as I am also looking for the most efficient way to store my photos and videos.

This is my confusion as well!!! Posted via Android Central App

think of it this way. you get 15 GB free for three services Gmail + Google Drive
+ Photos(previously Picasa, now G+ photos). you can store a photo on Google drive but it will take up the 15Gb space but if you use Google+ photos and remains under the quota you can store it free. its a win for consumers. you can attach photos to your gmail draft and keep it there but would you do it? No. G+photos is the best way to store it

Also bear in mind Picasa is not completely out of the picture. There is still an option to save your pics to either them or G+.
The only option to G+ being linked to Picasa.
You can edit and delete your photos within G+ from your device.
You cannot do that in your gallery on your device. Posted via Android Central App

this whole Google stuff confuse me so much. So Picasa and Google+ photo? are they 2 different things? and does picasa have quota?

OK, have pics uploaded , but how do you delete pics via the app? Posted via Android Central App

You can delete your photos in Google+.
Just select a photo and you will see a trash can at the bottom of the page. Posted via Android Central App

Interesting, no trash can on my nexus 4.. Will have to investigate. Thanks. Posted via Android Central App

You're welcome. Make sure in G+ you select and hold the photo. You will see a check mark.
At the bottom of the screen there is a status bar.
You will see share and other options. The trash can should be there, unless it appears different on my N2. Good luck. Posted via Android Central App

All so confusing. Why would I ever want to upload my images to Googles failed social network? Surely if I'm going to upload them anywhere it would be to Google Drive. Even worse was me going in to the settings in the galary of my nexus 4 today and seeing that photo sync is set to on, but I've no idea what it's syncing to and where. Utterly terrifying. Posted via Android Central App

Buy an eyefi sd card for you regular point and shoot. When paired with the Eyefi app for your phone, every picture and video you take with your phone can automatically be stored on their server as well as sent directly to you pc HDD and organized into folders for FREE regardless of size forever. No annual fees. It works great and seamless.

The other point I made to the help desk. Videos, you use space on Google Drive and Google+ to store the videos.
Yet, you need a 3rd party app to share the video.
I tried to send a relative across the states a 1 minute video.
No matter how I tried to send it, I kept getting a file to large error message.
I tried Drop box and it worked that way. Posted via Android Central App

With cloud storage you always share the link not the actual file. Sharing links from your auto upload folder on google+ works just fine. Its not as simple as clicking the share button as its going to want to share only other Google+ users. But just use a picasa app in the app store or copy the url that's currently playing your video clip.

Here's my problem with G+ on my and my wife's Galaxy S3's: the huge battery drain. For some reason that apppp loves to just sync and sync and sync and sync and ... well you get the point. Even if it's told to do it over wifi when charging, it'll sync endlessly, even if there are no new photos to upload. Not sure how to fix that. I had to completely disable G+ on her phone (it'll drain the battery no matter what setting I use) and disable sync on my phone (again, we both have GS3's, aside from the colors the only difference is that mine came from Fry's Electronics and her's came from the AT&T store). Suggestions? Fixes? Help? I really would love to back up our photos and videos.

Anyone else been ha one problems with having duplicate photos? Every photo I take is uploaded twice from my phone lately. Posted via Android Central App

do I need to use the google+ app to upload the pic? thanks

Yes the app is what contains the autoupload feature. Also third part apps in the market under the name picasa will do the same thing. I recommend google+ app though.

Using my N4, just turned this feature on and lost ALL of my photos + videos...nowhere on my device and nowhere on my G+...tried accessing from the app, the gallery, my PC, everything, all GONE. Took a new photo and that has sync'd ok, but the rest are gone!
What I did: Went into G+ app, settings, flicked auto-backup on, set back up photos & back up vidoes to Wifi only, hit Back up all (connected to Wifi, sitting right next to the router).

As far as cheap ways to back up your files, backupthat offers unlimited storage for free through your free email accounts. I've got about 500GB of files stored this way and I love that I haven't had to pay like I would with Google of DropBox

NO BODY ASKED/DISCUSSED THIS ABOVE HERE: How do I auto-delete the photos from my mobile which have been auto-uploaded onto google/flikr/dropbox??

I'm using a Droid Ultra and wondered the same question. What I did is deleted them from the "gallery", I checked and it worked! They are still on my backup drive " photos". Funny but they don't show in Google Drive just Photos.

I have just a mobile samsung galaxy 3...my question is what good is google cloud if everytime I delete from my phone gallery they automatically delete from my cloud gallery

It makes no sense...the whole point is to free up my storage on phone..so why would it delete them from the google cloud at same time Im deleting them on my gallery

I would like to do the same thing-my phone's storage is almost used up and the bulk of it is pictures/video. I already have my phone set to auto upload everything to G+, but I'm afraid to delete them from my phone's gallery. Maybe I'll do a few test pictures and see what happens.

"You might not want to use Google+, and that's fine. You can still use the Google+ app, and an account you never check and already have to get your pictures uploaded to Google's cloud. the best part is it's easy and automatic!" I knew this and I do this already, however, I can not find where in Google + the pictures are stored. I am logged into my Google+ account now. I switch to Photos and I clicked 'More' and went to 'Albums' but I do not see anything with those pictures/videos.
Android Central Newsletter
Get instant access to breaking news, the hottest reviews, great deals and helpful tips
Thank you for signing up to Android Central. You will receive a verification email shortly.
There was a problem. Please refresh the page and try again.