Android Auto app drives its way into the Google Play Store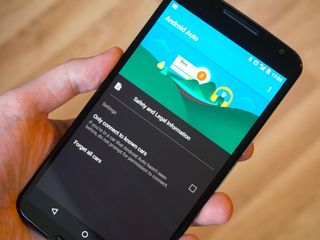 Back at Google I/O 2014 we first heard about Google's plans to put their operating system inside vehicles through Android Auto, but it's taken a while to actually get the system working out in the public. Getting Android Auto working in your vehicle will require two components. The first piece of the puzzle is an Android 5.0 or higher device running the just-released Android Auto app, the is a compatible head-unit in your car.
The app enables your phone to pass navigation, communication, and audio back-and-forth to your Android Auto head-unit:
Navigation with Google Maps - Free turn-by-turn navigation with lane guidance, live traffic conditions, points of interest, and more
Hands-free phone and messaging - Make calls and send messages without taking your hands off the wheel
Info and assistance - Get weather, traffic, commute information and more organized into simple cards
Bring your music - Listen to your music and playlists in the car with your built-in stereo system
Pioneer was one of the the first in the US to bring a compatible head-unit to market, but Google has other partners lined up with devices releasing this year as well. Developers are now able to submit their Android Auto-compatible apps for review to Google Play. Google will be adding an Android Auto collection to make compatible apps quick and easy to find.
But for now, we've finally got the software piece of the puzzle necessary to make Android Auto actually work.
Jared started off writing about mobile phones back when BlackBerry ruled the market, and Windows Mobile was kinda cool. Now, with a family, mortgage and other responsibilities he has no choice but to look for the best deals, and he's here to share them with you.
Is it available for VW cars?

It's available for any car/stereo that supports Android Auto. The app and the ability are Android 5.x only right now though so be mindful of that.

DRIVE EASY AMAZE
amazing car mode/dock app for android phones
https://www.androidcentral.com/e?link=https2F2F...

If they can find a way to haveWaze Navigation included I am sold... Posted via the Android Central App

Downloading it now. My phone and head unit have been waiting for this!

Given the 5._ requirement, you are in the minority sir. Unfortunate but please let us know how it is. Posted via the Android Central App

Please let me know how it works. Posted via the Android Central App

Working great! But for some strange reason, I had to enable USB debugging mode in Developer Options to get it to do the initial setup.

Do you have pics up anywhere?

No, I haven't posted any yet. I did take a few. I'm still exploring/learning the system. I may post some pics after I figure everything out. I've been answering questions in the Android Auto forums here at Android Central, so you can get some more info from there.

DRIVE EASY AMAZE : Car mode + Dash Cam + Auto Answer + More
https://www.androidcentral.com/e?link=https2F2F...

Not available on my Note 4. What the hell Posted via the Android Central App

Your phone is still on Kit-Kat.

Try reading the article dummy. Posted via the Android Central App

Some note 4's have lollipop you know.

Why can't they also make this a user interface on the phones as well and make our phones like a garmin unit? Have everything in one place on our phones while driving would be great Posted via the Android Central App

There's plenty of apps that do that, HTC phones (and others I'm sure) have included a mode that does this for years...

AT&T has a "drive mode" app that is pretty garbage, but hey, the idea could be implemented by Google and would work great on larger phablets like my note 3. Then all I need is a $20 BT/FM transmitter instead of a whole new $700 head unit! Posted via the Android Central App

When you open the app and tap on the top picture about 7 times, it enables the developer mode which give a few more options. Just found that out.

I see what author did with the title.

Doesn't matter yet. Head unit costs $1,500. That's 15% of the cost of my entire car. For less functionality than you'd get with a $20 dock and a $10 aux cable. And way less than I've got with my Appradio 2 and my old GNex that I kept solely for the car. Full mirroring for ~$300 +an afternoon of tinkering.
In the long run, this will be great, but for most people who don't have a brand new car with it built in, it's just too expensive to justify. All just IMVHO of course. Posted via Android Central App

I agree, but there's $650+ head units with Android Auto so you're exaggerating costs a bit. Shoot I wouldn't mind paying $1,500 if the functionality warranted it, but the only benefit I'm seeing is a slightly more optimized but at the same time limited Maps/Navi experience. Down the line if someone comes out with an amazing music app/UI that can queue up specific songs (not just artists) and playlists via voice I might be a little more interested. If they add lyrics that'd be cool tho I guess that's a potential hazard. (God forbid drivers pay attention to the road)

I don't mind the $600 price tag, I spend that much on tech relatively often (mostly camera lenses or video cards), I'm just not seeing the value tho... Certainly not needed for calls or music, current Bluetooth/Wear implementations handle that well enough. It'd be nice to have a slightly more optimized in-dash Maps view, but it's kind of a trade off at the same time... More often than not if I need navi I'm also looking up addresses manually online or cross comparing places on Yelp (not while actively driving mind you), things you'd need to do directly on phone regardless. Once developers start working on apps it might seem more attractive, but writing something that's useful, effective, and safe for use while driving is a little more involved than the typical app...

Nice, I just have to find the compatible head unit for Subaru XV Crosstrek

No Canada love Posted via the Android Central App

can i put a tablet in my car instead of a head unit?

Yes, though I'd imagine the difficulty of the install depends on your vehicle. I was able to find a detailed writeup for a tablet install in my '04 Forester. Maybe do some digging in the forums specific to your vehicle and see what you find? Posted via Android Central App

Some people have done some awesome head units with the Nexus 7. They even have an Rom for automobiles. This guy's was crazy nice - http://www.reddit.com/r/Android/comments/2jm097/i_installed_an_nexus_7_i...

That top review though Posted via the Android Central App

DRIVE EASY AMAZE.
amazing car mode/dock app for android. playstore: https://www.androidcentral.com/e?link=https2F2F...

Very eager to download definitely a very good one interlinking car and a phone. The penetration of these devices has exceeded all prospects and according to one of the mobile application research reports from Google, over 80% of people don't leave home without their mobile device. So it wil establish a splendid connection. Whatever the app may be in order to boost its design eminence definitely prime mobile metrics are needed to be taken into account as said so in http://sanfrancisco.fortuneinnovations.com/news/prime-mobile-metrics-boo...

I just installed the Pioneer NEX 4100, just need my HTC One M9 for android auto now!!!! Posted via the Android Central App

Google introduce several kinds of features and application to make the vehicle more attractive and innovative. Previously Google introduce driverless car and now this time Android Auto Apps; it makes the vehicle more digital and helps the user in various way. Through these steps I must sure that the future of automobile industries is really in safe hands and users are also getting high level of technology with innovative digital features.
http://germanautospecialist.net/services.htm

I have the 4100NEX and android auto is awesome! Has anyone found a way to enable a night mode? It's way to bright for navigation at night.
Android Central Newsletter
Get the best of Android Central in in your inbox, every day!
Thank you for signing up to Android Central. You will receive a verification email shortly.
There was a problem. Please refresh the page and try again.