Android 8.0 Oreo is once again rolling out to the OnePlus 5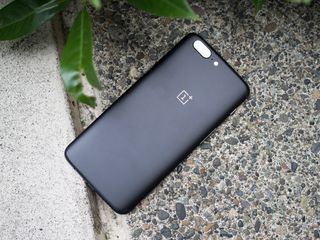 OnePlus promised it would update the OnePlus 5 to Android 8.0 Oreo before the end of 2017, and began updating the devices near the end of December. That update had to be cancelled due to an unspecified bug, but the show is now back on.
OxygenOS 5.0.1 should now be rolling out to OnePlus 5 users. In addition to the usual Oreo features, the phone is also updated to the December 2017 security patch and has a new camera UI. OnePlus notes that the update will fail to install on phones with an unlocked bootloader. If that's your phone, backup your files before re-locking your bootloader. If you want to download the update on your own, it's available on OnePlus's site and can be sideloaded using the same method to sideload an update on Pixel phones.
Have you received Oreo on your OnePlus 5? Let us know down below!
OnePlus 5T: Everything you need to know!
Got it yesterday and Bluetooth sucks. Basically, any time I try to pair up with my car (2015 BMW with iDrive) the car system crashes and reboots. Not sure how it manages to do that bat it does. Have cleared all profiles, system cache, multiple attempts, etc. Proceed with caution.

Wow. That is a concern. You made me hesitate on updating now. :(

It happened to mine twice before the first update to Oreo. And once, yesterday, having Oreo but not this latest hot fix. I'll try today if it still happens.

Update: I went in and risked it. Bluetooth is perfect so far, no issues. It even has that aptX HD notification when I connect to my Sony MDR bluetooth headset. It also works flawlessly on my car audio, though I'm on Android Auto (Civic RS 2017).

I was having a similar issue until I cleared the "Bluetooth" and "Bluetooth MIDI" storage data and cache and rebooted the phone.

thanks for the suggestion. Tried it this morning but no dice.

My PixelXL was awful with my BMW until the 8.1 update came along and reinstated the AVRCP 1.3 profile that was deleted in 8.0.

Saw that option in the developer options, but didn't see 1.3. Guess i'll have to wait for 8.1 then...
though I wonder if disabling media playing and keeping phone only may affect it. Will try this later today.

I know it doesnt help but at least a fix is available. I downgraded mine to keep the BT working until 8.1 came along. It took Google 6 months to issue the fix on the Pixel and there is a huge thread on it here https://productforums.google.com/forum/#!msg/phone-by-google/iJeDphsoOJ4...

I have the same issue with my Subaru Legacy. Almost every audio app, except Audible for some reason would crash with a "com.android.bluetooth keeps stopping" error message. I fiddled around with some of the suggested solutions I found on the OnePlus official forums. Which included clearing system cache from recovery mode, deleting app caches, and repairing the phone w/ my car. This morning on my drive to work, my podcast app didn't crash, but it still didn't have 100% functionality w/ my car. It didn't display any title info on the car display and I couldn't skip/reverse. Oddly enough, the phone seems to work fine w/ 2 different pairs of bluetooth headphones though. Just my car has issues.

I also have the same issue.

Seriously, I have a note8. Where is my Oreo update?

Oreo Beta ends January 15 for S8/S8+. Don't know if that gives any time frame for the Note.

Well it was your decision to go with Samsung.

Hi, welcome to Android, if you buy a phone that isn't a Pixel you will be waiting at least six months for a major OS update.

I updated to 5.0.1 on my OnePlus 5 and have had no issues. Also didn't have any issues with the original update.

It was delayed lol.
Ofc it wasn't canceled.

Tom, Awesome heading for this article. One Plus users shall now "take it on the run"!

Never had the problem on my VW and 8.0
But used Android Auto more often than not. Might be a solution until 8.1?
Android Central Newsletter
Get the best of Android Central in in your inbox, every day!
Thank you for signing up to Android Central. You will receive a verification email shortly.
There was a problem. Please refresh the page and try again.