Android 5.0 Lollipop rolls out to the Galaxy Note 3 on T-Mobile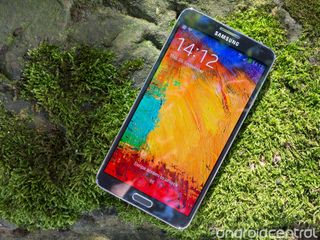 In case you've somehow managed to ignore Lollipop and what it brings to the table for the last several months, users should expect to notice some changes to how notifications are handled on the lock screen, a new card UI for the multitasking window, and loads of Material Design cues around the entire device.
In addition to the numerous changes that Lollipop brings, Samsung also notes that the update should bring some improvements to Wi-Fi calling.
It's unclear how wide the rollout is right now, so if your device hasn't received the update yet, just sit tight and it should hit your Note 3 at some point over the next several days.
Source: Samsung (opens in new tab)
Ummm Note 4 soon? Not sure I want it hahaha (Not exactly a fan of Lollipop notifications)

The task switching on my wife's Edge looks really sweet. But, it seems harder to identify and select an app as compared to Android 4.

I have a note 3 in the UK unlocked. Apparently the 5.0 update has been out here for a while but I'm still not getting it. :(

That's the price of having an unlocked phone, the network providers leaves them to get updates last because you didn't sign up for a contract...

Unbranded phones gets updates from Samsung directly, not the providers Posted via the Android Central App

Nope.They're all handled by the provider of the SIM you're using.

Use Samsung kies Posted on my OnePlus One

Not working for kies either

Sammobile might be an option http://www.sammobile.com/firmwares/ May be able to download the firmware and then flash it via Odin

Lollipop is about as sweet a treat as a sour patch kid

Mmmm, Sour Patch Kids. via Note 4 on Verizon Wireless

Love sour patch kids! Posted via the Android Central App

Right?! Posted with the sexy GN4.

Delicious at first, but ends up shredding your mouth after a while. That's actually not a bad metaphor for the Lollipop rollout so far. Posted via the Android Central App

But isn't it the other way around when it's bitter and nasty with its sourness then it turns sweet and yummy or is that another candy product? Posted via the Android Central App

Factory reset is your friend fellow lollipopers... Posted via the Android Central App

I just got lollipop this am, if I factory reset it, will it come back with lollipop or will I have to download and install again? Also, what is the advantage of resetting after downloading the update? Thanks!

you will still have lollipop. The factory reset is so the phone stays smooth and all the bugs plaguing lollipop get fix. I personally am not experiencing too many bugs, just give the phone some time to adjust. Posted via the Android Central App

"I can't wait to have lollipop on (insert device here) so I can ask questions like Solomon Grundy Voice: Why iz teh alarm no work? Grrrr! Damn u samsux! My batry iz so bad now! It dyes all teh tyme!" Posted via the Android Central App

Lol, some people would rather bitch about all of the issues than factory reset, resolve every issue, and make the phone significantly faster and more power efficient than before Posted via the Unrivaled Note 4 or Tab S 10.5

"factory reset, resolve every issue.." numerous people have done factory resets, wiped cache, etc and still have the same issues, you know this yet you continue to say this over and over. thats very weird. you seem to be taking this lollipop disaster very personal the way you keep trying to defend it. did you release it or something?

I've seen 1 person complain of having issues issues remain after a factory reset on here. 1 !!! So don't say "you know this". Sounds to me like you don't know wtf you're talking about. Who the fuck are you anyway son? Posted via the Unrivaled Note 4 or Tab S 10.5

You've been trolling the lollipop update yet you've "only seen one" say the factory reset didn't do anything. Yea okay buddy. That forum is full of people who are having a shit time due to that update and many after they've done a factory reset. Pretending like you haven't been reading that smh

Ya, ok buddy, lmao. Bullshit! I've looked at the S5 update thread many times after the last few weeks. It's full of people complaining about various issues. Yet when it comes to a factory reset they either never mention having done one, or say "well, I guess I have to do a factory reset". Lmao. People don't want to do it, and they shouldn't have to. But unfortunately it's the most effective solution in the event of issues Have you done a factory reset on your S5 following an LP OTA? Ya, that's what I thought, big mouth Posted via the Unrivaled Note 4 or Tab S 10.5

Dude
Please curtail your immature and unnecessary combative vulgarity.

Jimbo, you're constantly on here looking for an argument and making condescending comments, you hypocrite!! Not that there's anything wrong with that, some of the stuff you say is hilarious. Lol Posted via the Unrivaled Note 4 or Tab S 10.5

My phone was having problems and I did a factory reset and the problems still lingered on. So ya fam Posted from the bando

Sounds like bullshit to me. Care to elaborate?
Not that it's impossible, it's just highly unlikely from the feedback I've seen online, and my experience with those I know on t-mobile, and verizon who've factory reset their S5 following the update Keep in mind, I'm talking about samsung phones here specifically, which means mostly only the S5 at this point until now. Posted via the Unrivaled Note 4 or Tab S 10.5

The only bull shizzle I see is you. To simple deny what people say and say no your lying is immature on you. Get over it, for some it works for other it doesn't. Lollipop isn't perfect, it has flaws and while some devices adjust, others don't. Posted via the Android Central App

Did I say lollipop didn't have any flaws? Look at the bottom of my last comment where I said I'm talking about the S5 in particular. Not that I've heard of any other phones having many issues after factory resetting a LP carrier OTA . I havent Okay, some S5's adjust to the update after a factory reset, and some dont....lmao !!!!! Posted via the Unrivaled Note 4 or Tab S 10.5

My screen wouldn't turn on at times. About 4 times a day. I would press the power button and nothing would happen. I would also press the home button nada. So I did an ole factory reset. I said goodbye to everything I had and did so. When I was back and running, I didn't install apps I just used the ones that came with the note 3. Couple hours later I tried to turn the screen on and nothing. So yes that was my experience. It didn't really do much just delete my stuff (I backed everything on my pc in case it didn't work) I also did it 2 more times to be sure and same results. Called T-Mobile and I got a new one :) Posted from the bando

So you're screen randomly won't turn on on your note 3 after receiving the update and factory resetting earlier today? Thst sucks. It's nice that you got a new phone, that's awesome !!!! Personally, I'm thinking I might just not factory reset after receiving the update on my Atnt note 4 and tell them I did and still have issues just to get a new one. There's nothing wrong with that, is there?? Lol Posted via the Unrivaled Note 4 or Tab S 10.5

have you seen sammobile.com lmao EVERY post that says word UPDATES has bunch of people commenting "DEVICE NAME where is LOLIPOP!?!" every single POST I swear I always love to watch those comments!

Use kies to do your upgrade if its available in your area, keys will pull the firmware for you. Mine never received the OTA Posted via the Android Central App

Settings > about device > software updates > should be waiting there for you. If not then ya, kies or sammobile Posted via the Unrivaled Note 4 or Tab S 10.5

Still a no go, says I am up to date!

Bummer... It'll be there sooner or later. Go to Kies and the update should be there Posted via the Unrivaled Note 4 or Tab S 10.5

Checked and nothing yet Posted from the bando

whats goin on with the note4 update?

Who knows man. But im not too bitter. Touchwiz on the note 3 is so terrible looking that they need the update more than we do. Lol Posted via the Unrivaled Note 4 or Tab S 10.5

Right? The Note 4 basically has some lollipopish looks and feels. Except the extra animations. But seriously, who's going to notice that after 2 months on? Not me. I thought HTC's "carousel" scrolling effect on the HTC Evo after the gingerbread update (I think) was mind boggling. For like... An hour. Posted via the Android Central App

Ya, the animations can get old quick. Then again, samsung has left out some of the LP animations on everything but the S6 apparently so Posted via the Unrivaled Note 4 or Tab S 10.5

Just bought a used Note 3 for Verizon that I plan to use on Straight Talk. I know Verizon is very slow with their updates. Any info on Lollipop from Verizon.

Not a one, never is. Usually you are finding out here, or an update hits and your surprised. Posted via the Android Central App

As usual, Verizon is always slow. It is really ridiculous that big red should now be called little red.

Are you joking? They beat everyone to the m8 and s5 and moto x 2014 Posted via the Android Central App

Do we need to go through the list of firsts? There are not always first, but rarely last anymore. You need to calm down. Posted via the Android Central App

Will Google wallet finally work? Posted via the Android Central App

Doesn't really matter much as no one accepts Google Wallet anymore. At least not in SoCal

Not every retailer, their are a bunch that do like Walgreens for an example. Some of course don't. Posted via the Android Central App

Today,I saw a sign on McDonald's window that says they accept Google wallet.

They have had it since about the time it came out. I ran out and ran a payment to try it out. Lol

Anywhere that has Paypass will except Google Wallet.. Most Gas Stations, Walgreens, CVS, McDonalds, etc.

My Note 3 has 4.4.4 and works flawlessly now. The last update made everything perfect. Outside of "I have the latest and greatest" mentality, would you guys recommend this update? Is it productively better, or just prettier and sparkly? Also, use FoxFi daily. Mission critical.

I wonder this as well. I'll be excited in a few months when all the bugs are worked out and all the rooted modules are available. Posted via the Android Central App

Figures. I have AT&T and neither my Note 3 or HTC One M8 has been updated. Would switch to T-Mobile if they didn't have so many dead-spots here in SoCal and other cities to where I travel.

They are rolling out 700 MHz LTE in SoCal this year. Should have enough coverage down there for most buildings/areas where coverage suffers.

I'm enjoying 5.0.1 on my Nexus. Posted via the Android Central App

In a Samsung article, nobody cares. Posted via the Android Central App

You guys should add "This week" because that's what it is it's only on Samsungs page but not yet on T-Mobiles OTA servers :)

Just dumped my note 3 on T-Mobile... Posted via the Android Central App

And what do you get for it? A better note 4 that gets to run kitkat for another 2 months, lol. Unless ofcourse you wanna throw a custom ROM on there. Your bootloader isn't locked. Unlike my silly atnt note 4 Posted via the Unrivaled Note 4 or Tab S 10.5

When did you get the Samsung/ Lollipop update on your ATT Note 4?

Dude, I got it like a month ago. It's crazy, Atnt really has they're shit together man, they pushed out that note 4 OTA like asap. Just incredible......lmao!!! No jimbo, you need to read what's there. Not misinterpret what I was saying Posted via the Unrivaled Note 4 or Tab S 10.5

Tur-bro checking in: Still waiting for Lollipop. WHY HAVE YOU FORSAKEN US, MOTOROLA?!?!

Motorola and Verizon's VP's of updates just told me to tell you they read your complaint..... Here in a T-Mobile note 3 article. Posted via the Android Central App

What the heck, where is the love for the Note 4? New devices should have it first.

Wow. Major shaft to all us Note 4 owners. Thanks Samsung. Posted via the Android Central App

I'm so sorry man. Just feel terrible. Let's exchange addresses. That way we can swap phones and you can have the latest and greatest on your Note 3 with fake chrome 90% chipped off the edges. :-D

Left my note 3 behind last nov

This could be interpreted in a lot of ways. Care to elaborate?

Kinda messed up when the Note 3 is getting the update before the Note 4... note only have to wait for the note 3 roll out, but for Verizon to light a fire under their ass.

Considering Verizon was one of the first US carriers, if not the first, to push out the S5 update I assume it'll be pushed pretty quickly after they get it.

It actually makes perfect sense when you consider that they have had longer to work on getting it working on the Note 3.

I don't care how long they have had to work on it.. I paid for a newer phone and signed the contracts... I should get the update before those to cheap, lazy or whatever to upgrade to a new device. Those spending money with Verizon should get things before those that dont.

I on got the update when I woke up this morning!! Posted via Android Central App

Got it this morning on my wife's Note 3. Posted via the Android Central App

I got mine on T-Mobile Note 3 $30 pre-paid plan. I got it this morning. So far no crashes and battery drain.
Thanks AC for the head up. Posted via Android Central App

I received my update for t-mobile note 3 and its working like a champ. Some features from the note 4 have been added. Its pretty awesome. Posted via the Android Central App

Still waiting 4 my update Posted via Android Central App

Rocking my note 3 on Verizon running kit kat flawlessly and couldn't be happier. Past devices I've owned were so flawed (signal, wifi, poor battery...) I couldn't wait to get a software update. I'm just the opposite on this one. If Verizon never gets it that's OK by me as I'm perfectly satisfied with the current state of my phone. Its actually harder than it appears. I make it look easy.

Update complete. Love everything about it. System seems to respond much faster. Apps opening quicker, battery seems to be doing just as well as Kit-Kat. Animations seems to be going faster now that I've been on the phone for 2 hours, at first it was slow but now seems like the phone is adjusting to the update. Posted via the Android Central App

I just got my note 3 and it's great the way it is. Really hesitant to update this guy, especially seeing as how these updates tend to remove features and mess with battery life

I really wish i had not updated to Lollipop. I really hate what they have done. They should have left it alone. I'd like to share the things that i don't like about this update with you guys and get your feedback. -When charging, an icon at the top of the screen says "Battery Fully Charged", it will not go away unless you unplug the charger. -Lock Screen: Clock is smaller now. When you receive a new text messgae, it says New Message, instead of who it's from -Notification Panel: I don't like the color blue. Why can't we change that? If i receive an email, i get an icon at the top of the screen. When i go into email and read it, the icon is still there, until i go into notification panel and clear it. App Screen: I don't like the file forders Samsung, Google, Galaxy Plus, and T-mobile. I like the way it was before when it wasn;t a file folder, but rather icons in icons. Settings: I definetly don't like the white background and the blue. Why can't we change that. Text message: Again, the color layout. I think it's ugly. Now let's say i have my phone on vibrate, and i receive a new text message, my phone will vibrate for 2-3 seconds. Vibration is too long. Is there a way to change that setting? I checked in settings and couldn't find it. if you have the contacts text message opened and receive a new message, it will not vibrate at all. Also the green "Compose" icon hovering on the screen. Option to move it please. Searching on google: If i search for something, for example, something related to android central, i will click the link and view it in the app. Then, when i'm done, i will press Back, and it will take me back through the app going through every screen untill i'm at the front menu, instead of go back to google where i was originally so, maybe i can try searching for something else. It does that for other apps too. That's just a few things. I haven't gone through everything yet. I really want to go back to kitkat. Anyone know of an easy way to do it? I remember years ago i had blackberyy, (when it was popular) and we had the option to go back to another os if we wanted to. Maybe this could be an option in furthur updates?

My Galaxy Note 3 works like crap since the last update. I have done complete factory reset and phone still works like shit! Apps keep running in the background after they are closed draining the battery and hurting performance, emails will often sit and spin and not open when clicking on them, text will come through multiple times (although that has improved some). That's just to name a few issure. I now hate Google/Android for throwing me under the bus like this, total waste of a $700 phone. Brought the phone into 3 different t-mobile corp shops and they all claim it is the operating system update(s). If Google does not fix this very soon I will be going Apple, never to return to Android. FU Google!
Android Central Newsletter
Get the best of Android Central in in your inbox, every day!
Thank you for signing up to Android Central. You will receive a verification email shortly.
There was a problem. Please refresh the page and try again.