Android 4.4.3 update with Extreme Power Saving mode for Verizon One M8 coming Wednesday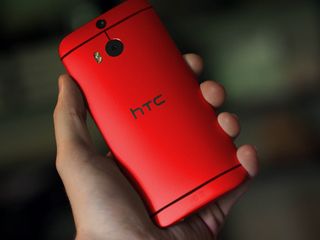 HTC's Mo Versi confirms that the Verizon HTC One M8 will be getting the Android 4.4.3 software update come Wednesday, September 10. The exciting feature about the update is that it brings a new Extreme Power Saving mode, or EPS, to the smartphone, which would help stretch out the battery life by turning off non-critical radios and notifications when not in use.
In a tweet, Versi says that the software update will land on September 10 and will be arriving as an over-the-air, or OTA, install. Hopefully, you'll have your phone charged up on the 10th and after the update with EPS you won't need to charge your One M8 so often.
Is this a welcomed update for you, Verizon customers? Let us know.
Source: Twitter
Get the Android Central Newsletter
Instant access to breaking news, the hottest reviews, great deals and helpful tips.
Totally missed the point of the article but DANG IT! That's one sexy-looking red phone!

i own one red M8 and yes indeed its very sexy :-)

a prediction: EPS will bring a lot more frustrations from smart watch users regarding "disconnected" messages.

solution: don't use a smart watch

Problem: solution is not a viable option, now what?

re-assess needs; re-try solution.

wow, what remarkably insightful comments.

Reassess attitude and re-reply.

We shall see... no one knows until we have it on our devices.

Does anyone have a channel log of what else 4.4.3 is giving us?

Sweet Posted via the Android Central App

Good to hear the 4.4.3 update is coming and any additional battery life is good. But I have no complaints with the current battery life for the M8. Looking forward to other changes in the update.

WAIT.... DON'T INSTALL THE UPDATE!!! Let others try it first. I just updated my M8 on AT&T and it ruined my phone. They had to send me a new one. The update was pulled by AT&T. Posted via the Android Central App

There's a reason Big Red tests their updates for what feels like years....to prevent issues like AT&T had.

This is so very true. Verizon puts all Android software updates though the ringer when it comes to pushing out to customers..... Think about it.... When the last time you had seen a report about Verizon Android users having to trade there bricked or broken software phones in for new ones???? Sweetness.!!!

Yeah thats it... Verizon has sent out just as many borked updates as the others.

Yeah. After the AT&T fiasco, I will let others do this update first and see what they think. Something tells me that HTC programs the updates right, but the carriers re-adding their bloatware is what causes the memory leaks and complete battery annihilation. I don't trust anyone messing with my phone that has worked flawlessly since day one back in March. Posted via Android Central App

Interesting here on my M7 that the extreme power saving mode came ages ago... Today the 4.4.3, update came through here on my UK M7. Posted via Android Central App

Why has my user name got plunder and a unrecognised avatar? Posted via Android Central App

Happened to me before to where I was posting using my Tab 3. Not sure why it does that though. Posted via HTC One on Sprint

Im love the new power saver on my m7 from Verizon! It drops 1% per every hour and a half!! Crazy!

My M7 on Verizon received an update just yesterday. I've held off on installing it until I learn what exactly it brings but good for them Posted via Android Central App

Finally! Posted via Android Central App

I can't wait to get it on my M8. Honestly I only charge my phone late in the evening before bed. It last me through most of my day. Starting at five a.m and going to almost 10 p.m. At night, the only time I might need the extreme is for when we are going out to the bars late Friday nights. Sweetness.!!!

Good night! The M8. is just now getting 4.4.3? It's been out for months. Hell 4.4.4 is old news! Posted via Android Central App

You do know that we are getting the security enhancements from 4.4.4, so in theory, we still win.

The EPS doesn't do any more than what you can do now its just all in one click. Im on sprint and had it for a while but i don't use it because for what it does you might as well turn the phone off, Thats what it pretty much does, Turns everything off...lol

Verizon late as always. Locked down bloatware ridden phones with delayed updates. It must suck being a Verizon customer.

Nope I rooted and s-offed my M8 the second day I owned it so it is customized and fully debloated and it is absolutely wonderful to be a Verizon customer! It must suck to be jealous!

Off topic: What is the S-off procedure like anymore? Last one I did it with was the paper clip trick that was out when S-Off was first dreamed up

It's really easy following the instructions on the XDA Verizon HTC One M8 forum. My M8 is completely unlocked and already have the power saving features along with overclocked to it's 2.5ghz ability so it's a win win with power save!

is it all software now or is there still a physical element?

All software Posted via the Android Central App

Lol well that's better than timing a paper clip short. Gotta say it was kinda fun though Posted via Android Central App

Nah, it ain't so bad when I sit next to an at&t, sprint or T-mo customer at the office, the train station, the starbucks, the game or wherever and they realize they have no coverage. In over-populated NJ no less!

FYI to people before you pull this down. You will lose 1080p video streaming. 4.4.3 and 4.4.4 don't have it enabled!!! L builds are showing it back though. Just pointing it out!!! Posted via Android Central App

Wow, took long enough lol Posted via Android Central App

I want to bet that they will miss the Wednesday deadline because Verizon like to delay things and they didn't confirm this anyway. Posted via the Android Central App

Can HTC & Verizon push out an update that will make my text messaging stop sucking. 3 bars of 4G LTE & it takes 2 minutes to send a text. I've never had this problem with a Verizon phone before Posted via Android Central App

Received to prompt to update this morning for my One M7. Had to delay it for later. Power saving does sound nice.

Personally I'm "BFD about EPS".. All I want is the ability to save, delete, move, edit file from my SDCard! HTC failed to include a File Manager so we are left with only accessing the SD Card from USB to computer.

Interesting,..They sent out the updated for the M7 last week. I wonder why the newer M8 is getting updated after the M7

Thanks for the update. The big question is why did VZ leave EPS out of the previous updates for the M7... Every other carrier has had EPS for their M7s for awhile.

Has anyone received this yet?

Nothing yet in Washington State

Nothing in Iowa yet..... Posted via Android Central App

Nothing yet. Come on VZW.

Mo Versi recently indicated on Twitter (Same twitter feed as cited in the article) that the release was delayed until tomorrow (9/11/14?).

Blegh! I've waited so lonnnng for this! All my friends are going to laugh at me Posted via Android Central App

Just saw. Thanks for the heads up churchcr

Just noticed the update is there. Y'all should start checking! Posted via Android Central App

Downloaded around 8pm last night central time. All good. Posted via the Android Central App