Android 4.2.2 now available for the Wifi Galaxy Note 8 via Kies and OTA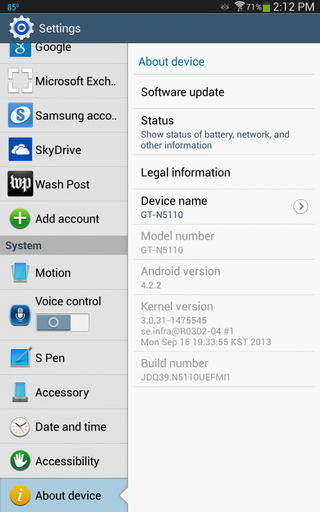 US Wifi versions can update OTA or via Samsung Kies
We're confident enough to say that the Android 4.2.2 update for the US Wifi model Samsung Galaxy Note 8 is really rolling out to just about everybody. For a few days, we've been hearing reports from folks saying it was available, but it seems to have gotten a big push from whoever pushes these sort of things and chances are, it's there waiting for you.
It's very similar to the leaked version many were running, and has the same stability improvements as well as some small interface changes in TouchWiz that the LTE version saw last month. Specifically to Contacts, S Planner and Email. Of course, the under-the-hood improvements that come with a platform version bump will also apply.
To see if your spot in the queue is ready, you can check for an update from the settings or connect to your computer via Kies. Once you get it installed, be sure to hit the forums and chat it up.
Thanks Joe for the pictures, and everyone who sent this in!
Senior Editor — Google Ecosystem
Jerry is an amateur woodworker and struggling shade tree mechanic. There's nothing he can't take apart, but many things he can't reassemble. You'll find him writing and speaking his loud opinion on Android Central and occasionally on Twitter.
If it is a WiFi version why is it only for US devices. Why not just roll out the update for the WiFi Note 8

Same issue that ASUS Transformer Pad users faced. All the tablets were WiFi models, but each region had their own ROMs. Like US had their own ROM, Taiwanese people had their own ROM and then the rest of the world had their own ROM. Not sure why they did that since they were pretty identical as far as I can tell... but *shrugs*.

Yeah I know I had a TF101 and it was a WWE model, or a World Wide Edition so that was sold everywhere, well except the US

Enjoying 4.2.2 on my Galaxy tab 2 7.0 for about a month. Posted via Android Central App

Well I'd rather wait a month to get a small update than to use a significantly inferior tablet

Now, was that really necessary? Posted via Android Central App

Just checked for my ATT version and no update available. Still says version 4.1.2 is the latest. Posted via Android Central App

Mine says that too, I wonder when ill get the update

It will be soon guys. Us UK users got it a couple of weeks ago. It fixed a lot of issues and now as aps2sd support. And runs a lot faster. :-) Posted via Android Central App

here it is Aug 2015 I have the tablet Samsung note8.0 model#SGH1467 and my android is 4.1.2 and when I tried to update my tablet comes back with current software up to date. I was reading comments from 1 yr ago and all the answers were they were told that 4.4.2 was any day now. I live in
Ky. and was wondering whats going on?

I'm just selling mine in anticipation of the LG G Pad Posted via Android Central App

Might want to get the Nexus 7 which is much better overall! Posted via Android Central App

Why update these devices but no update for s3 yet? Does anybody even have the Note 8? Posted via Android Central App

Nope, nobody bought the Note 8.

Yes and it is awesome, despite the mediocre industrial design. Fast and a lot more useful than an iPad, of which I have owned several. Stylus execution, like the smaller Notes, is exemplary. Running 4.2.2 here in the UK, which improves just about everything over 4.1.

my s3 has versio 4.3 on it and yet the note has 4.12 When i contacted samsung they said
"Counselor answer
Dear Mr Smith, Thank you for contacting Samsung Customer Care. After going through the email, we understand that you are looking for an update on the tablet. We sincerely apologize for the inconvenience.
I do understand your requirements. However, as of now there is no further official updates available for the tablet. We are unable to speculate when/if a software revision might be available due to the fact that this might lead to inaccurate information and confusion. "

Just updated my Note 8.0 to 4.2.2 !!!

It does not include my most anticipated feature of 4.2.2. Multiple users. Posted via Android Central App

I'm tired of posting this, but I'm desperately searching for a solution. I did finally receive the OTA update to 4.2.2 a few days ago on my Samsung Galaxy Note 8.0 Wi-Fi GT-N5110, but directly after the update it caused the hover function on my S-Pen to malfunction. Instead of highlighting or enhancing an area, my S-Pen clicks on what it is hovering over from a distance. The OTA official update to 4.2.2 makes typing with the s-pen impossible. I contacted Samsung through their web support twice. They told me to factory reset my device through two different methods. Neither of those methods worked. They then told me to return my device to Samsung for service. I'm a trial attorney, and I use my Note 8.0 every day in court. On the date of the update I was in the middle of trying a jury trial. This update has been the absolute worst inconvenience.... and as for the other 4.2.2 functions, I don't see the benefit. No photosphere function on the camera from what I can tell... what on earth was I so excited about? I played by the rules and waited for the official update. Now with my factory reset, I've lost a lot of things I had on my device.

How in the world could you lose anything? Kies will back up everything for you. That is unless you skipped that
Very important part. If that's the case then it's on you not Sammy.

I received the OTA yesterday for my Note 8. Google Chrome will not open at all now. The Multi-window feature is not a feature any more. There are other stablilty issues, including a lockscreen that is visible for just over 1 second before disappearing again. The Daydream feature locks up the system like a rock. Searching thru multiple forums, I see that apparently the only way to resolve this is to restore the tablet to default and start over. Fortunately the Kies program backs things up, and I made a separate copy of the memory over USB. After returning to default and setting up accounts, I am now awaiting the "Restore" function to do its thing. Hopefully it will be useable in the morning.

If you are having trouble with Chrome or Google Search after upgrading to 4.2.2, just uninstall the app or uninstall all of the updates, then reinstall the updates. That worked fine for me. Posted via Android Central App

@Jerry Hildenbrand Thanks for the post. wow the update is 661.19 MB. Samsung should push all their android device OS update both OTA and Kies. Specially in USA career Samsung should push update quickly before it's not too late for customer and Samsung fan. Thanks in Advance

Did the OTA, so far so good. No Chrome or Multi-Window problems. Have not noticed any real difference yet, to be frank about it,

I installed the leaked version months ago and it's been perfectly fine. Is it worth the trouble to get the different build no.? Posted via Android Central App

Not a tablet person. Posted via Android Central App

Which is perfect fine; not all devices will work for everyone. But why did you feel the need to post this on an article regarding software for a tablet? Seems like a waste of your time. Posted via Android Central App

Don't install it. The multitask capability gets whacked. Samsung support says they know about it and are working on a fix

Updated yesterday and it ruined multi window capability. I had to do a factory reset to get it to work again. Backed up on Kies but when I restored after the wipe, I still had to redo my screen setting as they didn't restore even though I backed up everything. I guess Samsung is as bad as anyone else when it comes to quality user support Posted via Android Central App

On my note 8, it works, fine. Posted via Android Central App

Got my update. About time! I was rolling with 4.2.2 the first day the nexus 7 came out a year ago! This should be 4.3! But even if it sounds like it am not complaining. On android hell am happy to receive any kind of update! Even if its not a full home grown OS swap! Although now of days the only updates i do see are on my wifi only version devices. If there's any kind of carrier involvement, HA!! U can just go ahead and hang those hopes and dreams back up in the closet where u got them from. Chances are you will never see one on ur phone before it's time to head on over to get, as Samsung says "the next big thing!" Samsung Galaxy S3

Agree tab 2 7 got 4.2.2 over a month ago Posted via Android Central App

Stupid. Tab 2 7 got 4.2.2 a month ago. It just doesn't make sense that older models are ahead. Posted via Android Central App

Here in the UK I've just updated my Note 8.0 and the multitasking has been lost. Tried a factory restore and still no luck. All the apps were restored though which is good news but I still have to customise the device again to my preferences - which is no real hardship as a change is as good as a rest but still no multi tasking. Any advice from anyone?

Some folks have been having multitasking just switch off on them. swipe down from top of screen and switch on.

Thanks for the information all working now after a factory reset the multitasking option in the pull down menu is working rather than being greyed out.

Any Canadians getting 4.2.2 update yet. So far no luck here.

In my case the tablet works great, my only beef with it is that Samsung threw out the window the whole suggestion home screen when you detach the S pen or conects your earphones. This was a feature I really enyoied.

I find the update decreased battery life quite noticeably

I updated my wifi only note 8.0 to 4.2.2 ota and works great except after originally working my xfinity play app stated acting up so I deleted and tried reinstall and now in the play store it says its not compatible with this device! It used to work perfectly! Can anyone else test or confirm this? Or found a way around it?

the styles lost its accuracy arond hand writing. If you have two runs for a sentence it jumbles up some of the words. I will write one line, then continue the sentence and it will scrable the first word on the second run. It does it consistently. Anyone else notice this?
Android Central Newsletter
Get the best of Android Central in in your inbox, every day!
Thank you for signing up to Android Central. You will receive a verification email shortly.
There was a problem. Please refresh the page and try again.