Android 3.1 update now rolling out to Verizon Xoom 3G owners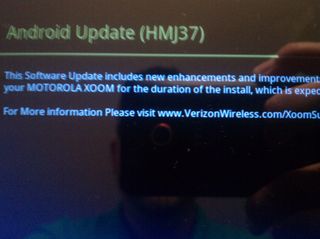 We held off a little bit after the announcement came out just to see how exactly how long it would take for Verizon and Google to roll out the Android 3.1 Honeycomb update slated for "today". As it turns, it really wasn't all that long -- many users have now let us know their Motorola Xoom updates have gone live and while some folks are still waiting, we've heard it may be rolling out in batches so you'll just have to sit tight.
In the meantime though, feel free to shout out in the Android Central forums if you got your update. We, and I'm sure plenty of others -- are pretty stoked to hear how the update is working. If you're looking for the direct download link, you can find it here.
Thanks, for the image @VMDoug
Android Central Newsletter
Get instant access to breaking news, the hottest reviews, great deals and helpful tips
Will there be a update for the wifi-only Xoom? And if so, how?

They didn't elaborate at the keynote. But they were very specific to call out the Verizon version and said nothing of the wi-fi version.

What could be so different about the wifi model that it wouldn't get it at the same time? Is there any timeline for the wifi model update? Is this the update that Adobe said to wait for to work the best with the latest release of Flash? How hard can micro SD support be to incorporate?

I just got the 3.1 update OTA on my Xoom wifi. It just popped up when I was transferring some music files from my computer to my Xoom. I thought it was just supposed to be 3g owners today, but for some reason I got it.

I'm assuming that you have one of the few with the 3G card that was shipped as a WiFi by mistake. Good for you.

I'm assuming this doesn't include the SD and 4G functionality?

Do you have to have an active Verizon subscription? Mine is showing it last checked for updates this morning at 7:45 am and there is no way I can see to force it to check again.

This is the ultimate screw job to the buyers of the Wifi Xoom. #@%@#% you google.

Going into settings and system update does not check for an update, it just shows when ur xoom last checked in. There is no pulling updates like phones with blur do, only system pushes and the xoom just checks in at random.

Android 3.1 Update for Verizon Xoom. Would do you not understand?

You know what I don't understand? I don't understand that question you just asked, shmuck!
People are just asking and would like to know. Don't be an "Ahole". If you read up someone did get it on wifi only Mr. KnowItAll.

PS.
Stop rating your own freaking comment too.

First off I don't give a rats about what my comments rate at. Second I'm not being an "ahole". It was stated in the Google IO address that the "Verizon Xoom" would receive the update. I know people have stated their wifi xoom received the update, but do you really believe everything on the internet? Until I see an update on my Wifi Xoom I'm taking it with a grain of salt. Ricardor973 just because you work at MCDonald's and can't afford a tablet doesn't mean you should troll.

lmao I was making fun of your grammer monkey boy. This is what you typed.
" Android 3.1 Update for Verizon Xoom. Would do you not understand?" But the kicker is
"Would do you don't understand?" when what you really meant was,
"What don't you understand" noob! And its obvious that you do believe everything you read on the net because you believe that there was an update when you read it, on the net. Shmuck!
I wonder who really works at McDonald. BTW your grammer still sucks balls. Oh and yes, I will be getting the wifi only update in several weeks, read that on the net too. Dickweed!

Sucks when you come on here and try to make others seem stupid and then you yourself gets called out for being dumb, right?

To check for updates manually: SETTINGS > ABOUT TABLET > SYSTEM UPDATES

That doesn't check for updates. It simply tells you when it last checked automatically and there is NO WAY to force it to check NOW.

theres a direct link to download on this article, but will that file be okay to download for wifi xooms? All the talk is about verizon 3g xooms and I would assume that might mean a slightly different software to support that

if you still haven't gotten your update by now, go on to the xda developers site and look up your wifi xoom, and just flash the update using clockworkmod. I did it for my 3g xoom and its the same thing,same article, but for wifi xooms there is one step that you are supposed to skip, it'll tell you everything you need to know. Its very easy. You just need to be rooted before you can do it. They have one click root for the xoom, which is extremely easy. ;) either way you want to do it, I hope everything works out for ya, because this update fixes alot.

To manually check for updates go to settings > date & time > uncheck auto date and time> then set date to the previous day > press on about tablet> system updates and you will see that the system checked again. Just make sure you set your date back. Keep on trying this every 30 min or so. I did it and still no update.

You can also turn it off for a few seconds then restart it to initiate a check. ; )

once you download from the above link where do you extract the file to? Any step by step instructions? Thanks for the help-

You don't extract it anywhere. Typically with Motorola devices you save the file to the root of your SD card (or in the case of the Xoom the folder /mnt/sdcard ), rename it update.zip and boot to recovery but in this case it does not work.

So the download file will not work even if you rename it to update.zip on 3g devices?

It didn't for me, it's possible I did something wrong but I don't think so. Recovery didn't look for the file in the SD card root it looked for it in an external USB drive which we all know isn't supported until this update is installed so I don't know.

i got it on my Verizon xoom,through cwm. Its actually so much faster now, as far as scrolling through screens and everything. Flash 10.3 is awesome in the browser, no lag, and videos play as if you were watching them on YouTube. Speaking of YouTube, it got a little bit of an upgrade itself. The new "movies " selection in the market is pretty nice also. It has a god selection of movies from the start. I just wish you had the option to buy movies if you wanted to. I haven't mesed with the new Google music beta because I didn't sign up, but I'm sure that is great also. So all in all 3.1 was much needed, and it makes the entire experience that much more pleasurable.
Android Central Newsletter
Get instant access to breaking news, the hottest reviews, great deals and helpful tips
Thank you for signing up to Android Central. You will receive a verification email shortly.
There was a problem. Please refresh the page and try again.