Amazon Echo devices can now make free calls in North America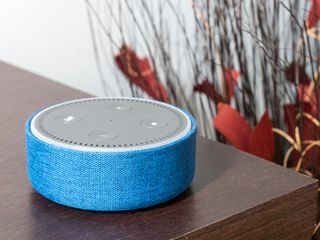 (Image credit: Android Central)
Amazon has been adding a steady stream of features to its Echo device family dating back to the release of the first Echo back in 2014. In May, the company announced the ability for Echo owners to make free calls to any Alexa-enabled device, including smartphones with the Alexa app. Now, Amazon is expanding that even further.
AFTVnews reports that that Echo owners and those with the Alexa smartphone application can now make free calls to any phone number in the US, Canada or Mexico completely free with no additional hardware required. The other end of the phone call won't have any idea you're using an Echo device since the recipient will see it is coming from your phone number. If you'd like, you can opt out of sharing your number, in which case the recipient will see the call is from an "unknown caller."
This feature will let users dial contacts by either stating the person's name (if the app has permissions to view contacts) or by simply speaking the phone number. For the Modern Dads out there with multiple users in the same home, you'll need to switch to a different user profile on the Echo in order to load the correct user's contact list. Also, note the calling through Alexa cannot be used for emergency numbers. Users will be able to control volume or hang up a call via voice commands as well, which would be a fantastic way to end a dramatic phone call.
One final note is that users will not be able to receive calls from landline phones through Alexa without the Echo Connect plugged into a landline phone at their end.
Are you interested in free calls through your Amazon Echo? Let us know down below!
Android Central Newsletter
Get instant access to breaking news, the hottest reviews, great deals and helpful tips
Does this work with the Echo Tap?

Calling or messaging is not supported on the Tap. Amazon is supposed to be adding it in the future.

my guess is that there is added difficulty due to its not-always-on nature.

If I don't have my cell phone at home, can I still use the Echo to make a call?

No, the whole object is to use the signal from your cellphone and the App in your phone!

i don't know if that's the case. you have to share your number to get it to show up on caller id. that's usually due to the number originating elsewhere, kind of like Google Voice. You had to share your number to get your own number to show up instead of the GV number.

Yes, you should be able to. They are adding features that Google Home has and you don't need your cell phone to make the call.
Dad El Supremo, I accidently reported you, darn mouse was acting up and I see no way to undo it. Sorry.

Going this comes to the UK too.

I spent time on my Alexa account yesterday and it seems it is already here.
You do need the other person to be in your phone contacts, at least that`s how
it came across to me, also to call a landline you need the other "party"
to have another device plugged into their landline to enable calls to those type of phones.
All still a bit vague but frre calls .....that`s good.
Ken.

This will be great for my handicapped (quadriplegic) friend. One question, I have a "landline" phone at home but it is plugged into a Verizon Home Phone Connect device so it actually works via cell tower through my wireless plan. Do I need one of those Echo Connect things for my friend to call me on that phone?

the only way to receive a phone call through Alexa is with the Echo Connect.

Always amusing to still see the anachronistic phone usage terminology. 'Dial?" "Hang up?" Do "the kids today" understand what these words mean, now that there are no dials and little to no hanging up? Will the Echo respond to, "Alexa, hang up?" COL (chuckle out loud)!

like the save button being a floppy disk...

Exciting to know. Can't wait to try this out.

Is this using your cell phone carrier to make the calls or is it wifi calling? I'm on a limited minutes cell plan (TMO 100 minutes with 5 GB data) which suits my needs, but I make long landline calls at home. If I were to use the Echo "free" calling does that mean it is not using my minutes?

my guess is that it doesn't use your phone at all.
Android Central Newsletter
Get instant access to breaking news, the hottest reviews, great deals and helpful tips
Thank you for signing up to Android Central. You will receive a verification email shortly.
There was a problem. Please refresh the page and try again.